Italy Rossini Opera Festival (1) La Gazzetta: Orchestra and Chorus of Teatro Comunale of Bologna.  Conductor, Enrique Mazzola; Stage Director, Marco Carniti; Sets by Manuela Gasperoni;  Costumes by Maria Filippi;  Lighting by Fabio Rossi; Chorus Master, Andrea Faiutti.  Teatro Rossini Pesaro. 14.8.2015 (JB)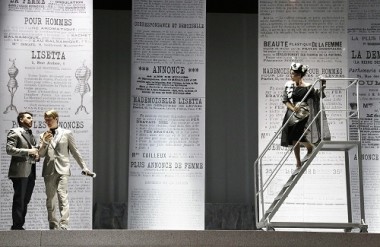 Cast:
Don Pomponio Storione – Nicola Alaimo
Lisetta, his daughter, in love with Filippo – Hasmik Torosyan
Filippo, a young, astute, bizarre, innkeeper – Vito Priante
Doralice, an adventuress – Raffaella Lupinacci
Anselmo, her father – Dario Shikhmiri
Alberto, a wealthy young man – Maxim Mironov
Madama La Rose, a shrewd innkeeper – Jose Maria Lo Monaco
Young Gioachino Rossini very quickly established himself as Italy's – and eventually the world's – leading composer of comic opera.  By his own admission he developed a technique which allowed him to churn these operas out.  That is not as mechanical as it might first sound.  It tells us more about Rossini's self-deprecation than his technique.  But here is the stroke of genius: the self-deprecation becomes an integral part of the technique!  Donizetti was also a successful composer of comic opera.  But without Rossini's genius.  The Rossini self-plagiarisms were almost always retouched to render them somewhat off-kilter in the most delightful, unexpected way.  And if some of the audiences recognized a tune from another opera he would nonchalantly say, Well what do you expect?  I was in a bit of a hurry.  Yes, nonchalance is woven into the steely technique too.  And the comedy is achieved by a sleight of hand.  In this he has no rival.
When he arrived in Naples in February 1817 to take up duties as Artistic Director and chief conductor at the San Carlo, he found that the theatre had been burned and a temporary home was to be used for his Tancredi, for which he was to supervise rehearsals.  But he was also expected to have ready a new work for an August staging.  He realized that this would have to be a comic opera which he would be able to extract from his bag of tricks.  Conjured from his technique, you might say.  He asked Giuseppe Palomba to prepare a libretto from Goldoni's La Gazzetta ossai Il Matrimonio per Concorso.  (The Newspaper or Marriage by Examination).  This would turn out to be the only comic opera he wrote for Naples.
La Gazzetta strikes a chord with contemporary audiences.  Its comedy centers round the exaggerations and other distortions such as the alternating creation and negation of scandal in which many journalists still engage to "entertain" their readers.  The plot – if that is not too strong a word – centers round Don Pomponio, who wants to marry off his daughter, Lisetta, to the highest bidder, though the girl happens to be in love with Filippo, a young innkeeper.  Don Pompinio is sure she can do better, so he runs a series of ads inviting prospective suitors to auditions –hence the comic lineup from Alberto, the rich young flirt through to Monsù Traversen, an eccentric, elderly Quaker.  In the end of course, Pompinio decides that Filippo is indeed the best candidate, so the curtain comes down on the expected happy ending.
As usual, Rossini farmed out the recitatives to an assistant; these are not from the maestro's pen.  This is a great pity.  For Palomba did a superb job in reshaping Goldoni's words for musical treatment and Marco Carniti has almost always invented witty stage movements to illuminate the text.  This is a libretto which is up there with da Ponte's Così, some of whose themes it shares.  On the other hand, the greater number of the ROF audiences are non Italian speaking, so even with the surtitles I have to concede that the cuts I am protesting may in the end have not been such a loss.
The Canrniti staging picks up beautifully on Palomba's ironies without ever being heavy-handed.  The nimble balletic movements for both men and women are always musical and sufficiently underplayed to strike wit and charm.  What a delight.  I have rarely seen Rossini comedy so well served.  Maria Filippi's costumes are predominantly in black, white and shades of grey, subtly drawing attention to the print mischief woven into the plot.  Likewise, Manuela Gasperoni's "set" is made up of slats of gossipy ads and newsprint and exaggerated large letters of the alphabet musically falling from and rising to the stage's tower.  A tight budget was clearly operative but the Carniti team have transposed necessity into sparkling virtue.
The overture is well known, not from this opera, but because Rossini used it again unchanged, the following year in Rome for La Cenerentola.  Enrique Mazzola paced it rather nicely though the musical conversations between the wind players of the Bologna Teatro Comunale orchestra proved a bit too difficult for some, as did Maestro Mazzola's brisk tempo, with the important exception of Katia Foschi, a guest horn player.  Rossini's father was a horn player and the instrument frequently gets favourable treatment.
All was not well with the singers.  The prima donna assoluta began in serious trouble, through she improved as the show went on.  Her Lisetta was appropriately flighty: she no doubt learned much from Carniti.  But too frequently the coloratura went haywire, especially in her opening Presto, dico, avanti, Avanti.  The problem is almost certainly caused by her trying to make a smaller voice into something bigger.  This forcing brought Anna Russell's cruel but accurate words to mind: not so much a technique as the factory whistle and buzzfork method.  Yet amazingly, the voice blended perfectly with the other four in both quintets.  Or not so amazing.  She wasn't forcing here.  And she did hit all the right notes pretty well in tune for her final aria, Eroi li più galanti.
The other two women were routine.  This will simply not work with Rossini: vocally there is always an all-other-nothing demand.  To not mince words, both performers were dull: they failed to spark life, though both responded well enough to the stage director.  Raffaella Lupinacci sounded as though she was involved in an imaginary experimental Beethoven in Doralice's Ah, se spiegar potessi while Josè Maria Lo Monaco's Madamma missed the essential warmth, wit and charm of Sempre in amore son io così
The undoubted star of the show was Nicola Alaimo's Don Pomponio.  His vocal and dramatic authority have no equal.  He is the perfect basso-buffo.  The temptation must be to overplay.  But he never does.  This is a Pompinio who is acutely aware of his ironies.  And his assured delivery lets us in on his secrets.  I was a joyful participant in his curtain-call ovation.
Maxim Miranov was vocally secure as Alberto, the rich boy.  His O lusinghiero amor was the memorable bel canto moment of the evening, only surpassed by Filippo's Quando la fama altera which Vito Priante delivered with fine musical aplomb.  He had begun the evening hesitatingly but was clearly saving himself up for this impressive finale.
Jack Buckley