United Kingdom Gluck, Orphée et Eurydice: Soloists; Monteverdi Choir; English Baroque Soloists/ John Eliot Gardiner (conductor), Royal Opera House, Covent Garden, London, 14.9.2015 (CC)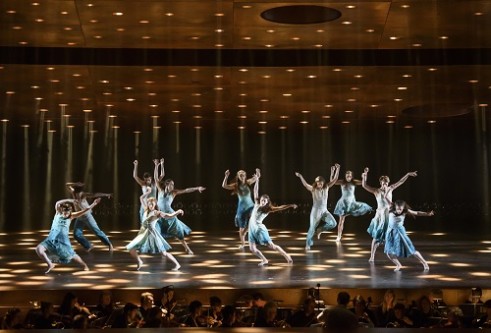 Production:
Music: Christoph Willibald Gluck
Libretto: Pierre Louis Moline
Director: Hofesh Shechter & John Fulljames
Choreography: Hofesh Shechter
Designer: Conor Murphy
Lighting designer: Lee Curran
Performers: 
Orphée: Juan Diego Flórez
Eurydice: Lucy Crowe
Amour: Amanda Forsythe
Dancers Hofesh Shechter Company Chorus
Monteverdi Choir
Orchestra English Baroque Soloists
Conductor: John Eliot Gardiner
As we emerge from the Summer's Proms, the 2015/16 season begins to take shape: at Covent Garden, this wondrously stimulating production began the operatic year, resulting in an unforgettable occasion. Gluck's opera, heard here for the first time at the Garden in the revised French version, was a masterstroke of programming. The presence of the Hofesh Shecheter Company of Dancers added immeasurably to the evening, offering a level of dance that the present writer, at least, has not experienced before. The whole was imaginative and perfectly executed, with shared direction between John Fulljames (Associate Director of the Royal Opera) and Hofesh Shechter.
There's a glorious cross-platform (pardon the pun) logic here also, in that over at the Proms Gardiner conducted another Orpheus opera, Monteverdi's L'Orfeo. Here Gardiner's impeccable and delectable English Baroque Soloists were astonishingly vital throughout. Gardiner conducts this music with such confidence that everything seems perfectly placed; the chorus was, of course, the Monteverdi Choir in splendid voice throughout. The sounds Gardiner got from his orchestra were truly wide-ranging, from stunning tendresse through to rawness reminiscent of an open wound for the "Dance of the Furies".
The production is simple in one sense (very little scenery) and complex in others. The orchestra moves up and down, one moment subterranean, the other suspended. It is also on-stage (there was some standing room in front of the stalls), and so becomes very much part of the action itself. Three trombones stand apart in isolation. Lighting is magnificently achieved, providing the perfect feel for this most famous of myths. A statue is cremated early on, before resurrecting later. The whole effect is of fluidity, of a mobile aspect that somewhat hypnotically draws the spectator in. Interactions between the three principal characters become incredibly potent, while the plethora of dances so central to French opera, in Shechter's hands, become intensely expressive. Whether moving together as one, or infernally disarrayed, or split into two with each part mirroring the other, the dance effect was magnificent.
The singers, too, were outstanding, particularly the evening's star, Peruvian tenor Juan Diego Flórez, making his stage debut in the role. (He has performed it in concert and recorded it in Madrid.) His agility was no less remarkable than his eloquence in the famous "J'ai perdu mon Eurydice"; his stamina, too, is outstanding. The part was written for an haute-contre (many recordings use a female); Flórez imparts a proper masculinity to the drama while maintaining the highest musical standard throughout.
Both other singers were making their role debuts. American soprano Amanda Forsythe's Amour was perhaps a little undefined, despite carrying plenty of dramatic clout; Lucy Crowe's Eurydice however was every inch the equal of Flórez dramatically. Although she does not enter until late in the second act, Crowe in her clean and clear delivery and her stage presence brought real poignancy to Eurydice. The interactions of the final act revealed two singers at the height of their powers.
Those familiar with John Eliot Gardiner's recordings of Orphée will need no prompting to invest in a ticket, whether in his EMI recording (with von Otter, Hendricks and Fournier) or his EMI DVD (with Kožena, Bender and Petibon in a staging by Robert Wilson). The present production is one of those rare ones in which everything comes together with impeccable style, honesty and integrity. Even the programme holds gems: Sarah Lenton's essay, "Shows of Grief", is a classic, pitting historical and cross-cultural grief reactions against the stages of grief found in bereavement theory. But it is the music that matters. An amazing way to open an opera season.
Colin Clarke