United States Loesser, Guys & Dolls: The Oregon Shakespeare Festival Company, Wallis Annenberg Center for the Performing Arts, Beverly Hills, 4.12.2015-20.12.2015. (JRo)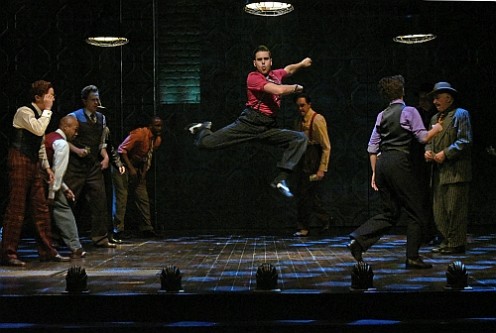 Loesser, Guys & Dolls
Cast:
Sky Masterson: Jeremy Peter Johnson
Nathan Detroit: Rodney Gardiner
Sarah Brown: Kate Hurster
Miss Adelaide: Robin Goodrin Nordli
Nicely-Nicely Johnson: Daniel T. Parker
Benny Southstreet: David Kelly
Rusty Charlie: Joe Wegner
Richard Howard: Arvide Abernathy
Harry the Horse: Tony DeBruno
Lt. Brannigan: Robert Vincent Frank
Big Jule: Richard Elmore
Angie the Ox: Al Espinosa
Joey Biltmore: Eugene Ma
General Matilda B. Cartwright: K.T. Vogt
Hot Box Girls: Alyssa Birrer, Kristin Glaeser, Briawna Jackson, Britney Simpson
Liver Lips Louie/Gambler: Jonathan Luke Stevens
Society Max/Gambler: Jonathan Luke Stevens
Production:
Music and Lyrics: Frank Loesser
Book: Jo Swerling and Abe Burrows
Music Direction and Orchestrations: Doug Peck
Director: Mary Zimmerman
Choreography: Daniel Pelzig
Set Design: Daniel Ostling
Costume Design: Mara Blumenfeld
Lighting Design: T.J. Gerckens
Sound Design: Ray Nardelli
Entering the gambler's paradise that is Guys & Dolls is like sinking into a warm bath: comforting and rejuvenating all at once. In the pared-down version by the Oregon Shakespeare Festival at the Wallis Annenberg Center, theatergoers have the chance to bask in this musical fable of old Broadway.
Frank Loesser found the perfect material for his talents and interests in Damon Runyon's 1933 New York story, The Idyll of Miss Sarah Brown. Born in New York City in 1910, Loesser grew up in a household where classical music held sway – his father was a classical piano teacher, his older brother a concert pianist, critic, and teacher. But it was popular music that interested him, and in the 1930's he sang and played piano at the Back Drop, a nightclub on 52nd Street. The characters he met at the club enabled him to capture in song the flavor and deeply human personalities of the gamblers and racketeers that populate Guys & Dolls, lending a touching dignity to individuals who might simply be laughed at for entertainment value.
Elements of the classical crop up in the score – a nod to his background and to the value he placed on the essential decency of his heroes and heroines. Take the college alma mater-like song "The Oldest Established," or the Bach-like "Fugue for Tin Horns" which describes a horse race. But there are also tunes so familiar that one forgets their source. "A Bushel and a Peck," for example, is a song that a mother might hum to her child in the long-ago 1950s.  There's also "If I Were a Bell," a perennial favorite of musicians from Ella Fitzgerald to Miles Davis to Tierney Sutton.
In fact, the memorable cover recordings of Loesser's individual songs from the score inspired Doug Peck's orchestration of Guys & Dolls, which employs just eight instrumentalists in the pit. It turns this grand gem of musical theatre into a more intimate piece, and the scale of the Wallis works to its advantage. So do the charming sets, simple yet evocative, and the sensitive lighting, which added to the intimacy, as if one had just dropped in on this underworld party as an invited guest. Dozens of bouncing beach balls flung in from offstage introduced the scene in Havana, during which Sky Masterson ordered a rum punch for the buttoned-up Sarah Brown – a transformational comic/romantic event. Then there was the moment when Adelaide and Sarah fantasized about the perfect husband, and we saw Nathan, in a cut-out window in the backdrop, tending the garden in an imaginary suburban home; Sky, revealed in another window wearing an apron, hung laundry on a line.
The play was written in 1950, but this production, rather than setting the action in the fifties, uses the Runyonesque backdrop of the Depression to highlight the characters' grit and determination in their quest for Lady Luck. Though the cast is capable, they have a hard act to follow in the film roles made famous by Frank Sinatra, Marlon Brando, Vivian Blaine, Jean Simmons, Stubby Kaye, and Sheldon Leonard, whose personal charisma was unparalleled. The star of the evening, who could fit into any cast whether on film or on Broadway, was Robin Goodrin Nordli as Miss Adelaide. Nordli brings her own personality and charm to the role, phrasing her songs with comedic flair and musicality. Her "Adelaide's Lament" was sheer pleasure as she underplayed the sneezing and amped up the perplexity of a woman discovering that her perpetual cold was due to psychological disturbances resulting from her endless engagement to Nathan Detroit.
Daniel T. Parker as Nicely-Nicely Johnson delivered "Sit Down, You're Rockin' the Boat" with rousing spirit and tuneful expressiveness. In the conspiratorial duet, "Marry the Man Today," fraught with the dissonances of Jewish liturgical music, Nordli and Kate Hurster as Sarah Brown, the missionary, brought zany fierceness to the song.
If the first act was flat at times, the cast grew into their roles, and the second act soared, from the hilarious mock-strip number at the Hot Box Club, "Take Back Your Mink," to the depths of New York's sewers in "The Crap Shooter's Dance" and "Luck Be a Lady," sung by Jeremy Peter Johnson as Sky Masterson. "Sue Me," a love duet featuring Nordli and Rodney Gardiner as Nathan Detroit, was both convincingly tender and comically engaging. In smaller roles, K.T. Vogt as General Matilda B. Cartwright was hilarious, as was Tony DeBruno's elegantly comic syntax in his depiction of Harry the Horse.  David Kelly's long and limber Benny Southstreet made a pleasing foil as the rotund Nicely-Nicely's partner in crime.
With inventive choreography by Daniel Pelzig and under the able direction of Mary Zimmerman, known to Los Angeles audiences for her brilliant conception of the play, Metamorphoses, based on the poems of Ovid, this Guys & Dolls might prove an inviting holiday alternative to the usual round of Nutcrackers. It's a rum punch of an evening at the Wallis. 
Jane Rosenberg