United States Verdi, Giordano, Dvořák, Lehár, Kálmán, Rogers and Hammerstein, Bernstein, de Falla, Torroba, Lecuona: Plácido Domingo (baritone, tenor), Ana María Martínez (soprano), Lyric Opera Orchestra, Sir Andrew Davis (conductor), Civic Opera House, Chicago, 9.1.16 (DP)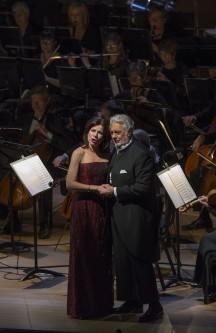 Superstar Spanish tenor Plácido Domingo has had a long run at Lyric Opera of Chicago. Early on in his career, he was a regular presence, and at the height of his singing glory, offered performances that were stellar and memorable. He had always pushed limits, and Lyric was one place he could do so. Even in his mid-60s a decade ago, Domingo was still a marvel, taking on Wagner—of all things—and singing Siegmund in Die Walküre, albeit stretching credibility as to the age of the character. But he seemed to be going out in style.
Now stockier with snow white hair, and still capable of creating a stir just by walking out on a stage, Domingo rarely even attempts to sing the signature repertoire of his tenor years. Instead, he has taken the unusual step of dropping down to baritone roles. It's hard to imagine which is more bizarre: that one of the greatest tenors of the second half of the 20th century is so stage-addicted that he has made the millennial switch to baritone repertoire in his post-tenor career, or that opera companies and audiences are so superstar-nostalgic that they willingly accept this.
Domingo opened with "Nemico della patria" from Andrea Chénier, certainly the brightest and the best fit of the three operatic baritone selections. But despite dramatic nuance and an undeniably impressive and energetic stage presence, "Perfidi!…Pietà, risperro, amore" from Macbeth, and Germont's Act II La traviata encounter with Violetta (sung by Ana María Martínez) came off more like vocal bastardizations.
It was as if this music were being sung by, well, a tenor who no longer had high notes but who also never developed low ones. Thus, Verdi's vocal lines—so central and carefully constructed—are sacrificed. Domingo now has to strain to reach down to the natural, comfortable baritone range, and he is always tentative and often barely audible when doing so.
And at the other end, as he ascends, moments of dramatic and vocal tension for a bona fide baritone voice are actually in a tenor's comfort range—so any carefully calculated tension just evaporates. And reaching what should be high notes for a baritone have little character when sung by a voice with a higher center—business as usual for a tenor.
When Domingo recorded a disc of Verdi baritone arias for the composer's bicentennial, I had thought—knowing the care with which he has tackled past musical challenges—that at the very least, he would have set out to lower his bottom range to make this work. But such is not the case. Despite Domingo's charisma, vocally, this is a shopworn tenor without an upper range trying to have his cake and eat it, too.
For the second half of the program, Domingo did turn to some light tenor repertoire, opening with "Dein ist mein ganzes Herz" from Lehár's operetta, Das Land des Lächelns, and (with Martínez) Bernstein's "Tonight" duet from West Side Story. The results were mixed, at best.
While Domingo can still tentatively hit upper range notes, he no longer has the golden tenor timbre he once possessed; dynamics and smoothness of line are limited. At one point in "Tonight" when he and Martínez were supposed to be in unison, Domingo was silent: it was unclear whether he had lost his place or lost his breath. The climactic high note was taken, but merely touched upon with full support from Martínez, who collegially cut off when she became aware that her partner was no longer holding the note. Later the twosome hummed, sang, and even danced Lehár's The Merry Widow Waltz, in the original German (unlike Lyric Opera's recent English-language production).
Rodgers and Hammerstein's "Some Enchanted Evening" from South Pacific was originally written for an operatic baritone, but Domingo gave it a tenor's timbre, minus a non-traversed high note. Gone was the world-weary quality that the lower voice type brings.
Domingo began his career in zarzuela—a Spanish blend of song, spoken word and dance—and has returned to it at the end as well. Here, too, he went for baritone roles, but left the same sense that his vocal center of gravity was woozily off kilter. With Martínez, he sang "En mi terra extremeña" from Torroba's Luisa Fernanda and closed out the program with "Amor, vida de mi vada" from the same composer's Maravilla.
Martínez, for her part, was in glorious soprano voice all evening. In "Sutta, è la notte" from Ernani, she reminded us what early Verdi is supposed to sound like when a singer has the correct voice type and range. She also gleamingly reprised "The Song of the Moon" from Dvořák's Rusalka, which she memorably sang at Lyric two seasons ago, and tested her operetta chops with Kálmán's "Heia in den Bergen" from Die Csárdásfürstin. She also made a delightful Julie Jordan from Rogers and Hammerstein's Carousel, turning the duet "If I Loved You" into a solo. But Martínez's surprising triumph was the balance that she struck between swagger and poignancy in the title song from Lecuona's Maria la O (1930), a zarzuela role she could turn into a tour de force.
Sir Andrew Davis and the Lyric Opera Orchestra accompanied both singers with aplomb throughout the evening, and were also given interludes of their own, including the Overture to Verdi's La forza del destino, a medley from The Sound of Music, two of Dvořák's Slavonic Dances (Op. 72, No. 2 and Op. 46, No. 8) and the "Ritual Fire Dance" from de Falla's El amor brujo.
Encores included Domingo grabbing a microphone (he had been unamplified the rest of the evening) and singing the pop song "Bésame Mucho," and closing out with "Granada," one of his signatures. With the bulk of the evening behind him, Domingo allowed himself some vocal freedom, and these were actually his best moments of the night.
Dennis Polkow