United Kingdom Rameau, Chopin, Wolfe, Scarlatti, An Italian in Madrid: Richard Alston Dance Company, Sadler's Wells, London, 29.03.2016. (J.O'D)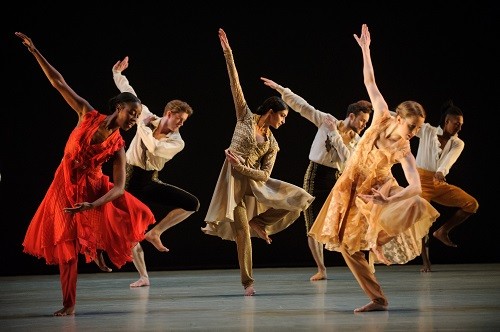 Brisk Singing
Dancers: Nancy Nerantzi, Nicholas Bodych, Jennifer Hayes, Liam Riddick, Elly Braund, James Muller, Oihana Vesga Bujan, Ihsaan de Banya
Choreography: Richard Alston
Restaging : Martin Lawrance
Music: Jean-Philippe Rameau – music from Les Boréades
Lighting: Charles Balfour
Costumes: Jeanne Spaziani
Mazur
Dancers: Nicholas Bodych, Liam Riddick
Choreography: Richard Alston
Music: Frédéric Chopin – Mazurkas
Pianist: Jason Ridgway
Lighting: Zeynep Kepekli
Stronghold
Dancers:
Stronghold I – Elly Braund, Oihana Vesga Bujan, Jennifer Hayes, Sharia Johnson, Nancy Nerantzi, Nicholas Bodych, Ihsaan de Banya, Ryan Ledger, James Muller, Liam Riddick
Stronghold II – Ihsaan de Banya, Liam Riddick, Nancy Nerantzi, James Muller, Oihana Vesga Bujan, Nicholas Bodych, Elly Braund
Choreography: Martin Lawrance
Music: Julia Wolfe, Stronghold
Lighting: Karl Oskar Sørdal
Costumes coordinated by: Inca Jackson and Martin Lawrance
An Italian in Madrid
Dancers: Ihsaan de Banya, Jennifer Hayes, Nancy Nerantzi, Elly Braund, Oihana Vesga Bujan, Sharia Johnson, Vidya Patel, Liam Riddick, Nicholas Bodych, James Muller, Ryan Ledger
Choreography: Richard Alston
Music: Domenico Scarlatti – Keyboard Sonatas
Pianist: Jason Ridgway
Lighting: Karl Oskar Sørdal
Costume Designer: Fotini Dimou
Costume Makers: Anna Maria Genuise, Wendy Knowles, Hilary Wili
It was full of good things, this four-work programme by Richard Alston Dance Company: the barefoot and often bare-armed dancers who skipped, ran, balanced, jumped and leapt; the music that accompanied them; the costumes they wore. Pianist Jason Ridgway played Chopin and Scarlatti at an onstage grand piano. Fotini Dimou's frilled overdresses and embroidered breeches for the eighteenth-century-set An Italian in Madrid (2016) were spectacular. Yet with no moments of climax to distinguish them, the four works began to merge. It was an evening full of good things; it was never, somehow, more than that.
A reflection of Richard Alston's 'recent interest in investigating the cross-pollination of various dance genres', An Italian in Madrid, the closing work, places the Kathak-trained Vidya Patel (a grand finalist of last year's BBC Young Dancer competition) in a group of 'contemporary' dancers. Patel takes the role of the Portuguese princess, Maria Barbara, who came to Madrid as the wife of a Spanish crown prince. The 'Italian' of the title is Domenico Scarlatti, Maria Barbara's music master, who she brought with her to Spain.
Dressed in cloth of gold, Patel spins across the floor with the speed and certainty that come from her Kathak-trained feet. When following the movements of the other dancers, she differentiates in her use of eyes and hands. The Richard Alston Company treats its guest as if she really were a foreign princess, but its dancers are ultimately constrained by her presence. Despite a thrilling moment of hyper-femininity when Maria Barbara dances with her ladies-in-waiting, and the men's echo of a matador stance, the piece seems 'forced'.
Martin Lawrance's Stronghold (2015), which precedes it, resembles the shorter and more effective Opening Gambit that the choreographer premiered in the Alston at Home programme at The Place last June. Harshly lit, confrontational, danced to recorded music by Julia Wolfe, Stronghold succeeds most in the solo it gives to Ihsaan de Banya. This exploits the dancer's supple torso in almost Wayne McGregor-like undulations.
Alston's Mazur (2015) also made its premiere at The Place last summer. It was danced then by Liam Riddick and guest dancer, Jonathan Goddard. Riddick was partnered this time by Nicholas Bodych. A murmur of excitement came from the audience as the grand piano was revealed and the two men appeared in waistcoats of black velvet beside it. Riddick danced, again, with the 'feet of Mercury'. Bodych seemed less certain. His larger, softer body did not work so well as Jonathan Goddard's as a foil to Riddick in this dance of friendship and loss to the music of Frédéric Chopin.
The evening began with a work by Alston from 1997 that should perhaps have ended it. Brisk Singing, set to music by Jean-Philippe Rameau, is a celebration of dance. The women wear shift dresses, the men waistcoats and breeches. The dancers show musicality and precision as they jump into the air in unison, balance and bend. The closing moments of its final, courtly duet even provide the climax that the other pieces on the programme lack. In complete control of their movements, Nancy Nerantzi and Nicholas Bodych stand quite still to look at each other, ambiguously, from a distance.
John O'Dwyer