United Kingdom Mozart, Così fan tutte: RNCM Opera, RNCM Chorus, RNCM Opera Orchestra / Manoj Kamps (conductor), RNCM Theatre, Royal Northern College of Music, Manchester, 15.3.2016. (MC)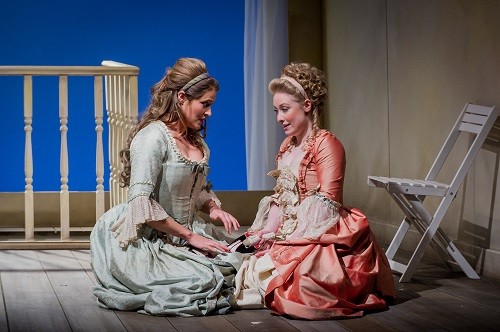 Mozart, Così fan tutte
Cast:
Fiordiligi – Samantha Clarke
Dorabella – Sarah Gilford
Guglielmo – Aaron O'Hare
Ferrando – Adam Temple-Smith
Don Alfonso – David Cane
Despina – Daniella Sicari
Chorus: soldiers, servants, sailors 
Production:
Thomas Guthrie – Director
Rhiannon Newman Brown – Set and Costume Design
Rachael McCutcheon – Lighting Design
Antonio Tilli – Italian Language Coach
Kevin Thraves – Chorus Master
At the RNCM opera school retiring producer Stefan Janski (Head of Opera) has left big shoes to fill. Directing his first RNCM Opera production Thomas Guthrie displayed his considerable talents with Così fan tutte. As the RNCM did back in December, with its production of Weill's Street Scene, there are two different casts to allow broad opportunity of stage experience for the school's students. My colleague Robert Farr has already covered the first cast and this report is the second of the two casts.
I was interested that Thomas Guthrie's vision concentrated on the conventional heart warming quality of the opera rather than a more forceful and emotionally dramatic production as staged by Patrice Chéreau in 2005 at Festival d'Aix-en-Provence. Designed by Rhiannon Newman Brown the staging wasn't quite stripped down to the bare essentials but it was seriously effective. Indeed one might easily imagine it gracing Glyndebourne. The focal point for the action was a single open room in the centre of the stage leaving plenty of room for activity around the margins. The benefit of a rather spare set is that the eye focuses more on the costumes so magnificently colourful and of the period which Mozart envisaged as 18th century Naples. How much more effective were these period costumes compared to a 2011 revisionist production I can recall from director Adrian Noble at the Opéra National de Lyon with the characters decked out in bad fancy dress clothes. I have also endured a wearisome Andreas Kriegenburg production of Così less than two years ago at Dresden where the stage comprised of a large white disc marginally elevated and set on a slightly acute angle so it was good to return to a more traditional take of this marvellous opera.
For a while I was quite worried as the standard of performance of Samantha Clarke and Sarah Gilford seemed miles ahead of their male counterparts Aaron O'Hare and Adam Temple-Smith. It felt like the young women were being courted by cub scouts. However almost instantly as young bucks Guglielmo and Ferrando donned their disguises their confidence increased dramatically noticeably growing in stature.
Outstanding was Samantha Clarke as Fiordiligi who seems ready for the professional role of a classical heroine. Immediately I sensed her assurance and she radiated a considerable stage presence. Revealing her creamy, highly attractive voice her arias Come scoglio and Per pietà were splendidly sung, stirring and most expressive, achieving her high notes comfortably. The highlight of the evening Per pietà was enchanting, drawing her finest singing and poised acting but sadly a little of the magic was lost by some poor horn intonation. Providing commendable singing and fine acting was Sarah Gilford who was most comfortable in the role of Dorabella. Memorable was her aria Ah, scostati!… Smanie implacabili with Dorabella consumed with grief. Gilford sings splendidly, displaying her bright and flexible voice with a satisfying degree of expression.
It was a delight to see baritone Aaron O'Hare steadily settle into the role of Guglielmo. Kneeling and pleading O'Hare did a fine job in Guglielmo's aria Non siate ritrosi singing and acting well and ending up on the floor laughing. Encouraging and worthy of honing is O'Hare's talent for humour. After a slow start tenor Adam Temple-Smith gradually relaxed into the part of Fernando. Nourished by the prospect of love I found Fernando's charming aria Un'aura amorosa sung with elegance if a touch lacking in expression. As he sang you could see him gaining in confidence.
Feisty ladies maid Despina was played by Daniella Sicari with a wholehearted approach. Despina's aria Una donna a quindici anni displayed Sicari's fine voice whilst making mocking faces at the two girls. A little more weight would improve her projection but there are certainly no problems with her acting ability.  David Cane looked comfortable as Don Alfonso the old philosopher but didn't look old at all. Although Cane sang well enough all evening his voice was nowhere near loud enough. Cane was involved in one of the high points of the evening. As the men sailed away to battle Fiordiligi, Dorabella and Don Alfonso sang their trio Soave sia il vento with such captivating beauty. Manoj Kamps conducted the well prepared RNCM orchestra with aplomb keeping the rhythm of the proceedings flowing. Chorus master Kevin Thraves excelled with the chorus who were certainly up to the job, singing with unity and character.
With some real talent on view Thomas Guthrie's production of Così fan tutte deserved its warm audience applause.
Michael Cookson