Spain Bellini, I Puritani: Teatro Real Orchestra and Chorus, Evelino Pidò (conductor), Teatro Real, Madrid, 17 & 19.7.2016. (JMI)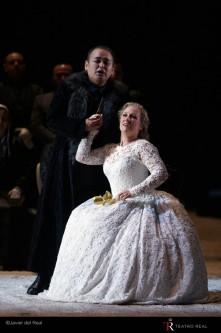 Production: Teatro Real and Santiago's Teatro Municipal
Direction: Emilio Sagi
Sets: Daniel Bianco
Costumes: Peppispoo
Lighting: Eduardo Bravo
Casts:
Elvira: Diana Damrau/Venera Gimadieva
Arturo: Javier Camarena/Celso Albelo
Riccardo: George Petean
Giorgio: Nicolas Testé/Roberto Tagliavini
Enrichetta: Annalisa Stroppa/Cassandre Berthon
Lord Gualtiero: Miklos Sebestyen
Sir Bruno: Antonio Lozano
These performances of I Puritani offered two very appealing casts: to the presence of Javier Camarena and Diana Damrau on the first night one must add Celso Albelo and Venera Gimadieva on the second. The Mexican tenor arrived in Madrid from his debut in the character of Arturo last May, while Celso Albelo has, in recent years, been a frequent interpreter of the role. The two leads in the first cast enjoyed a great success, and something similar, though not at the same level, happened with the second cast, which was somewhat overshadowed by Albelo's superfluous dramatics.
The staging by Emilio Sagi is a co-production with Teatro Municipal in Santiago, where it was premiered two years ago. His work here is classic and elegant, as it usually is, but somewhat short on stage direction. The sets are quite simple: an enclosed space with lines of glass chandeliers during the first two acts, and a cyclorama with forest images in Act III replacing the door at the back of the stage. There are two levels, with the chorus occupying the upper one, as if they were spectators. The costumes are all in dark colors, except in the case of Elvira, always dressed in white, and of Enrichetta, who is dressed as a Tudor queen. The lighting is nicely handled.
The conductor, Evelino Pidò, has become a specialist in bel canto operas, a kind of natural successor to Bruno Campanella. He was very careful, always supporting the singers, and was at his best in Act I. His reading declined somewhat during Act II, which is known to be less interesting dramatically and musically. There were excellent performances from both the orchestra and the chorus.
Javier Camarena's mastery of all aspects of the part of Arturo is impressive, given that this is only the second production in which he has sung the role. He was not only an exceptional Arturo, but he has proved to be unrivalled today in this repertoire. We would have to go back many years to meet an Arturo like his. Stylistically, it's true that one cannot overlook performances by Juan Diego Flórez in the part, but vocally, Camarena's talent is indisputable. His voice is very beautiful, with great uniformity, and his high Ds are always bright and clean.
Celso Albelo has been singing Puritani for the last eight years in the most important theatres and can be counted on in the role. He offered a fine performance in vocal and dramatic terms and had no major problems with the high Ds, although they were not as bright and clean as Camarena's. Perhaps spurred by Camarena's success, Albelo surprisingly decided to crown his performance with the famous high F of "Credeasi, misera," and his voice cracked. I remember past appearances where he had the good sense not to try it.
Diana Damrau was outstanding as Elvira. She is an ideal protagonist, perfectly suited to bel canto, and combines a beautiful voice with a refined technique and great ease at the top notes. Ms. Damrau is not the little bird who often tries to give life to Elvira, but a singer in full possession of her voice. She's one of the most important lyric sopranos today, and the best of them all in this repertoire.
In the second cast Russian soprano Venera Gimadieva was also excellent. Her voice is attractive and well handled, and she has no problem reaching the top notes.
George Petean was Riccardo both days and his performance was very reliable, with a well suited voice and a fine bel canto style. French bass Nicolas Testé was correct as Giorgio, but rather short on volume. Roberto Tagliavini was a remarkable Giorgio in the second cast, showing that his progress is indeed a fact, as he had already proved the day before in I due Foscari.
Annalisa Stroppa went almost unnoticed in the part of Enrichetta, while Cassandre Berthon was miscast. She is really a light soprano and not the required mezzo soprano.
In the secondary characters, Miklos Sebestyen and Antonio Lozano did well as Gualtiero and Bruno.
José M. Irurzun