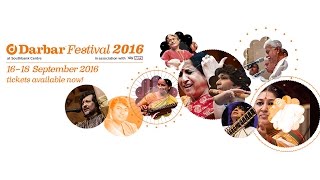 United Kingdom Darbar Festival 2016 – Vocal Carnatic and Hindustani music: Aruna Sairam (carnatic vocal); Jayanthi Kumaresh Saraswati (veena); Jyotsna Srikanth (carnatic violin); Venkatesh Balaraman (mridangam); Dr S Karthick (ghatam); Pandits Rajan & Sajan Mishra (khayal vocals); Pandit Kumar Bose (tabla); Dharamnath Mishra (harmonium). Royal Festival Hall, London, 17.9.2016. (CC)
The Darbar Festival has been expanding year on year, including now the venues of the Barbican and Sadler's Wells as well as the Southbank Centre; and for the first time, there is an expansion into mainland Europe, to the Ravenna Festival.
This extended double-bill concert featured some of the finest Indian musicians of today. Mumbai-born Aruna Sairam has a huge reputation, and it is clearly well deserved. She was joined on stage by Jayanthi Kumaresh Saraswati on veena (it looks like an enlarged lute), Jostsna Srikanth on Carnatic violin (the style of holding and playing is different from a traditional violin), Ventakesh Balaraman on mridangam (the drum that forms the anchor – and usually provides some stunning improvisations – in Carnatic ensembles) and Dr S Karthick on ghatam (a clay pot used as a percussion instrument that makes the most astonishing variety of noises).
Sairam started with the beautiful kriti (composition) Anandamrita Karshini in Adi tala (the most popular tala, or rhythm, in Carnatic music). Composed by Muthuswamy Dikshitar, it is active, with the violin shadowing the voice like a cat. Sairam's voice is big, so I remain unsure of the amount of amplification that was accorded to her. Nevertheless, this was a terrific experience – the piece makes use of the whole range of Sairam's voice, including some astonishingly low (bass!) notes. The ragam, Amritavarshini, is of a decidedly pentatonic bent. (It is, incidentally, believed to bring rain; not that England usually needs music to bring that about).
Brova Bharama, composed by Thyagaraja and using Raga Bahudari, was a beautiful, smoky-sounding piece that preceded the main item of this segment of the evening, Ragam Tanam Pallavi, in which most of the piece was improvised. Terrifically long vocal melismas gave way to extended solos for all instrumentalists, with perhaps the Carnatic violin solo shining brightest, with its hard-edged tone (no vibrato), and was followed by a percussion refrain/improvisation for mridangam and ghatam which I silently christened the drum and pot wars. There was a decidedly celebrational aspect to this piece. Finally, an envisioning of the Dance of Krishna that forced the five-headed snake Kalinga, which had been terrorizing the people on the river Yamuna in the sixteenth-century piece by Oothukkadu Venkata Subba Iyer. This was a new version that blended voice and veena spectacularly. It is a wonderful piece, blending narration and highly-sprung rhythms; a fitting way to close.
After the interval we experienced the pairing of Rajan and Sajan Mishra on vocals. As they put it, "music is our worship", and they invited us into their puja. The length of the pieces is immersive, so much so that one gets dragged in hypnotically. The structure seems to be articulated by when the two sing together; accompanied on stage by Pandit Kumar Bose on tabla and Dharamnath Mishra on harmonium. The vocal gymnastics of Rajan and Sajan are utterly remarkable, with some ultra-deep singing on display. They are superstars of Indian khayal singing, a style that is marked by its pronounced element of improvisation. Celebrating the music of their great-grandfather in one of the pieces, the devotional element of their expression was everywhere apparent.
Colin Clarke