United Kingdom Wagner, Götterdämmerung Act II: Soloists; Mastersingers Chorale; Rehearsal Orchestra / David Syrus (conductor), Henry Wood Hall, London, 30.10.2016. (JPr)


Alberich – Malcolm Rivers
Hagen – Stuart Pendred
Siegfried – Mark Le Brocq
Brünnhilde – Lee Bisset
Gunther – Paul Carey Jones
Gutrune – Lisa Wilson
There were five things to celebrate: number one, was my first-ever visit to Henry Wood Hall. It is named of course after the conductor Sir Henry Wood but is based in the now otherwise disused Holy Trinity Church and opened in 1975. Why has it taken me until my seventh decade to find out about this famous orchestral rehearsal and recording space in Southwark? It seems so well known to music lovers based on the enthusiastic throng attending this open rehearsal and run-through of Act II of Wagner's Götterdämmerung.
Number two is the Rehearsal Orchestra, something else I have taken too long to encounter. Checking their website, I find the Rehearsal Orchestra began as the Edinburgh Rehearsal Orchestra at the Edinburgh International Festival in 1957. Harry Legge, a member of the Royal Philharmonic Orchestra 'had regularly enjoyed the RPO's visits to the Festival and noticed the number of players about during the day waiting for evening concerts. To "keep them out of the rain" he came up with the brilliant idea of forming a rehearsal orchestra to enable them to study the major works they would then hear performed professionally in the evenings!' Along with his partner in the project, Gillian Halse, they made a great success of this in Edinburgh and from this began the series of weekend courses held every year in London and Manchester. Legge himself led most of the courses from 1957 to 1999. Through his connection with the RPO, the distinguished conductor Rudolf Kempe became interested in conducting the RO. Other guest conductors have included Sir Charles Mackerras, Sir Charles Groves, Sir Andrew Davis and Sir Simon Rattle. In 2007 the 50th anniversary year saw Sir Mark Elder join that distinguished company. Almost every professional orchestra in the UK includes players who have passed through the ranks of the RO which has established itself as a unique resource for soloists and talented players of all ages wishing to tackle difficult repertoire and who are happier to put their reputations on the line in rehearsal but not immediately in a public performance. The RO is a registered charity and those involved are charged affordable fees for each course.
Number three in this 'celebrations' list is the Mastersingers an organisation which owes a great deal to the distinguished baritone Malcolm Rivers and was founded to continue and develop the tradition of British Wagnerian singing at the highest international level. They take their inspiration, as their website explains, 'from the celebrated conductor Sir Reginald Goodall, whose pioneering work at English National Opera in the 1970s and '80s laid the foundation of great Wagner interpretation in this country.' The purpose 'is to train, mentor and promote British singers in the German Romantic repertoire – mainly in the works of Wagner, but also including those of Richard Strauss. With the direct involvement of Britain's most senior and distinguished artists, we are nurturing singers who are usually mid-career and who are discovering that their voices are growing into heavier and more dramatic repertoire.' To do this they arrange workshops, masterclasses, lectures, public concerts, study days and open rehearsals both with piano and – as here – with orchestra. Mastersingers is another registered charity which receives no public funding and their work is entirely dependent on the generosity of individual and corporate benefactors. I was involved with Mastersingers when it all began with semi-staged performances at the De Montfort Hall, Leicester, both with orchestra, of Das Rheingold (March 1998) and Die Walküre (January 1999) and, in hindsight, it has taken me too long to appreciate the true extent of their achievements.
For numbers four and five it is a celebration of the lives of two great Wagnerians to whom this event was dedicated: Liverpool-born Alberto Remedios CBE (1935-2016) who because of the guidance of Sir Reginald Goodall became a remarkable Wagner singer that few have – or will – surpass and he was the first British tenor to sing Siegfried at Covent Garden in a generation; Peter West (1936-2016) was a passionate Wagnerian and a friend of Alberto Remedios who – because of his skill as a professional photographer – recorded Mastersingers' productions over ten years.
I came and saw the run-through and of course this cannot be reviewed in the normal sense, but perhaps this was an additional 'celebration' because how wonderful it all was. I have been mentioning numerous times in reviews the resistance by some to small-scale operatic events like this because it is not the 'real thing' but this does not seem to be a problem with Mastersingers who have obviously built up a loyal following. A full-sized orchestra filled half of Henry Wood Hall and The Mastersingers Chorale was an impressive throng. As an aside it was entertaining to watch their director, Kelvin Lim, doubling on the cymbals! The conductor was David Syrus and there was much Goodall-like detail, textures and Wagnerian Klang. His Act II was probably about 10 minutes shorter than the esteemed maestro, though – as head of music for the Royal Opera – he had his own ideas and it was all the more exciting; with the Rehearsal Orchestra performing creditably throughout – if not remarkably –  considering they had only three rehearsal sessions.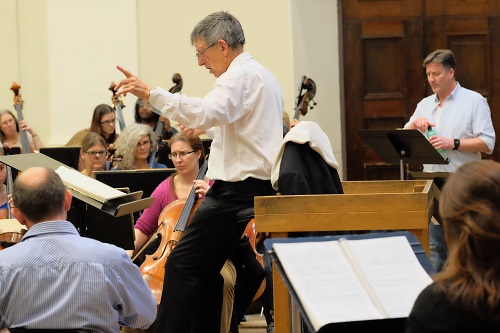 The singers were an interesting mix of youth and experience. Since age is just a number I won't reveal how old Malcolm Rivers is but he brought all his experience to Alberich's 'Schläfst du, Hagen, mein Sohn?' (Are you asleep, Hagen, my son?) bringing back happy memories of seeing him sing this role on stage. Stuart Pendred was perhaps not the blackest of Hagens and his dependable voice with its good diction will be well suited to Kurwenal to which I suspect he will return next summer at Longborough. Paul Carey Jones appears to have stepped in for someone previously announced as Gunther and sang well, suggesting he is more likely than not to move up to Wotan more regularly in the future if the opportunities arise. Lisa Wilson as Gutrune doesn't get too much to do in this act but what she did showed evidence that there may be many other future Wagner roles for her if she pursues them. Marc Le Brocq who – Malcolm Rivers apart – was the most well-known singer we were hearing is exploring the Wagner repertory. I consider his Siegfried was a success and would look forward to hearing him sing it again in the future. There was plenty of incipient heroic heft and lyrical warmth to keep me happy. Lee Bisset who was so wonderful as Isolde at Longborough (review) deserves to be better known than she currently is. With the great Brünnhilde of years past, Dame Anne Evans, in the audience living every note with her, Bisset was by turns briefly and touchingly vulnerable but mainly intensely dramatic, vehemently strong and steely. She was always so much in character and when singing 'Betrug! Betrug! Schändlichster Betrug!' (Deceit! Most shameful deceit!), for instance, the relevant page was almost torn from her score as she turned it!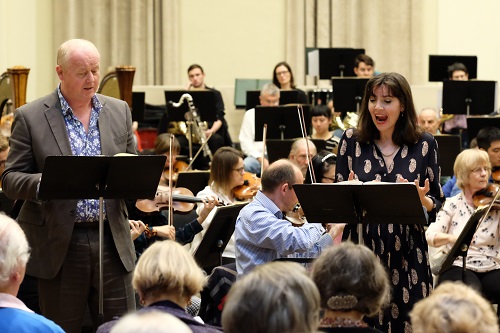 To be honest the 'celebrations' which have now gone beyond my original five are not finished since after a rapturous reception for those involved, Karen West, Peter's daughter, presented bursaries in her father's name to Stuart Pendred and Lee Bisset for coaching sessions with the almost legendary Wagner conductor of this generation who worked with Goodall, Anthony Negus, before their return to Longborough this summer. Further evidence – if any is needed – of the remarkable work Mastersingers are doing through the philanthropy of others.
Jim Pritchard