United Kingdom Verdi, Il trovatore: Soloists, Chorus and Orchestra of the Royal Opera House, Covent Garden / Richard Farnes. The Royal Opera House, Covent Garden, London, 4.12.2016. (CC)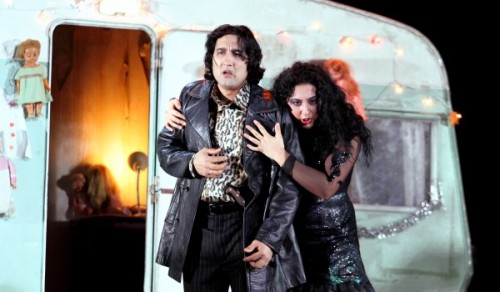 Cast:
Leonora – Maria Agresta
Manrico – Najmiddin Mavlyanov
Count di Luna – Quinn Kelsey
Azucena – Anita Rachvelishvili
Ferrando – Gábor Bretz
Ines – Jennifer Davis
Ruiz – David Junghoon Kim
Old Gypsy – Jonathan Fisher
Messenger – Andrew O'Connor
Production:
Director – David Bösch
Set & video designer – Patrick Bannwart
Costume designer – Meentje Nielsen
Lighting designer – Olaf Winter
Associate lighting designer – Nick Havell
Najmiddin Mavlyanov replaced the advertised Roberto Alagna for this first revival of David Bösch's production of Il trovatore. First seen incredibly recently (my colleague Jim Pritchard reviewed a performance in July this year here), Bösch's sets seem to describe a non-specified war zone. A tank has "Luna" written on the side, and there is evidence of mobile phones; crows/ravens, birds associated with death, are projected cleverly by the Swiss set and video designer Patrick Bannwart. A drop-down curtain with L-Heart-M is echoed by the same motif on a tree.
Gypsies are shown as members of a traveling circus, with on-stage caravan from which Azucena steps forth. The prison is seemingly outside, barbed wire indicating the incarceration element. The sets are predominantly gray or dark; the representation of fire (from fires in barrels to a proper crematory blaze towards the end) is pretty much a stage constant. Bösch made his opera directing debut as recently as 2009/10 with Orlando furioso, so he is a newish kid on the block and Trovatore is a huge challenge. This opera has never attained the popularity of La traviata, yet a good performance can create an atmosphere that is all-encompassing. Sadly, that performance was not this one.
There were two stand-out stars, though. The first was non-vocal. The conductor, Richard Farnes, recently brought the Opera North Ring to the Royal Festival Hall to great, and rightful, acclaim. Farnes clearly inspires his orchestras. Textures were expertly delineated, ensemble was always tight. But more, there was a feeling of revealing the underlying greatness of the piece. No hanging around for the (expertly sung) Anvil Chorus here. The second star was the Georgian mezzo Anita Rachvelishvili. She debuted as Carmen at Covent Garden in 2013, reprising the role in 2015/16, and what a performance that must have been. Her low register has the power of a full contralto, yet she has the higher reaches of the mezzo register, too. Her sense of line was impeccable, her stage presence compelling. "Stride la vampa" was a true highlight of the evening.
The Uzbekistani tenor Najmiddin Mavlyanov took the role of Manrico, clearly pacing himself and holding "Di quella pira" from the end of Act III in his sightlines, not daring to give his all at any time before that. He could have given a touch more acting, though, that would not have hurt his voice. He clearly likes the big roles (his Covent Garden debut was Cavaradossi in the 2015/16 season and he lists Alfredo Germont and Don José as his conquered parts,) yet there was never the feeling of a major presence, or even voice, here. His Leonora was the Italian soprano Maria Agresta, making her role debut. While she has a fine lyrical line, the more complex and challenging writing did indeed sound, well, complex and challenging when all one pined for was excitement and confidence.
Later in the run, the role of Luna was to have be taken by Dmitri Hvorostovsky (the second cast is lucky to hold Rachvelishvili as a constant though) but he has sadly had to cancel. Here, it was Hawaiian baritone Quinn Kelsey, who debuted at Covent Garden in the previous season as Giorgio Germont. Again, presence was a problem and vocally there it was just a touch lacking in gravitas; not to mention menace.
The smaller roles were all acceptably done. One rather strange element of this particular evening was that what sounded like a rogue radio used for communications between staff members seemed to be relayed to the auditorium a few times. It was more amusing than irritating, which in itself was telling: surely irritation is the apt emotion if one is caught up in one of Verdi's finest scores (for such I for one believe this to be). One has to be grateful for the light shed on the evening by the excellence of Azucena and the conductor, but the other parts required greater efforts. It will be fascinating to see if the change of cast (starting on January 26) can raise the game.
Colin Clarke