United Kingdom Cilea, Adriana Lecouvreur: Soloists, dancers, chorus and orchestra of The Royal Opera / Daniel Oren (conductor). Royal Opera House, Covent Garden, London. 7.2.2017. (JPr)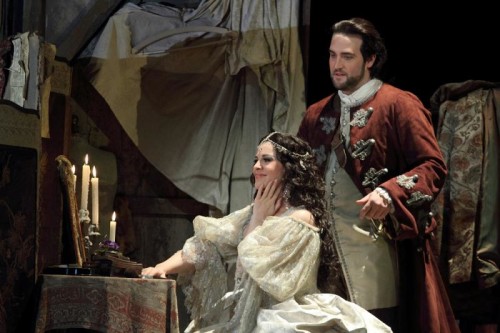 Production:
Director – David McVicar (revived by Justin Way)
Set designer – Charles Edwards
Costume designer – Brigitte Reiffenstuel
Lighting designer – Adam Silverman
Choreography and movement – Andrew George (revived by Adam Pudney)
Cast:
Adriana Lecouvreur – Angela Gheorghiu
Maurizio – Brian Jagde
Abbé de Chazeuil – Krystian Adam
Princesse de Bouillon – Ksenia Dudnikova
Prince de Bouillon – Bálint Szabó
Michonnet – Gerald Finley
Mademoiselle Jouvenot – Vlada Borovko
Mademoiselle Dangeville – Angela Simkin
Poisson – Thomas Atkins
Quinault – Simon Shibambu
Well, where to begin? The first thing you see when taking your seat is a bust of Molière on the prompt box getting a very rare outing on the Covent Garden stage. Secondly, there is the reminder of how when his staging was first put on in 2010 David McVicar had something of an enfant terrible reputation as an opera director, but his recent work suggests he has become the natural successor to Jonathan Miller. This was the first revival of his Adriana Lecouvreur since then, though presumably this rarely performed opera has had subsequent outings at all the opera houses that shared the cost of this production: Gran Teatre del Liceu, Barcelona, Vienna State Opera, San Francisco Opera and L'Opéra National de Paris. It will remain difficult to revive unless another diva of the magnitude and reputation of Angela Gheorghiu – here celebrating 25 years since her Royal Opera debut – can be persuaded to sing the role of another real-life diva, Adrienne Lecouvreur (1692-1730). For Gheorghiu this has become something of a 'calling card'; although she did nothing wrong I actually came away more impressed by Brian Jagde's Maurizio, Gerald Finley's Michonnet and most especially, the Uzbekistani mezzo, Ksenia Dudnikova, as Princesse de Bouillon.
In 2010 there seemed a lack of personal chemistry between Gheorghiu and Jonas Kaufmann as Maurizio, however here in Act II her clinch was passionate enough to make her hat fall off! This was part of a well-rehearsed and musically excellent performance that was one of the better evenings I have spent recently watching opera. Nevertheless, with two intervals the plot, which was as thin and – thanks to the composer's own cuts – with as many holes to it as BBC's recent Apple Tree Yard, makes for a fitfully engaging, overlong evening despite the memorable singing.
The composer, Cilea, is probably responsible because the opera is always reminding you of something else. I am not sure if Francesco Cilea was a Wagnerian, but there are enough hints of music from the Ring in particular – when the music is not supporting the voices – to suggest he was. This opera also seems to pay homage to Puccini's earlier Manon Lescaut much more that it should. When Cilea writes for his soloists he is never content to use a melody, however evocative it may be, just the once but he repeats it again and again. Not only does the music have its intrinsic longueurs but we were treated to a full Act III Judgement of Paris ballet with a revival of Andrew George's camp and mannered quasi-eighteenth century choreography. The story is never going to make complete sense so a judicious use of scissors on the score could have made for a shorter and more dramatically engaging evening, needing only one interval.
If you are a regular operagoer, amongst other things you will have seen before are the Act I backstage antics at the Comédie-Français in Pagliacci by Cilea's compatriot, Leoncavallo. There is even a hint of Tonio from that opera in the character of Michonnet, the stage manager, who is devoted to his 'diva', Adriana Lecouvreur. The real historical figure – a favourite of Voltaire – had a turbulent love-life and a suitably mysterious death. In the opera she is given Tosca-like tantrums and that character's jealously as well as her ideals of living for love and her art. Her rivalry with the Princesse de Bouillon for the affections of Maurizio, Count of Saxony, is a pastiche of the great Amneris/Aida 'cat fight' over Radamès, even to the point of Adriana exposing her affections by fainting when hearing of his supposed death. Adriana's disgrace, subsequent penury, death and transfiguration comes straight out of La traviata – even though her death here is not from consumption but from poisoned violets sent by the Princesse, would you believe? I know I can be accused of having seen and heard too much and I accept that.
Well, what does Sir David McVicar do with this (as revived here by Justin Way)? He shows us the artifice of the theatre and those who work in it. Most are 'big fish in a small pond' but are nobodies once the lights have dimmed and the curtains are closed. Even Angela Gheorghiu herself admitted some time ago this is why she keeps performing: 'I want to have the same feeling in my life as I do on stage and that is not often the case. Life is sad compared with opera.' Charles Edwards' sets and Brigitte Reiffensteul's costumes are exquisitely detailed throughout the evening and for Act I we are backstage in a theatre loosely based on the splendidly ornate Rococo Margrave's Opera House in Bayreuth. Michonnet gives his commentary from the wings as 'his' Adriana performs in Racine's Bajazet in the background. The set turns around and we see it from the front in Act II as it represents a villa by the Seine; in Act III we are part of the audience and for Act IV we are backstage again with everything as derelict as the set from the only previous Covent Garden production in 1906 might look like over a century later. The great attention to detail McVicar brings to all the backstage antics is brought to vivid life by the exemplary sense of 'company' by all concerned.
On paper, Maurizio, Count of Saxony, is a rather unsympathetic character and will woo anyone who will be of advantage to him. The role was first sung by Enrico Caruso and although Brian Jadge perhaps would not compare himself to that legendary tenor, his singing was Italianate, clean and expressive. He has a secure stentorian tone and most significantly, oozes charisma and I would be interested to hear him sing Calaf. Jadge was so good – in what was a role debut – that he even could even make the Act III hokum about his war exploits 'Il russo Mencikoff' seem compelling.
It seems a feature of Angela Gheorghiu's performance that she never seems entirely warmed up when she first begins singing. This is a problem in Adriana Lecouvreur because her showpiece aria about her being a servant to her dramatic art ('Io son l'umile ancella') comes at her first appearance. It was very quiet although her exquisite vocal control did have the consequence of creating a certain intimacy and embracing you with its artistry. Her Adriana was confident and hot-blooded as an actress yet insecure when not on stage. Her love for Maurizio is so all-consuming that she eventually abandons her company when she believes he no longer loves her. Gheorghiu's Adriana is best when her character is acting: when she attacks her rival, the Princesse de Bouillon, with words from Racine's Phèdre declaring she is not one of 'Le audacissime impure, cui gioia è tradir' (The brazen women whose joy is to betray); or when she sings her final aria, insanely trapped in the character of Melpomene, the muse of tragedy. Her entire performance seemed remarkably restrained with little of Gheorghiu's familiar – and often immensely enjoyable – emoting and doomed-heroine shtick which would have been entirely appropriate considering a diva was playing another diva!
The rest of the cast aren't give much opportunity to shine but they excel in what they do get to do. Gerald Finley, in one of the best performances I have seen from him, engendered tremendous sympathy as Michonnet, a Hans Sachs-like father-figure to Adriana, but someone who wants to be more than that to her. He, too, was singing his role for the first time, and Michonnet's final Act IV duet with Adriana confirmed this couple as central to conveying Cilea's tragedy; Finley and Gheorghiu's singing was both tender and, at the same time, had an air of desperation.
For me Ksenia Dudnikova was the discovery of the evening and – in another role debut – brought the jealous, possessive Princesse de Bouillon to vivid life and made a potent rival to Adriana. On her first appearance in Act II she advertises her authority, as she enunciates her opening words with eloquence and assertiveness: 'Acerba voluttà, dolce tortura, lentissima agonia, rapida offesa' ('Bitter voluptuousness, sweet torture, slow agony, sudden offence'). With this Dudnikova faultlessly expresses the Princess's forthrightness, sense of purpose and self. When Maurizio later enters and is sternly commanded to sit down ('Sedete') I nearly jumped up out of my seat! Completing the principal roles were Bálint Szabó who sang with suitable gravitas as the Prince, whilst Krystian Adam was wonderfully foppish and unctuous as his servant the Abbé.
The conductor, Daniel Oren, treated the music seriously and made a good case for a further revival before seven more years have passed. There was some red-hot passion in the playing from the orchestra which was polished and often warmly animated, especially in the Act II intermezzo. His only compromise in dynamics was when Angela Gheorghiu was singing and everything seemed to go a little quieter, though it was clear she is still able to ride the orchestral climaxes if necessary. Oren brought considerable tension to Act IV as Adriana relives her life on the stage and expires in Maurizio's arms. In a genuine coup de théâtre McVicar has the motley troupe of actors walk to the front of 'their' stage to pay homage to the passing of the diva: 'The play's the thing' and all that!
Jim Pritchard
For news about all forthcoming events at the Royal Opera House visit http://www.roh.org.uk/.