United Kingdom Puccini: Madama Butterfly: Soloists and Chorus & Orchestra of the Royal Opera House, Covent Garden / Sir Antonio Pappano. Royal Opera House, Covent Garden, 23.3.2017. (CC)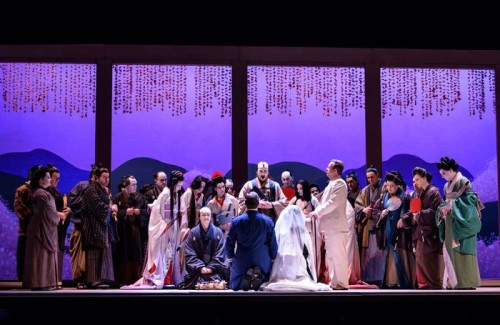 Production:
Directors – Moshe Leiser, Patrice Caurier
Set Designer – Christian Fenouillat
Costume Designer – Agostino Cavalca
Lighting Designer – Christophe Forey
Cast:
Cio-Cio-San (Madama Butterfly) – Ermonela Jaho
B.F. Pinkerton – Marcelo Puente
Suzuki – Elizabeth DeShong
Goro – Carlo Bosi
Sharpless – Scott Hendricks
The Bonze – Jeremy White
Prince Yamadori – Yuriy Yurchuk
Kate Pinkerton – Emily Edmonds
Imperial Commissioner – Gyula Nagy
The 2011 incarnation of this staging was covered by my colleague Jim Pritchard here. This is actually the fifth revival of Moshe Leiser and Patrice Caurier's staging, first seen in 2003.  It is a lovely setting for the opera, verging on the traditional. Large panels delineate the house. Via machinery they can rise and fall, sometimes showing through images of Nagasaki harbour, for example. Unfortunately, the sound of the machinery was rather off-putting. One wonders if this was only on this occasion, but it was a touch distracting.
Yet there is much of beauty on display. While the set may not be in any identifiable way "American" for Pinkerton's return (sets by Christian Fenouillat), the starry night is beautifully and magically managed with pinpoints of light. The hierarchic bowing of servants in Act I was a nice touch (some bowed lower than others), and costumes, designed by Agostino Cavalca, were beautiful and perfectly judged.
I very much enjoyed Pappano's way with Puccini's Manon Lescaut in late November last year, and with the better-known Butterfly he just confirms these credentials. Pappano moulds each phrase with love, but more – much more – he has a full grasp of the dramatic structure, something that had the effect of the music operating in waves. Even more impressive, arguably, than this was his ear for detail. One aspect of this aspect was the sheer discipline on show from the pit: those tricky speedy ensemble string lines were perfectly articulated, as was the busy-ness of the work's opening. Pappano shares the run with Renato Balsadonna, ex-Chorus Director at the Garden from 2004 to last year.
So to the cast. Our Butterfly was Ermonela Jaho, Albanian-born and now New York-based. While in 2012 I found her Violetta Valéry initially unfocused and generally uninvolving (see review), here she seemed perfectly within the part of Cio-Cio-San. Her final gestures, where she flaps like a dying butterfly, were deeply affecting, the result not just of the moment but an inevitability, it felt, from the very opening of the opera. Vocally she was exceptional, her "Un bel dì" delicately toned and phrased, fragile as a cherry blossom; yet her voice is capable of power. No lack of stage presence here, either. As so often, she is hardly believable in terms of the supposed age of her character (a pronounced titter from the crowd confirming this) but her triumph was, thereafter, making us all forget such trivialities in her absolute grasp of the role.
The Pinkerton, Argentine tenor Marcelo Puente, was making his Royal Opera debut. He has sung this role in Gothenburg, Leipzig, Tokyo and at La Monnaie. And he does look the part, tall, strapping and dashing. But his acting was mannered, especially in the first act, and while the duet at the close of the first act was well managed ("Vogliatemi bene"), his voice needs more control and power in its upper reaches to have a real Puccini heroic tinge to it.
As Goro, the experienced Carlo Bosi wore the part as comfortably as he wore his stylish light suit, his initial interactions with Pinkerton actually putting Puente's acting in the shade. But if we are looking for sheer excellence among the smaller roles, it is to Suzuki we should go. In a sense it was just as well Jaho was on such fine form as American mezzo Elizabeth DeShong would have upstaged many. Perfectly focused voice coupled with true identification with both words (held within faultless diction) and dramatic situation meant her every gesture and sound were significant. I do hope to hear more from her (this was her Royal Opera debut, and a triumph). Suzuki seems to be her signature role, as she has taken it to San Francisco, the Met and the Canadian Opera Company; in May this year she sings it at the Bavarian State Opera.
Scott Hendricks made a believable and fine Sharpless, while Jeremy White was a brilliant Bonze (a role he is most comfortable with here at the Garden having taken it many times before). As the unsuitable suitor, Prince Yamadori, Ukrainian baritone Yuriy Yurchuk made the most of his opportunity (he sang it here in 2015; he was also Baron Dauphol in a recent La traviata).
It is always good to welcome members of the Jette Parker Programme, and one such here is the excellent Emily Edmonds, the Australian mezzo that took Kate Pinkerton. Seen in silhouette initially, when she had the chance she positively shone. Also from the same scheme is Gyula Nagy as the Imperial Commissioner.
The Covent Garden Chorus was on brilliant form. There's a lot of off-stage work here, and the distancing was well managed (at least from my vantage point of the front row of the Stalls Circle), not least in the famous "Humming Chorus".  The orchestral contribution was well-nigh faultless throughout.
It is worth mentioning that the programme contained the best set of essays I have seen in my time at the Garden: George Hall's "Japonism in opera" and Helen M. Greenwald's lavishly illustrated "Discovery and Recovery" stand out. As to the reception of this particular performance, the standing ovation for Jaho was richly deserved. The muted reaction for  Puente, which seemed to include a fair smattering of boos, seemed a little harsh (it was his debut after all); rightful cheers for Pappano redressed the balance. A great realisation of a great opera.
Colin Clarke