United States Stravinsky, Beethoven: Garrick Ohlsson (piano), San Francisco Symphony / Susanna Mälkki (conductor), Davies Symphony Hall, San Francisco. 10.6.2017. (HS)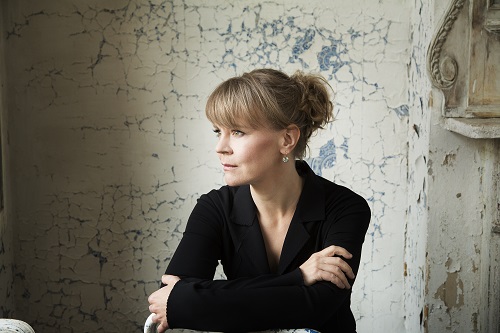 Stravinsky – Scherzo fantastique; Le Sacre du Printemps (The Rite of Spring)
Beethoven – Piano Concerto No. 1
San Francisco audiences have in the past decade or so enjoyed more than a few rip-snorting renditions of Stravinsky's Sacre du Printemps under the baton of music director Michael Tilson Thomas. Last Saturday night, Susanna Mälkki, chief conductor of the Helsinki Philharmonic Orchestra, whipped up quite a storm in Davies Symphony Hall.
She led a muscular performance of this seminal work, building towers of sonic colors on a foundation of rock-solid rhythms. She balanced precision—this orchestra has this music in its bones—with a welcome sense of spontaneity. Loud as it got, there were no blaring edges. It's as satisfying a performance of The Rite as I can recall.
Mälkki is no stranger to San Francisco, having made a huge impression with her first performances with this orchestra in 2012. Last season, in a two-week residency, she explored the music of Russia and Finland. The orchestra clearly has taken a liking to her leadership, her economic and crystal clear gestures and the ability to make even the steeliest music glow.
Those assets were in evidence from the opening work, Stravinsky's seldom-heard 1907 Scherzo Fantastique. (At least it hasn't been heard from the San Francisco Symphony since the composer conducted it on a 1958 concert.) The 11-minute overture, written three years before he made his big splash with The Firebird in 2010, buzzes with 'Flight-of-the-Bumble-Bee' allusions. Mälkki brought those out in the vivacious outer sections, framing a slower, almost wistful middle one. Sharp ears that heard past the influence of Rimsky-Korsakov, his teacher, could discern early examples of Stravinsky's signature rhythmic drive, and an orchestral color quite different.
In Beethoven's Piano Concerto No.1, soloist Garrick Ohlsson brought an almost Mozartean sweetness. Mälkki obliged with a softer-edged orchestral approach than we usually hear these days. What emerged was sprightly and warmly shaded, nicely framing Ohlsson's impeccable technique, especially in the long cadenza in the first movement. Its lavish decoration and intertwining lines emerged with clarity.
The slow movement, for all its grace, could have used more emotional richness, but the finale bopped along with wit and welcome crispness. Chopin's Nocturne Op. 15 No. 2 in F-sharp made a long-breathed encore for Ohlsson.
From principal bassoon Steven Paulson's statement of the famous opening lines, it was clear that Sacre du Printemps was not going to sacrifice beauty of sound to get to the pagan soul. Paulson's tone, even at the very top of the instrument's range, showed no strain, no hard edge. Mälkki let the secondary lines overlap with no hurry. Rhythmic gestures came and went with an almost improvisational feel, until the locomotive started picking up steam with the "Dances of the Young Girls."
From there, the rhythmic surge in every section seemed to find a different personality, the whole thing flowing with a sense of inevitability. "Spring Rounds" pulsed with restraint, but the climaxes of "Dance Out of the Earth," which ends the first half, were shattering.
Sharp entrances kept everything moving forward. The brass section distinguished itself with brilliant execution and throughout the orchestra solos wove together as one. The "Sacrificial Dance" at the close had an abandon that was absolutely delicious.
Harvey Steiman