Return of the Royal in Mumbai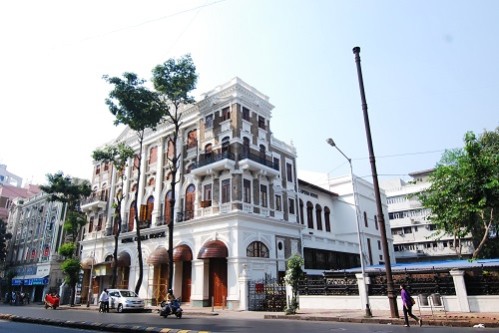 Inaugurated in 1911 by King George V, the Royal Opera House in Bombay (now Mumbai) was the only one of its kind in this part of the world. During the early part of the last century, it played host to opera performances as well as plays and concerts of both Indian and Western music. It was modified in 1935 to allow cinema, and eventually became one of the most famous movie palaces in Bombay screening Bollywood hits, many of which ran for over a year.
After its closure in 1993, the building fell into a state of dilapidation. Because it was deemed a 'heritage' structure, in 2008 the government initiated a restoration project in collaboration with an Indian royal family who are the current owners of the opera house. The restoration was carried out by an Indian conservation architect with painstaking attention to Baroque detail, which preserved the ornate carvings, paintings and embellishments in the auditorium and foyer and returned the Italian marble and crystal chandeliers to their former glory.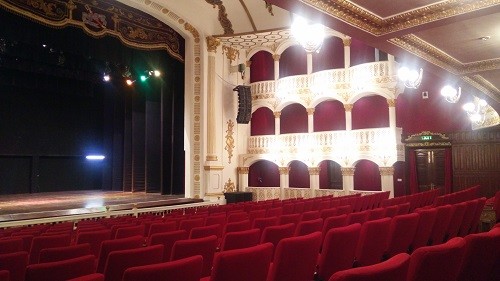 The auditorium of the opera house, with its colour scheme of red, cream and gold, bears a faint resemblance (perhaps not surprisingly) to that of its namesake in London. In fact, it could well be seen as a miniature of the latter, although the pit here is covered and under the stage, not open and in front of the proscenium. The theatre has two balconies and 574 seats; the boxes on the side are now merely decorative, though there still are four 'Royal Boxes' at the rear of the stalls.
The covered pit is small indeed, capable of accommodating only 20 musicians. Extending it to the front could only be achieved after extensive restructuring, which may not be in keeping with the priorities of restoration. However, this obviously restricts the kind of repertoire that could be staged here successfully: probably works with light scoring or ones that can be managed with pared-down orchestration such as Baroque opera, some Mozart and lightweight bel canto…or perhaps operetta.
Another drawback is the newly-installed air conditioning, which blows air into the auditorium with an audible 'whoosh'. In practice, however, one gets used to this sound which makes its presence felt only during softer music.
The auditorium's most significant strength is the acoustics: lush, warm and very kind to voices. These are given somewhat more prominence over the orchestra, which is not surprising given the limited number of players in the pit. One would imagine it is an easy space for singers, who would conceivably require less effort to project fuller tone.
The stage itself is quite adequate, having decent depth and width, and with a modern lighting system. In fact, since it reopened in October 2016, the opera house has been used to stage several plays and is becoming recognised as a viable venue by local theatre groups.
Now, for the first time in nearly a century, the house has come back to its original purpose with the staging of a full-length opera, Il matrimonio segreto by Cimarosa. Since the house doesn't have its own opera company, this was presented by the Giving Voice Society, an organisation headed by the Indian-born soprano, Patricia Rozario. She and her husband, pianist Mark Troop, visit India three times a year to conduct intensive workshops for local singers, and thus provide a much-needed service, considering the paucity of voice teachers here.
The opera was given a more than competent performance by Ms. Rozario's students and other singers of Indian origin. The staging was minimalistic, updating the action to what looked like a fin de siècle scenario.
One is happy to know that Giving Voice is not the only group staging opera with home-grown performers. The Neemrana Foundation has been doing so for some time now, presenting operas with Indian themes or about the Indian subcontinent (including a superb Les pêcheurs de perles). Late last year, they staged a delectable potpourri of excerpts from such works right here, in the Royal Opera House. It is good to see these organisations take the time, money and effort to nurture and develop local talent, unlike others with far greater resources who prefer instead to import from abroad.
By necessity, the ROHM has to be a multi-purpose theatre: opera alone would not be sufficient for it to sustain itself at this time. Until that day arrives, it is a much-needed addition to this city's cultural life.
So it is welcome back, indeed.
Jiten S. Merchant
Photo credits: Royal Opera House, Mumbai.