United Kingdom Roxanna Panufnik, Silver Birch (world premiere): Soloists, Garsington Opera Orchestra & Foley Artists, Garsington Opera Adult, Military, Youth and Primary Companies choruses / Douglas Boyd, Garsington Opera at Wormsley, 28.7.2017. (CR)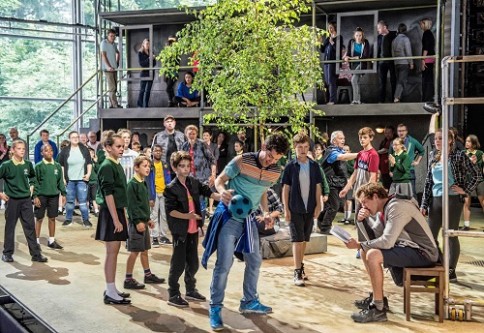 Cast:
Anna – Victoria Simmonds
Simon – Darren Jeffery
Mrs Morrell – Sarah Redgwick
Siegfried Sassoon – Bradley Travis
Jack – Sam Furness
Davey – James Way
Leo – William Saint
Chloe – Katya Harlan
Jack (aged one) – Imogen Whelan
Production:
Karen Gillingham – Director
Rhiannon Newman Brown – Designer
Rob Casey – Lighting Designer
Natasha Khamjani – Movement Director
Mischa Ying – Video design
Glen Gathard & Foley artists from Pinewood Studios Group – Sound design
Garsington Opera's most ambitious season yet came to its end with a fifth production this year, the world premiere of this one act opera which it commissioned from Roxanna Panufnik and librettist Jessica Duchen. It contributes to the ongoing centenary commemorations of the First World War not through an inconsequential re-enactment of events from that period, but by a purposeful, wide-ranging traversal through the domestic life of a contemporary family who exist within the ambit of service to the armed forces and to warfare as it continues to be prosecuted by this country in various arenas around the world.
The opera's cue is the figure and poetry of Siegfried Sassoon, whose spirit hovers over the whole drama as a ghost-like character that largely remains abstracted from the unfolding drama itself, but is invoked through his writings. Bradley Travis embodies him compellingly, however, casting a very personal and physical presence within the opera at least through his sonorous singing in the extracts from his poetry which is quoted at various points by some of the characters, and to which he contributes. These references mark the parallels between Sassoon's experiences and those of the characters in the contemporary world, in relation to war generally and in particular the unspecified conflict around which the work hinges.
Silver Birch is perhaps even too ambitious in grappling with the still too prevalent aspects of warfare which society has to confront one hundred years after the supposed 'war to end all wars'. A work lasting a little more than hour necessarily proceeds in broad brushstrokes with the result that the motivations and psychology of the characters is not always entirely clear, and Duchen's libretto is pitched at a simplified level. Only in the written synopsis is it explicitly stated that the father-figure, Simon, has lost his job in the army, with the implication that it is this humiliating, disorientating experience, and the dehumanising time he has spent in military service, that has led him to become the brutish boor that he is. He fails to understand the 'unmanly' inclination of his introverted son, Jack, towards Sassoon's poetry and it seems apparently unlikely that Jack would so suddenly announce his intention to join the army, compared with the more believable decision by his more extrovert and physically orientated brother, Davey, to do the same.
Jack's general desire to prove his worth in the eyes of his father is understandable, but that decision to do so specifically by means of service in the army can only seem logical if the point is that, given his family background, the only paradigm in which he can conceive of achieving this is through the legitimised pattern of force and violence which military service would enable him to pursue. If so, that makes an apposite comment upon how it is possible that modern, supposedly civilised Western societies can still harness and channel mankind's basest, most anti-social instincts to maim and violate other human beings through brute force, by encouraging some of their citizens to join their armed forces to execute wars on their behalf, as witness the British Army's own dishonest and insidious recruitment drive. Just as some groups of civilians in Silver Birch glamorise the novelty and excitement of military expeditions, so the British Army persuades young men and women – often from comparatively economically deprived backgrounds like Jack and Davey in the opera, with very little other prospect of employment – to 'Be the Best' through seeking a life of adventure and heroism in its campaigns abroad.  What our Army neglects to point out in reality, however, are the horrific conditions entailed by active service, and the very real threat of injury and death, which we do witness in Part II of Silver Birch where Rob Casey's lighting effectively conjures up the scorching, inhospitable conditions of desert warfare, whose sounds are also relayed, partly in Panufnik's score and partly in Glen Gathard's sonic projections.
Curiously, Silver Birch does not otherwise refer to the dead or missing victims of combat, but instead to those – injured or not – who return home with Jack and Davey. The focus falls upon those who survive the experience of war and how they come to terms with it subsequently. Jack again invokes the spirit of Sassoon and asks why, despite his A Soldier's Declaration, Sassoon returned to the war. The answer is that he felt he belonged with those whose suffering he shared, which validates and confirms an impulse which Jack had already acted upon in looking after his brother during the war they had just undergone, to the extent of killing a man who threatened Davey's life. On their return home, they recognise that it is their duty now to help those who have been similarly traumatised by battle. One could say that it is the same virtue of 'Mitleid', or compassion, which is the subject of Wagner's Parsifal, but applied in more particular circumstances and directed also to the rest of society into which such soldiers have to be accommodated again.
Ultimately, though, Silver Birch does not make an explicit case for the renunciation of will or force, and perhaps if it can be criticised for anything in its worldview it is that it seems to accept war as a given fact, rather than making an explicit condemnation of it. Perhaps that is dramatically unnecessary. But what is obscure in the drama is made more lucid in the central metaphor of the eponymous tree which Simon and Anna have planted outside their new home on moving in with their young family, and which grows up alongside their four children – like them, the tree is buffeted by circumstance and survives physical attack to come through each spring revived and stronger.
As a 'community opera' Silver Birch was written in conjunction with Garsington Opera's outreach programme, and calls upon no fewer than 180 participants among its chorus singers, actors, and dancers, drawn from local primary schools and social organisations. They correspond to the community around Simon and Anna in the opera, whose life story therefore unfolds within a very public context. On occasion the family become peripheral to the welter of choreographic action on stage, but Karen Gillingham's direction and Natasha Khamjani's control of the movement manage to keep a tight rein on this so that the narrative thread is not lost. The excellent cast of solo singers also retain their vocal identity over the crowds, particularly Sam Furness's Jack who remains focussed and warmly lyrical despite the dramatic pressures the character undergoes. Darren Jeffery as Simon came over as the more strongly, dramatically defined parent, though Victoria Simmonds certainly brought out Anna's contrasting compassion and sensitivity towards Jack. Sarah Redgwick was a convincing alternative source of authority as the schoolteacher, Mrs Morrell, whilst winning contributions from James Way, William Saint and Katya Harlan rounded out the family picture as Jack's siblings.
Douglas Boyd conducted a persuasive and urgent account of Panufnik's energetic score with the orchestra added to by young instrumentalists from Foley Artists. The music is consistently portentous and hectic, but Panufnik helpfully guides the ear with generally lucid textures as the melodic line is often drawn out with an incantatory quality – and the choral thread usually in unison – in slower notes than those in the surrounding orchestral accompaniment. That made it singable for the choir of primary school children without sounding facile or sentimental, and with the reference to the odd song such as O Soldier, Soldier, Won't You Marry Me? the spirit of Benjamin Britten perhaps hovers over the music where Sassoon inhabits the drama. The opera is a potent and eclectic mix altogether, and it is notable achievement that its many strands are held together so coherently.
Curtis Rogers