United Kingdom André Tchaikowsky, The Merchant of Venice: Soloists; Chorus and Orchestra of Welsh National Opera / Lionel Friend. Royal Opera House, Covent Garden, 19.7.2017. (CC)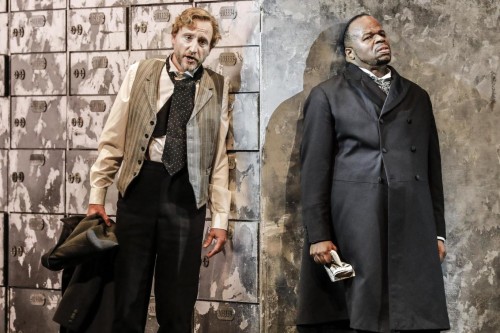 Cast:
Shylock – Lester Lynch
Antonio – Martin Wölfel
Lorenzo – Bruce Sledge
The Duke of Venice – Miklós Sebestyén
Bassanio – Mark Le Brocq
Solanio – Gary Griffiths
Salerio – Simon Thorpe
Gratiano – David Stout
Jessica – Lauren Michelle
Portia – Sarah Castle
Nerissa – Verena Gunz
Woman I – Amanda Baldwin
Woman II – Helen Jarmany
A boy – Fiona Harrison-Wolfe
Production:
Keith Warner – Director
Ashley Martin-Davis – Set & Costume Designer
Davy Cunningham, realised by Ian Jones – Lighting
Michael Barry – Choreography
Born Robert Andrej Krauthammer, the short-lived Jewish-Polish composer André Tchaikowsky (1935-82) just about finished his magnum opus: this opera, The Merchant of Venice, based closely on Shakespeare's play. All but a small portion of the score was complete when Tchaikowsky died; rejected by ENO, the first performance had to wait until 2013 at the Bregenz Festival. The final 20-odd were completed by Alan Boustead.
It is a measure of Tchaikowsky's regard for The Bard's plays that the composer donated his skull in his Will to the Royal Shakespeare Company for use in the gravediggers' scene in Hamlet (and indeed it was Tchaikowsky's skull that was used when David Tennant played Hamlet in 2008). Tchaikowsky was certain individual: he was a noted pianist, bequeathing various well-regarded recordings, and in one concert in Spain, when the audience was not as enthusiastic as he thought they should be, he played the entire Goldberg Variations as an encore.
There is a previous link between a Polish composer and Shakespeare's Merchant: Moniuszko penned incidental music to the play. But the scale and ambition of Tchaikowsky's opera is on another level. A large percussion section is extensively used for Tchaikowsky's large expressive palette (his sound encompasses modernism, post-modernism and pastiche): it includes bongos, maracas, two tam-tams and two side drums. There is also an "on-stage" ensemble (according to the Weinberger website: actually here in one of the boxes near the stage) that comprises an imitation-Renaissance ensemble of treble and descant recorders, oboe d'amore, oboe da caccia, bassoons, lute, tabor and harpsichord.
Another aspect of that ambition is the sheer scale of the work the performance including interval was over three hours. That it is bookended by what is obviously a Freudian psychotherapeutic session immediately brings in aspects of repression and indeed, it is the topics of race and sexuality that are foremost here. The outsider yet powerful Jew money lender Shylock is where Tchaikowsky puts his focus; portrayed by the excellent black singer (adding an extra layer to the prejudice element) Lester Lynch. An implied KKK chorus at one point simply underlines the point. Tchaikowsky's response to the play is powerful but encompasses fantasy, too (the super-size moon of the Epilogue, for example). In terms of actual musical quality, one has to admire Tchaikowsky's ear and his ability to both reference sound worlds of other composers (Berg is particularly strong, but Stravinsky and Britten are there also, as is Schoenberg) and direct quotations (Tchaikovsky's Fourth Symphony "Fate" motif is difficult to miss, as was his use of Wagner; I wondered also whether there was a direct Wozzeck quote slipped in there, too?). A Shostakovich inspired Passacaglia-like section is used to add huge weight to the drama.
Tchaikowsky was clearly a master of the orchestra, as his orchestration of the glittering, bustling rhythms of the first act prove. Vocally he is a master, too: the use of canon between the two couples at one point works particularly well. There is an element of Mozart's Così in the denouement of the opera as the couples resolve their issues. The only issue orchestrationally is that Antonio, taken by counter-tenor Martin Wölfel, was all too easily drowned.
Keith Warner's production is impeccable in its grasp of what Tchaikowsky is trying to achieve; added layers of implied homosexuality (both between male and female couples) is well weaved in. Tchaikowsky's own story is a harrowing one, and this colours the handling of the Shakespeare, adding layers of darkness. Moved to a Warsaw ghetto when World War II broke out, he was smuggled out in 1942 and it was that point he was renamed. His mother died in the Treblinka extermination camp. His mother had inspired in him his love for the piano, and Tchaikowsky was to go on to study with Stefan Askenase. The darkness of the first act (Venice) contrasts with the softer colours of Belmont, where we meet Portia and her companion, Nerissa.
Lester Lynch is simply superb as Shylock, his "If you prick us do we not bleed?" full of resonance and meaning. Sarah Castle is an excellent, pure voiced Portia who demonstrates exemplary breath control for Tchaikowsky's long, long legato lines. She is, however, eclipsed by her Nerissa, the superb Austrian singer Verena Gunz (who has also sung this role for Polish National Opera as well as in Bregenz). Gunz absolutely lived Nerissa, convincing at each and every turn and absolutely an equivalent in terms of quality with Lynch's Shylock.
Counter-tenor Martin Wölfel made all he could of Antonio, but losing him in the orchestral texture from time to time did him no favours. David Stout was a fine Gratiano, while the experienced Mark Le Brocq excelled as Bassanio. Smaller roles were cast from strength.
All credit to WNO for the very slickness of the scene changes. The work moves from an ultra-bleak, black-dominated stage where slabs are partitioned into cubbyholes to hold money to that fantastical Epilogue via the light of Belmont. Lighting, too (Davy Cunningham, realised Ian Jones) was stunning. The familiar name of Lionel Friend, whose performances at ENO I remember with such fondness, steers the orchestra with a seasoned hand, and from the response it is clear that the musicians love him.
A fascinating evening. It takes guts for any composer to tackle Shakespeare as effectively you are claiming/hoping that your voice is equal to his, else the play will be diminished (incidental music is another story). That this was such a satisfying evening says much for Tchaikowsky's efforts. WNO are to be congratulated on taking this piece on and believing in it with such zeal. The final irony, after its rejection in the early 1980s, would for it to be performed at the Coliseum, of course …
Colin Clarke