United Kingdom Leoncavallo, Zazà: Soloists; Opera Holland Park Chorus; City of London Sinfonia / Peter Robinson. Opera Holland Park, London, 18.7.2017. (CC)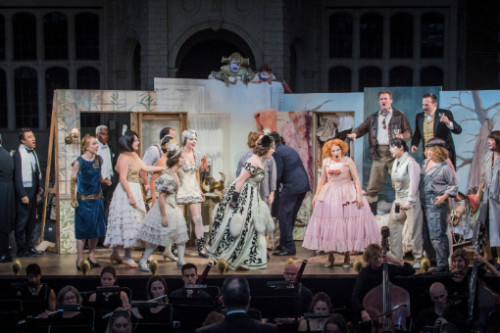 Cast:
Zazà – Anne Sophie Duprels
Anaide – Louise Winter
Floriana – Johane Ansell
Natalia – Kellie Edmonds
Milio Dufresne – Joel Montero
Cascart – Richard Burkhard
Bussy – James Cleverton
Duclou – Eddie Wade
Marco – Oliver Brignall
Augusto – Michael Bradley
Courtois – Charne Rochford
Signora Dufresne – Joanna Marie Skillett
Totò Dufresne – Aida Ippolito
Claretta – Alexandra Stenson
Simona – Charlotte Hewett
Production:
Marie Lambert – Director
Alyson Cummins – Set Designer
Camille Assaf – Costume Designer
Mark Jonathan – Lighting Designer
Danilo Rubeca – Choreographer
Not even the suddenly inclement weather could dampen this remarkable production of Lenocavallo's "commedia lyrica" Zazà, premiered in Milan (Teatro Lirico) in 1900. The evening encompassed everything Opera Holland Park stands for: rare repertoire, intelligently staged and well performed. It was indeed a shame that the God Thor decided to swing his hammer in the final act, the sound of rain almost completely drowning out the singers and orchestra at a crucial time. Atmospheric certainly, especially with lashings of lightning, but then so was the production, playing and singing.
The whole stage of Opera Holland Park was intelligently used in the busy first act. The star of a revue, the titular heroine Zazà (pronounced "Tsa-Tsà": long second "a"), is about to perform with her ex, Cascart. An alcoholic mother added to the mix indicates that things may very quickly go off the rails, and indeed before long Zazà is involved in a cat-fight with Floriana. Zazà is an old-style prima donna for whom things are about to get a whole lot worse. Following her lover, Milio, to Paris, she finds he is married (Madame Dufresne) and has a child. It is this little girl, Totò (aka Antonietta Dufresne), a spoken role, who moves Zazà and draws her away from thoughts of stealing away the husband. Back at the theatre, Zazà despairs. From the crowded scenes of the opera's opening, the work has moved now to a crushing climax for just Zazà and Milo. Director Marie Lambert convincingly sets the opera in the 1920s in tandem with set designer Alyson Cummins.
Musically, Zazà is over-long. Not for this opera the terse argument of Pagliacci; and, if one is perfectly honest, not the memorable melodies, either. But in recompense are moments of utter delight (Totò playing the piano), simply gorgeous scoring (particularly in the final act) and even an aria in praise of a desk from Milio (a companion piece honouring the inanimate, perhaps, to Manon's table or Colline's coat). Yet there is a compelling dramatic thread that runs through the whole and some of the scoring is masterly (the beautiful textures at the opening of Act III, for example).
As Zazà herself, Anne Sophie Duprels, who has done fine service for OHP previously as Violetta, Magda (Rondine), Lucia, Kat'a and Iris amongst others, is exemplary, owning the stage and finding both power and tenderness in the role. Zazà's fury is delivered with a cutting, but not painfully piercing, top; against that is the splendid interior sense she conveys when she reassures Totò that no-one will take her father away.
Her lover, Dufresne, is taken by Joel Montero, whose assumption of the part is so strong that it is possible to feel real revulsion as we see his reprehensible behavior. Vocally, though, he is somewhat variable. In fact, the two real star turns apart from Zazà herself are Zazà's alcoholic mother, Anaide, portrayed with delicious aplomb and absolutely without restraint by Louise Winter, and an astonishingly strong vocal performance of Cascart, Zazà's ex-lover, by Richard Burkhard, a singer who can coax out the most ravishingly tender phrases (his aria, "Zazà, piccolo zingara") while exuding real stage presence at all times. Smaller roles were impeccably chosen; the overall impression was of a great ensemble cast as solid backbone to the evening. Aida Ippolito was simply captivating as Totò. Conductor Peter Robinson steered the whole evening with real confidence, the orchestra delivering, as always, fully-fledged belief in the red-blooded verismo repertory.
It's been a good year at Opera Holland Park, from Rondine through Kabanová to Zazà. 2018 offers us Mascagni's Isabeau amongst the more familiar territory of Traviata, Così and Ariadne auf Naxos. Somehow, even in this august company, it is Isabeau that stands out as irresistible.
Colin Clarke