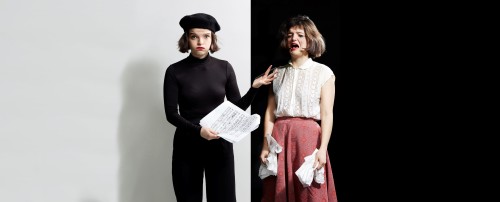 Pop-Up Opera: Summer Season 2018
A Mozart double bill: Der Schauspieldirektor and Bastien und Bastienne
Tuesday 8th May – Sunday 29th July 2018
For our review click here
Returning with a twist to their summer season, Pop-Up Opera will present a special Mozart double bill with two entrancing one-act comedies showcasing Mozart's inimitable style and sense of playfulness. Each performance is skilfully adapted to its venue as Pop-Up take their operas into unusual and unique spaces around the UK, making them fun, fresh and intimate. 
This lively double bill allows for a closer study of Mozart's oeuvre as it explores two works written at very different times in Mozart's life.  The first opera Der Schauspieldirektor was written in the last five years of his life whereas he composed Bastien und Bastienne when he was just twelve years old.
These engaging operas bring together amazing vocal acrobatics alongside Pop-Up's signature 'silent movie' captions to tell the story in which a pair of actresses battle it out to be the prima donna and a pair of lovers tease and test their feelings for each other.
Pop-Up Opera's Summer Season 2018 will see an exciting new collaboration with New British Music Theatre Award nominee Anna Pool, critically acclaimed for her bold and fiery, original directing style, who will be working alongside the company's talented Musical Director, Berrak Dyer.
Anna Pool comments, It's so exciting to get to work with Mozart at two key moments in his career; one (Bastien und Bastienne) as the child prodigy, right at the start of it all, and the other (Der Schauspieldirektor) as the genius in one of his most creative periods.  His world is vivid, funny, ridiculous and still, over 200 years later, utterly relatable.  Lovers fight, pine, manipulate.  Artists argue, create and constantly battle against an ever-rising tide of funding cuts!  I'm really enjoying exploring the characters that sprang from Mozart's head and allowing them to make their home in so many fantastic spaces is hugely rewarding.
 If Pop-Up Opera pops up near you, do pop in.
Website –  www.popupopera.co.uk
Twitter – @PopupOperaUK
Facebook  – https://www.facebook.com/popupopera
Creatives:
Director – Anna Pool
Producers – Fiona Johnston and Clementine Lovell
Musical Director – Berrak Dyer
Assistant Musical Director – Conal Bembridge-Sayers
Movement Director – Mark Ruddick
Designer – Fiona Rigler
Captions – Harry Percival
Stage Managers – Tracy Benner and Tina Dézart
Tour Dates
Tues 8th May – Ugly Duck, Bermondsey, 7.30pm 49 Tanner Street, London SE1 3PL
Fri 11th May – Brambletye School, West Sussex, 7pm Lewes Road, East Grinstead RH19 3PD
Sat 12th May – St Nicholas Church, Arundel, 7.30pm  6 London Road, Arundel BN18 9AT
Weds 16th May – Trinity Buoy Wharf, 7.30pm 64 Orchard Place, Poplar, London E14 0JY
Thurs 17th May – Croydonites Festival, 7.30pm Croydon, London
Sat 19th May – RNLI Chorleywood, 7.30pm Lifeboat Pier, Victoria Embankment, London WC2R 2PP
Sun 20th May – Court Gardens Farm, East Sussex, 5.30pm Orchard Lane, Ditchling, Hassocks BN6 8TH
Tues 22nd May – Water & Steam, Kew, 7.30pm Green Dragon Lane, Brentford TW8 0EN
Weds 23rd May – Bethnal Green Working Men's Club, 7.30pm 42-44 Pollard Row, London E2 6NB
Sun 27th May – Asylum Peckham, 5pm Caroline Gardens Chapel, Asylum Road, London SE15 2SQ
Weds 30th May – St Mary's, Islington, 7.30pm Upper Street, London N1 2TX
Sat 2nd June – Moor Farm, Shropshire, 7.30pm Ruyton Road, Baschurch, Shrewsbury SY4 2BA
Fri 8th – Sat 9th June – The Garlic Farm, Isle of Wight, 7.30pm Mersley Lane, Newchurch, Sandown PO36 0NR
Tues 12th – Weds 13th June – Brunel Museum, Thames Tunnel Shaft, 7.30pm Railway Ave, London SE16 4LF
Fri 15th June – Gap Festival, Goring & Streatly, 7.30pm Goring-on-Thames, RG8 9AG
Sat 16th June – Court Gardens Farm, East Sussex, 7.30pm Orchard Lane, Ditchling, Hassocks BN6 8TH
Weds 20th June – St Mary in the Castle, Hastings, 7pm 7 Pelham Cresent, Hastings TN34 3AE
Fri 22nd – Sat 23rd June Cheriton Old Rectory, Hampshire, 7.30pm Alresford, Hampshire SO24 0PZ
Weds 27th June – Lower Grenofen, Tavistock, 7.30pm Grenofen, Tavistock PL19 9ES
Sat 30th June – St Mary Magdalene, South Molton, 7pm North Street, South Molton EX36 3AN
Sun 1st July – Charlton Down, Dorset, 7.30pm Sherren Avenue, Charlton Down, Dorchester, West Dorset, DT2 9UA
Fri 6th July – St Mary's, Hitchin Church House, Churchyard, Hertfordshire SG5 1HP
Sun 8th July – All Saints Knipton, Leicestershire, 5pm Grantham NG32 1RN
Mon 9th July – The Vaults, Waterloo, 7.30pm Launcelot Street, London SE1 7AD
Weds 11th July- Bath Assembly Rooms, 7.30pm Bennett Street, Bath BA1 2QH
Thurs 12th July – Neeld Community Arts Centre, Chippenham, 7.30pm High Street, Chippenham SN15 3ER
Sat 14th July – St Michael's and All Angels Church Kingsland, Herefordshire, 7.30pm The Rectory, Kingsland, Leominster HR6 9QW
Sun 15th July – Broome Farm, Herefordshire, 4pm Peterstow, Ross-on-Wye HR9 6QG
Weds 18th July – Leeds Castle, Kent, 7.30pm Maidstone ME17 1PL
Thurs 19th July – Three Choirs, Gloucestershire, 7pm Newent GL18 1LS
Sat 21st July – Court Farm, Herefordshire, 7.30pm 3 Court Farm Drive, Tillington, Hereford HR4 8LG
Tues 24th July – Elsted Village Hall, West Sussex, 7.30pm Station Road, Elsted, Midhurst, West Sussex GU29 0JY
Sun 29th July – Court Gardens Farm, East Sussex, 5.30pm Orchard Lane, Ditchling, Hassocks BN6 8TH