United Kingdom Various composers, Manchester Collective: with Chesaba (Abel Selaocoe [cello/voice/director], Yahael Onono [djembe/kora/ngoni/calabash], Alan Keary [bass guitar]). King's Place, London, 30.5.2018. (CC)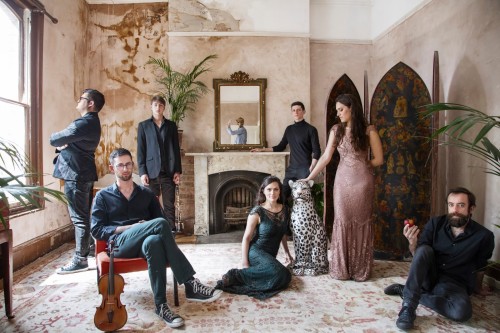 Sollima  – Lamentatio
Lawes – Aire in C à 4
Makeba – Click Song
Trad. S. Africa – Ibuliye
Haydn –String Quartet in G, Op. 76/1: Andante sostenuto
Trad. S. Africa  – Echa Monati
Stravinsky – Concertino for string quartet
Trad. Norway – O Fredrik, O Fredrik
Trad. Ghana – Little One Mine
Trad. Denmark – Old Reinlender from Sonndala
Purcell – Largo and Prelude from The Fairy Queen
Trad. Mali – Takamba
Performed with their trademark attention to every aspect of performance (lighting changed constantly), this concert by the Manchester Collective confirmed their importance. A performance of Elms' 100 Demons at Stoller Hall in Manchester (review) confirmed their unique presence on the music scene of today. Programmes that constantly change until the very last minute, a complete absence of programmes (you're here to listen, not read, is the implication) and an atmosphere of pure vibrancy seem to be the Collective's trademarks. The Collective has specific guests they invite to work with them: on this occasion, the astonishing South African cellist Abel Selaocoe and the drummer Yahael Onono.
The first piece, performed by Selaocoe, was Giovanni Sollima's remarkable Lamentatio for solo cello: but the solo cellist has to sing haunting melodies as well as play. A piece that oscillates between high virtuosity, rhythmic play and folk-shaped melody, it has a richness that was fully on display in Selaocoe's performance. Perhaps the choice of orange for the lighting reflected the vibrancy of the energy. Then it was fascinating to be transported back in time to a delicate, lachrymose Aire by William Lawes for string quartet, the music's descending lines a pre-echo in time, perhaps, of the Sollima.
How wonderful it was to hear The Click Song (bass guitar, drums and Selaocoe's honeyed voice); the 'click' of course refers to the vocal/throat 'click' sound which is an integral part of South African languages. This piece is intimately associated with Miriam Makeba. Two African traditional songs, the relatively well-known Ibuliye, and Echa Monati prolonged the experience; but how typical, and soul-enriching, of the Collective to have these alongside Haydn, the glorious Andante sostenuto from the Quartet in G, Op.76/1. In the Haydn, the almost breathless syncopations from the first violin seemed to reach across time (just shy of 30 years forward, in this case) to Beethoven's marking of 'geklemmt'  from his Op.130 string quartet. Remarkable indeed, and stunningly performed with a rawness of emotion that made the temporal disjunction seem irrelevant.
Stravinsky's magnificent Concertino for string quartet opened the second part of the concert in a performance of both spiky energy and much beauty. This is, I believe, the first time I have experienced this piece live in more decades of concert-going than I'd be prepare to admit to; this pithy side of Stravinsky really needs to get out more. Of course, Stravinsky, with his rhythmic emphasis, sits well with African music, so it felt entirely comfortable to programme it in the same half as music from North Mali: Takamba, courtesy of Onono, who, in a quick whistle-stop tour, also kindly ran through his various bits of percussion for the audience. The global aspect (I imagine The Collective's against Brexit) also included a trip to Scandinavia, to Denmark (the deliciously folksy Old Reinlender, whose links to Orkney folksong posited in the spoken introduction are entirely believable) and to Norway (O Fredik, O Fredik). The Manchester Collective seems to make this music speak in an unbearably moving manner; while the insertion of some spellbinding Purcell by this time seemed par for the course, enriching and satisfying. Incidentally, string quartet versions of those two Scandinavian folksongs can be heard on a remarkable disc on Danacord by the Danish String Quartet entitled Wood Works, 8.226081.
It was good to see the Manchester Collective getting the recognition they deserve, with a full and enthusiastic standing ovation to close the concert. Who knows where their imagination will take us next: each concert is a voyage of discovery. Their deliberate decision not to offer programme booklets and their preference for performing in the round (sadly not possible at King's Place) enables the audiences to actively interact with the ongoing multicultural narrative. The world needs more of this.
Colin Clarke
For more about The Manchester Collective click here