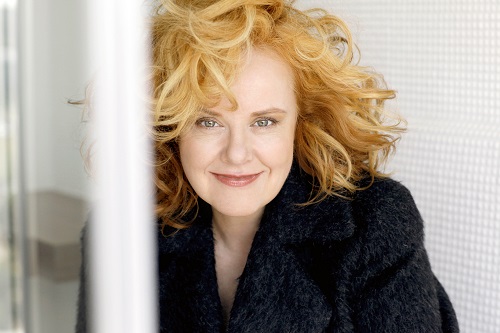 To admirers of great singing Petra Lang needs little introduction because of her superb performances on the world's leading opera stages and concert platforms. In recent years, especially, she has brought the audiences at the annual Bayreuth Festival to their feet to acclaim her wonderful portrayals of Ortrud (review click here) and Isolde (review click here). Seen and Heard was delighted when Petra Lang agreed to answer our questions to look back – amongst much else – at how she began as a singer, who gave her advice along the way, a singer's life, her thoughts on the roles she has sung and the colleagues she has worked with, as well as, her own advice for young singers.
Where were you born?
Frankfurt/Main, Germany
What music did you listen to at home as a child?
I loved to listen to my parents' recordings of operetta and opera. My favourite singers have been: Jan Kiepura, Fritz Wunderlich, Anneliese Rothenberger, Erna Berger, Dietrich Fischer-Dieskau, Maria Callas, Helge Rosvaenge, Jussi Björling.
What was the first opera you saw? Have you always liked opera?
My first theatre experience was Die Fledermaus at the age of 4. I knew the music from the recordings and loved the staging and the colourful costumes. I then watched Lortzing's Der Wildschütz, as well as, Die Zauberflöte and Rigoletto. It was my world. My father told me the stories and I could listen to the recordings, play out 'my' own story at home and then go to Frankfurt Opera House to watch the show. Over the years I had the chance to see most of the repertoire of this opera house. I saw there Neuenfels' Aida, a highly discussed Götterdämmerung, Tristan and Tannhäuser with Spas Wenkoff. I heard Birgit Nilsson as Turandot, Plácido Domingo as Manrico and I saw him conducting Die Fledermaus. And many more very big names! Great! They had interesting singers who were good actors and there were good productions. This inspired my fantasy and let my love for opera grow.
Do you play any musical instruments?
I studied violin and viola and do have a degree as violin teacher.
Was it at school you first started singing and how did it progress from there?
I sang from when I was very young. I was singing before I could speak, liked acting and 'my' stories. So, I wrapped myself with my grandmother's table cloths and wore her hats. Big fun. In the first four years at school we sang at the end of the morning and were allowed to leave school five minutes earlier when we were 'good'. Guess who sang most of the time! I knew that I had a beautiful voice, but I was very often ill. Playing the violin was always possible and I could play music easier – playing violin and viola in orchestras, string quartet and piano trio. I joined a chorus and had the chance to sing Bach oratorios, Mozart masses, Mendelssohn's Elias and Paulus and Verdi's Requiem in that chorus. But I never thought of making singing a profession. My father – who worked in the technical department of Frankfurt Opera – always told me, that it is easier being a cleaning lady than surviving as a singer. So I became a violin teacher. I always loved teaching and working with children was very satisfying for me.
Who do you credit for telling you that you had a voice and encouraging you as a singer?
My first voice teacher, coloratura soprano Gertie Charlent. Just before my violin exam I got singing lessons by mistake. I thought, before they realise the error I might have learned how to speak properly. I was teaching early music education and my voice had got very tired after the three weekly lessons. After the second lesson, Mrs. Charlent told me, that she thought, that I have a very good voice and the instinct to become a singer. I told her, that I am happy with my violin kids and that I am sick very often and that I think that this might not be for me. But she insisted and before I knew it I was on the list for the next audition for the singing class. On the audition day I wasn't well again but I managed to survive somehow. She asked her old doctor to help me with my health problems and so my singing got its chance.
At which point did you decide that singing might be a possible future career?
After my violin exam I had a very good position at Rüsselsheim music school. I went on with my singing studies and joined masterclasses. One day Ingrid Bjoner invited me to the Münchner Singschul and after this audition I was hired for the studio of Munich's Bayerische Staatsoper. So fate decided that I should be a professional singer.
Who was your teacher then and who helps you now?
I then had the chance to work for 17 years with Ingrid Bjoner and studied my Wagner roles with Astrid Varnay. I studied with Angelo Loforese for some time and for 11 years Adrian Baianu now coaches me.
What was the first opera role you sang on stage?
I was Second Bauernmädchen (farm girl) in Mozart's Le nozze di Figaro at Bayerische Staatsoper with Wolfgang Sawallisch conducting.
What were the favourite roles you sang at the start of your career?
Dorabella, Cherubino, Suzuki, Rosina, Octavian and I loved acting as Annina (La traviata) which I sang more than 50 times during my first years on stage.
What was the first time you sang outside Germany; if you can say what have been your favourite opera house(s) to perform in and the roles you have most enjoyed.
First time singing outside Germany was in a Bruckner Mass with the Wiener Symphoniker under Georges Prêtre in Vienna's Konzerthaus.
I have had the chance to perform worldwide and have no favourite place to perform. I go where I am hired and give my best no matter where it is. Every time it has seemed to be the 'right' place and the 'right' role. Thanks to fate I have been able to develop properly and have had the chance to sing my roles in the right order.
Do you enjoy all the travelling a singer's life entails and what do you do to relax?
Frankly I hate travelling and I hate packing my suitcases, but I have learned to cope with it because it is all part of the job. Being able to relax and restore/repair the body after a wild stressful working period is very necessary. I do Tai Chi, know mental relaxation techniques and love my singing bowls. A nice bath after a show is wonderful, easy to manage and helps me to sleep.
How did you begin singing the roles in Wagner's operas that you are now famous for?
I started in 1992 singing Waltraute in Die Walküre and rehearsed Flosshilde and Second Norn in Götterdämmerung in Dortmund. But due to problems in the theatre there were no performances. Two years later, I sang Waltraute and got both Frickas in the Dortmund Ring cycle. Followed by my first Brangäne in Braunschweig. Over the years I would add other Wagner roles: Venus, Adriano, Kundry, Sieglinde, Ortrud, Brünnhilde, Isolde.
When and where did you first sing Ortrud which has now become one of your signature roles?
My first Ortrud was in a concert at the Edinburgh Festival in 2003 with Donald Runnicles conducting. I started to study this role with Ingrid Bjoner in 1996. The first Ortrud on stage was in 2006 in Vienna, just a few days after the deaths of Ingrid Bjoner and Astrid Varnay.
It was Ortrud that brought you back to Bayreuth in 2011 in the famous Hans Neuenfels production. Do you have special memories of his rats?
I liked that production very much and I learnt a lot. Hans Neuenfels gave my Ortrud new colours and other unexpected feelings such as the jealousy. It has been a very clearly structured mise-en-scène and this was part of the show's success. I remember the really terrible look for Gottfried at the end of the show which shocked most people. But the boys liked being made up like this and were very proud about their appearance.
How has your performance of Ortrud changed over the years?
She has become more structured and more 'dark' colours have been added thanks to directors like Hans Neuenfels or Andreas Homoki. Over the years a real 'evil demon' developed. It took quite a lot of courage to do so with directors who really worked with me and encouraged me to develop my acting skills. The result is that many people now think that I am like Ortrud in my private life. Thank God, I am not! Over the years – and with the experience of singing Brünnhilde and Isolde – Ortrud is different. Not easier. But I am able to add other colours compared to my first Trudis.
You had worked your way through most of the leading principal mezzo-soprano Wagner roles by this stage of your career and apart from Ortrud which do you remember most?
I love Kundry, which is for me one of the most complex roles in the whole female repertoire. First of all, you have to manage to sing the role precisely, and then you have to deliver all these strange feelings of this cursed woman. It is an actor's paradise!
I have been praised for my Sieglinde and sang her very often, but never liked the character very much. For me she is not the romantic lady you mostly see. You have to create a traumatised woman and have to show this in your singing and acting.
Wagner apart, Judith in Béla Bartók's Bluebeard's Castle been one of my favourite roles for 22 years. I try to show how to behave to destroy a relationship, which only a very young soul can do so. Hers is a love but not true love. If Judith had truly loved Bluebeard she would accept him like he is and would survive. A great model for life!
It often seems that a singer can go from soprano to mezzo rather than the other way, why did you decide to scale the heights of Brünnhilde?
Voice type is a question of colour, range and securing the upper passaggio and the top register of every voice. Sometimes it takes quite a while until the voice has found its balance. This is especially the case with dramatic sopranos or mezzos. I have always been a soprano. I was told this many times and even my ENT nearly had a car accident when listening to a concert on the radio when I was announced as 'Petra Lang contralto'! But we did not manage to secure the top in a way which would allow me to start my career in the soprano repertoire.
So, my singing teachers Gertie Charlent and Ingrid Bjoner, along with my acting teacher Harro Dicks, developed the way through the lyric mezzo repertoire which would allow me to learn to put my feet on stage and get experience. It was a matter of simply learning to listen to the voice and to know which roles to sing next in order to balance the voice and develop a strong middle register. This is essential for the dramatic soprano roles. They told me that the voice has to find this balance 'on stage' and that it would have been a waste of time to study another 2 to 4 years in order to stabilize the top register. So, I started as a mezzo-soprano at the age of 26 in the opera studio of the Bayerische Staatsoper in Munich. Astrid Varnay told me, that you have to study and to improve your singing skills, but if you do not manage to get into the business after a while there will be a reason and it is maybe not your profession. She always talked about 'natural selection'. This sounds very hard, but it is the way it is.
The pleasures of aging include that we become bigger, fatter and metabolism slows down, which will change the structure of muscles, tissues, add fat to the body and could make us lazy, slower. This can be one reason why a voice darkens naturally. Growing of the lower register can also be part of a hormonal change or just simply finding a better body balance. This does not necessarily include a loss of the top notes. There are many examples of female singers who keep their voice fresh and healthy with a young vibrant sound and keep their top register. You will find that these singers mostly sing with a 'slim' sound and do not put too much weight on the voice in order to try to make them bigger, darker, louder. If you go mountain climbing, you do not want to take too much luggage with you if you want to get to the mountain top. If you did you might manage it a few times, but it will cost you a lot. You can compare this with singing. Hans Hotter told me many times: 'You have to sing with a maximum of 70% of your voice, otherwise you will pay the price earlier than you can imagine.'
My first singing teacher, Gertie Charlent sang coloratura leading roles for 30 years and kept her voice fresh and young till her old age. I remember listening to her when she showed a young singer how to sing the Queen of the Night's coloraturas easily and this was only four weeks before her death at the age of 77.
Ingrid Bjoner told me to keep the voice at ease and sounding young. This became the goal for my career: always to sing with MY OWN voice. Okay, sometimes I just had to give a few more darker colours in order to get a certain mezzo job to keep the 'cash-flow' going, but I always knew how far to go.
My teachers often told me that one day I would sing Brünnhilde. For me this had always been beyond my imagination. In 2003 Iván Fischer gave me the last scene of Die Walküre to sing and I thought, 'nice, but the role is not made for me.' In 2005 I sang the Immolation Scene for the first time with Marek Janowski and had at the same time Ring cycles with Fricka and Waltraute in Vienna. Waltraute – which has always been on the lower side of my voice – felt strange and Brünnhilde's last scene was big fun. So, I knew then that there might be another goal. I worked hard, studied the three roles, and solved a few problems, but still I thought it was too early to take the step. I had the chance to sing many Immolation Scenes in concert which helped me to become more confident. I worked very hard, and with instruction from Angelo Loforese I found out how to stabilise the top without getting tired. This just took time. We singers need time to develop. The body is not like a machine where you can just push a button and have the immediate new result.
In addition I always have been very careful with my nutrition. Appearance and condition are influenced by what you put into your body. I studied 'Systemic Detox via colon after Dr. Christel Keller®' which includes nutrition as one of the basics and do hold a food coach certificate. If I would have the choice, I would always prefer to change the 'input' before I would start a longer detox treatment. For years I transferred principles of sport nutrition to the needs of a singer and I think that I am the best example that this really works. The difference with singers and athletes is, that we singers mostly can sing the heavier roles when the body already has started to 'decline'. And we singers do have to keep muscle structure and mucous as flexible and stable as possible, as long as possible. Weight management is another big issue, which, as a singer, you have to approach differently in order to not to loose you resonance spaces. Therefore, in addition to Kieser Training, gymnastics, Tai Chi and swimming, it is good nutrition that has helped to keep my body flexible, given me the necessary muscle strength, kept the brain working normally, and helped me to keep a younger appearance.
What are the demands of Brünnhilde?
You do need three voices for Brünnhilde: a dramatic mezzo-soprano with a secure top for Walküre, a lyrico-spinto, flexible soprano for Siegfried and dramatic soprano for Götterdämmerung. Walküre and Götterdämmerung start high with lower passages later and this can be difficult for a voice. And then we do have the very demanding point that the young Brünnhilde in Walküre should really look and act like a sporty teenager. Astrid Varnay told me once: 'Walküre has nothing to do with a whale! And even if you slept for 20 years might not mean that you double or triple your size and look like an old fat lady.' This is a great challenge and hard work, because you cannot sing this role at the beginning of a career. Another key point is to find a way to sing Ring cycles, which means: singing the three operas with one day off in between! Brünnhilde is Walküre + Siegfried + Götterdämmerung in a row to show the development of this character.
How do you learn a new role like Brünnhilde?
With time!
I have lived with Walküre for 20 years before I performed Brünnhilde and have sung Waltraute, Fricka and Sieglinde often. Götterdämmerung has seen my Second Norn, Flosshilde, Waltraute and I have studied Gutrune. I studied Siegfried with Ingrid Bjoner early on. It was helpful to watch and listen to many great Brünnhildes and learn from them. They influenced me and showed me a path to my own Brünnhilde – taking the experience of others and combining these with my own skills and visions.
Do you have a Brünnhilde performance that you have particularly enjoyed and why was that?
I always liked the last scene of Walküre with the farewell to Brünnhilde from her father. In the Dresden performances earlier this year with Vitalij Kowaljow we both got carried away in the emotions which created an unbelievably intense and heart-wrenching atmosphere. Christian Thielemann and the Staatskapelle Dresden made it possible to create hundreds of colours and sometimes only whispered phrases.
In recent years you have added Isolde to the roles you sing, I suspect you were asked to sing it a number of times earlier in your career so why did you eventually decide to take it on?
I am a very careful singer. I only took new roles when I was absolutely sure that the time was right. In 2014 I thought that I should try a Tristan Act II and look with time at the whole role but did not get the chance. I was told that there are a lot of Isoldes around and that there is no need for me to sing it. As always in my career I just kept on studying, working and waiting.
In 2015 Katharina Wagner called me after two Lohengrin orchestral rehearsal days at Bayreuth to ask if I could help them out and would I sing Isolde at the next day's Tristan rehearsal. I told her that I had not really studied the role and that they will have to listen to a singer who sang Brangäne for 19 years. The same evening, I had a coaching with Thielemann's assistant, studied overnight the first act, then sang the next day's rehearsal and was hired for the next four years as Isolde, giving up a Bayreuth engagement as Kundry. I got the chance to sing the stage and orchestra rehearsal with music from the side. This was very important for me as I needed to check if I would really survive the role. Moreover, it was great fun. I then studied the role for the whole of the 2015/16 season parallel to my very full calendar. I had quite a few days thinking that it had been a mistake giving up Kundry and taking on Isolde. But my husband always said: 'Go to the piano and study!' – which I did. My first real run through on stage was actually the Bayreuth public dress rehearsal in 2016. I just kept on telling myself not to think how high the Isolde-mountain is, and how I just needed to keep on singing. Sing, get the experience, get better and more stable in the role from performance to performance.
You have now had a big success at Bayreuth in Katharina Wagner's fascinating production of Tristan und Isolde how have you enjoyed working with her on this?
Katharina Wagner is a down-to-earth director who always had answers to my questions, really worked on Isolde with me and has given me lots of practical advice about how to solve any problems and insecurities on stage. She made it easy for me to bring the Irish maid to the stage – a role I always watched others sing with huge respect. She gave me the courage and security to take the step to sing this long and very demanding role.
Is there anything you want to say about your colleagues in this production?
I always have the feeling that a higher power has put hands above this production. It is really about the opera. There are no ego fights. It is a very good and harmonious collaboration from everybody.
Can you explain why Bayreuth has become a 'special' place for you to sing?
The Bayreuth acoustic always shows me how to be humble. The moment you try to give more than needed, the Bayreuth Festspielhaus will get its own back and the audience will hear a lack of quality in the voice. It is strange. But if you are doing it right, it all feels as if the theatre embraces you while you are standing on stage.
Throughout your career you have sung much Mahler in concert performances what is special about his music?
Mahler always helped to bring me down to earth. You have to 'serve' the music and its interpretation, otherwise you will not be satisfied. Singing Mahler's songs and in his symphonies has been a great 'medicine' for my voice. This repertoire helped me to keep it flexible and to go on with creating the many colours which keep a voice healthy. There is always the danger that a singer only concentrates on how to push the voice through the sound of the orchestra when you sing mostly opera. AND it is great music and food for the singer's soul. So, I have been lucky that I could sing this repertoire for so many years.
What other composers do you particularly admire and why?
I always loved Bach, Mozart, Beethoven, Brahms and Richard Strauss. They have been the 'gods' of my childhood and still are.
Do different composers make you need to use your voice in any different ways?
Technically, I think that there is – for every singer – just one way to use the voice; though different styles of music do need different approaches and it makes sense to categorise the different Stimmfächer. So, for me, the first point is to sing in 'my' own Fach and then use the voice in the demanded style. Singing Lied has been the control mechanism throughout my career. As long as I can still sing all the needed piano colours in a Brahms or Richard Strauss song next to Ortrud, Isolde or Brünnhilde, I know that my voice is healthy.
If you had to pick just one role what has been your favourite role and why?
I always liked the role I was actually singing most. It might have to do with 'being' in the character. So different times has its favourite role.
If you can say who have been your favourite directors and conductors to work with?
I have been lucky to have had the chance to work with directors and their assistants who really worked with me and helped me to develop to the singing actress I am today. I would like just to name Pierre Audi with Il re pastore, Hans Neuenfels with Lohengrin, Andreas Homoki also with Lohengrin, Katharina Wagner with Tristan und Isolde, Dieter Dorn with Brünnhilde, Günther Krämer's assistant Aldona Farrugia with my first Götterdämmerung Brünnhilde in Paris, Robert Carsen's assistant Oliver Klöter with my first Sieglinde, Willy Decker's assistant Sven Nielsen with Brangäne.
Conductors have been 'father figures' who gave me the right role at the right time like Bernard Haitink, Marek Janowski, Iván Fischer, Armin Jordan, Jeffrey Tate and great musicians like Riccardo Chailly, Colin Davis, Christoph Eschenbach and Christian Thielemann.
Have you now sung all the roles you want to sing or is there anything new you would still like to do?
I am very grateful for the repertoire I have had the chance to perform and still take it as always: wait, prove and decide. At the moment I am very happy with what I sing and I would like to keep the repertoire. There might be roles added when voice or body appearance change. But I am reminded of Catarina Ligendza saying: 'what else can come after Isolde (in Bayreuth)?'  I'll enjoy and keep the level high as long as possible.
Were masterclasses useful when you were beginning your career?
I had the great chance to study early with world class singers who have all 'done the job' for many years, stood on stage and knew about what is required and how to solve problems technically. They all have inspired my interpretations. I had a Le nozze di Figaro masterclass with Judith Beckmann, Mahler with Brigitte Fassbaender, Schubert with Peter Schreier and Jürgen Uhde, Strauss with Dietrich Fischer-Dieskau and a masterclass with Hans Hotter. Ingrid Bjoner changed my singing in her masterclasses and became my teacher and singing-guide for 17 years. I call them my 'care package' which helped me to develop into the singer I am now.
You do a number of masterclasses yourself, what do your try to do for the young singers who come to these?
They should sing with joy. Try to stay calm and cool and keep the voice fresh when they sing. They should always focus on quality and should try to deliver a high-class performance. I try to open the young singers' eyes for what is needed in this wonderful profession. This includes singing technique, role analysis/interpretation/presentation, as well as, practical hints to what else is needed day-to-day as a singer and so help them find their own personal way into their career.
Thank you very much from Seen and Heard for these answers to our questions.
For Petra Lang's Personal Professional Guide click here.
For more about Petra Lang's forthcoming performances click here.