Germany Berlioz: Thomas Blondelle (tenor), Ronnita Miller (mezzo-soprano), Byung Gil Kim (bass), Choir of Deutsche Oper Berlin (Chorus master: Jeremy Bines), Orchestra of Deutsche Oper Berlin / Thomas Søndergård (conductor), Deutsche Oper Berlin, Berlin, 10.9.2018. (MC)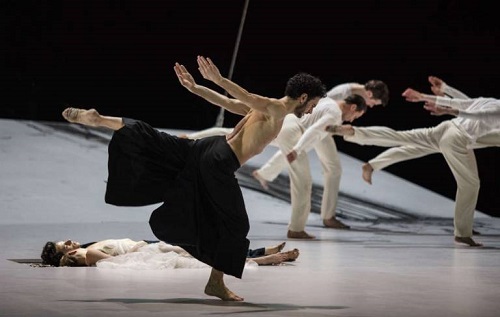 Berlioz – Roméo et Juliette – Symphonie Dramatique, for solo voices, chorus and orchestra Op.17 (1839), in a choreographed version – guests dancers of the Opéra national de Paris, with Sasha Waltz
Cast:
Roméo – Germain Louvet
Juliette – Ludmilla Pagliero
Frère Laurent – Alessio Carbone
Sasha Waltz Ensemble & Guests
Production:
Stage direction & Choreography – Sasha Waltz
Sets – Thomas Schenk, Pia Maier Schriever, Sasha Waltz
Costumes – Bernd Skodzig
Choreography – Sasha Waltz & Guests
What was essentially a spare evening on my Berlin reporting assignment designed for Musikfest Berlin 2018 turned into an unexpectedly outstanding evening of music and dance. This was Deutsche Oper Berlin's revival from April 2015 of Berlioz's Roméo et Juliette in choreographer Sasha Waltz's version with ballet. Waltz first staged this production, where opera and dance meet as equals, in 2007 at Paris and later at La Scala in 2012.
In 1827 Berlioz saw actress Harriet Smithson play the heroine in Shakespeare's tragedy Romeo and Juliet. Infatuated both by the actress and her performance, he declared his wish to marry Smithson and to base a symphony on the play. Berlioz's composition of Roméo et Juliette – Symphonie Dramatique was made possible by Paganini generously gifting twenty-thousand francs to the French composer. Using Émile Deschamps' libretto based on Shakespeare's play, Berlioz's Symphonie Dramatique was subsequently premièred at Paris Conservatoire in 1839 but, dissatisfied with the score, he subjected it to considerable revision; the final version was published in 1847. It's a score for solo voices, chorus and orchestra that is often overlooked  whilst by contrast the popularity of the composer's earlier Symphonie fantastique, op.14 goes from strength to strength. The marked dramatic potential of Roméo et Juliette – Symphonie Dramatique has been acknowledged since its première and an operatic version was first staged in 1903. So, it's no surprise that the balletic possibilities have been explored, including this staging by Sasha Waltz.
Here at Deutsche Oper Berlin, the celebrated Berlin choreographer's own company, Sasha Waltz & Guests, provided mainly contemporary dance in her captivating production to a high-quality performance standard. There was handsome and vigorously athletic Germain Louvet (Roméo), the poised and radiant Ludmilla Pagliero (Juliette) and Alessio Carbone, a curious, rather creepy looking Frère Laurent all on sparkling form. To such warmly Romantic music, the kaleidoscope of action, intense sequences of dashing jumps and leaps, together with swift swerves was utterly absorbing. Thomas Schenk, Pia Maier Schriever and Waltz have designed simple but clever sets. Rather plain-looking, the set centred on what was basically two large white platforms, rather like a giant book of matches, that were opened and closed by a pair of cables attached to the roof. This allowed the dancers to perform on, underneath and around the platforms. At one-point Roméo was just able to run up the elevated rear platform, owing to the angle, and then slide down. The set walls were dark coloured side panels which were predominantly static. Bernd Skodzig's costumes for the dancers were primarily traditional; however, those for the chorus were a mixed bag by contrast. The Montagues and Capulets wore either black or white costumes; the whites with headwear that reminded me of a school teacher's mortarboard, sometimes with a square flap hanging ridiculously over the face, and those in black with some wearing what looked roughly like shtreimels, the circular fur hat worn by some Jewish men.
Of the three vocal soloists, tenor Thomas Blondelle had very little to do although bass Byung Gil Kim was much more intensely involved towards the end, singing assuredly with good projection, although he found the low notes more difficult to control. Mezzo-soprano Ronnita Miller, from her static position in the front left corner of the stage, excelled, displaying a smooth attractive tone and her voiced carried well through the auditorium. Coached by Jeremy Bines, the chorus of the Deutsche Oper Berlin, who could often be heard but not seen, sang well with noticeable engagement; clearly well prepared.
Conductor Thomas Søndergård incisively brought all the elements together and with such fine choral singing and the playing of Orchestra of Deutsche Oper Berlin, who were on satisfying form, it all contributed to a captivating performance.
After this Sasha Waltz-choreographed production of Berlioz's Roméo et Juliette, attending a traditional concert of the work just won't be the same: it will undoubtedly feel as if something is missing.
Michael Cookson