Switzerland Gay, The Beggar's Opera: Soloists, Les Arts Florissants / William Christie (conductor). Grand Theâtre des Nations, Geneva, 3.10.2018  (ALL)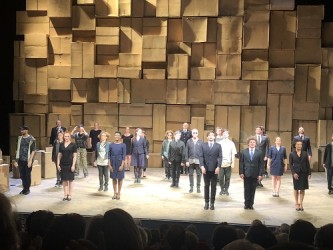 Cast:
Mr Peachum – Robert Burt
Mrs Peachum – Beverley Klein
Polly Peachum – Kate Batter
Macheath – Benjamin Purkiss
Lockit – Kraig Thornber
Lucy Lockit – Olivia Brereton
Jenny Diver – Lyndsey Gardiner
Filch – Manuel Sean Lopeman
Matt – Gavin Wilkinson
Jack/Prison Warden – Tait-Elliot Drew
Robin – Wayne Fitzsimmons
Harry – Dominic Owen
Molly – Natasha Leaver
Betty – Emily Dunn
Suky – Louise Dalton
Dolly – Jocelyn Prah
Production:
Director – Robert Carsen
Dramaturgy – Ian Burton
Musical conception – William Christie
Design – James Brandily
Costumes – Petra Reinhardt
Lightning – Robert Carsen & Peter van Praet
After a somewhat low-scale Carmen, the Geneva Grand Théâtre has scored a winner with the travelling production of Gay's Beggar's Opera, in a new production revisited somewhat by William Christie and very much by Robert Carsen.
The work has known many variations and 'updates'. Britten re-orchestrated the work. We all know its most famous modernization, which is of course Brecht/Weill's Threepenny Opera.
All the characters in Gay's play are cynical and amoral. Yes, just like nowadays, back in 1728, theatrical genius already wanted to go beyond conventions and platitudes. Such a work lends itself beautifully to modernisation. These modern thieves steal iPhones and Gold Amex Credit Cards. Polly's mind is perverted by sloppy sitcoms and there are many jokes on politicians and Brexit …
As in every comedy, timing is everything, and the team excelled in this respect. Rhythm was as good as one could want. Time flew by with cracking energy. It was neither hectic nor sloppy.
The singers, whose experience is more from London West End musicals than opera stages, presented a coherent ensemble. There was a palpable sense of enjoyment, which was contagious. Choreography was superb. Pony-tailed and hip-hop dressed William Christie and his superlative team provided alert rhythmic support. Everything just kept moving.
In spite of an all-English cast, I had to rely on the surtitles more than a few times. Of all the singers, the Lucy of Olivia Brereton and the Filch of Sean Lopeman had the clearest diction.
This season is the last for director Tobias Richter. As usual, he was present in the hall and one could see he knew that he had a good work to present. One of Richter's successes has been the ability to bring productions by Robert Carsen to Geneva. The famous Canadian director was present and came on stage for the applause. His readings of classics such as Rigoletto, Eugene Onegin, or modern works such as Battistelli's Richard III and Fénelon's JJR Citoyen de Genève will all be remembered for their originality and profound artistry.
This production will be on tour, so do catch it if you can. It may not be opera per se but, as Polly, Lucy, Jenny, Macheath, Mr and Mrs Peachum and their accomplices would say, it is f***ing good entertainment.
Antoine Lévy-Leboyer
For a previous review at the Edingburgh International Festival click here.