United States Bach: Alisa Weilerstein (cello), Bram Goldsmith Theater, Wallis Annenberg Center for the Performing Arts, Beverly Hills, CA. 9.11.2018. (LV)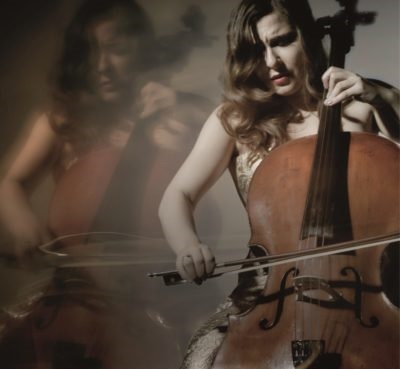 Bach — Suites for Solo Cello, BWV 1007-1012
Coming to the end of her seven-city United States tour, playing Dvořák's Cello Concerto with the Czech Philharmonic, Alisa Weilerstein stopped off at The Wallis in Beverly Hills to play Bach's Six Suites for Cello Solo. It was not a casual affair.
Many in the sold-out crowd had been prepped by a stimulating pre-concert discussion with cellists Antonio Lysy and Roger Lebow, and when Weilerstein and her 1723 Montagnana instrument strode out from the left wing they were met by rapturous applause. With little ceremony she planted herself on a black piano stool which was the only furniture on stage, and proceeded to transform Bach's pioneering studies for the newly-ascendant cello into powerful subjective fantasies. As she told me in August for an interview, 'To play them all is to play a concert about life'. She called them 'a series of meditations that are physically, emotionally, and mentally exhausting but exhilarating at the same time'. She made her case Friday night.
And although she was all about interpretation in the grandest Romantic manner, somewhere between self and searching, Weilerstein also embraced a 21st-century knowledge of such historically authentic techniques as playing without vibrato, turbocharging double-dotted notes, and using the sing-song rhythms of notes inégales purely to charm. On an evening of extremes, she turned unassuming little Sarabandes into achingly slow minimalist reveries, while setting blistering, undanceable paces for the Courantes, which once or twice left her scrambling. She used an imaginative blend of slurred and detached bowings, resulting in a lot of spiky energy in the most unexpected places. She clearly relished the Bourrées and Gigues, exaggerating upbeats with a very broad musical smile.
As the Suites progressed, however, and the difficulties increased exponentially, Weilerstein focused less on the smaller musical sentences and paragraphs, and more on larger rhetorical sweeps. She flirted less with improvised ornaments and trills, and hewed more closely to line and structure. In the thorny Fourth and Fifth Suites she clarified their dense intricacies; for once the powerful fugue in No.5 was breathtaking instead of merely exhausting.
And then, as if stepping into a radiant spiritual light from obscurantist shadows, she let herself go gloriously in the Sixth Suite, which Mstislav Rostropovich called a 'symphony for cello'. No matter that Bach wrote this suite alone for a theoretical cello with an additional fifth string; Weilerstein triumphantly showed that four strings can be almost as good as five, climaxing in a series of dizzying arpeggios before landing at last on the cello's lowest, most fundamental D.
Of course no one, especially critics, really knows how these suites should be played; in fact, we still don't know why Bach wrote them, or even — according to the editor of Bärenreiter's new urtext edition — whether we have any reason to believe that Bach wrote them in sequential order. He might have started with any of them,' Andrew Talle told me. 'Perhaps he started with the Fourth Suite. We'll never know and pretending otherwise only serves to disseminate misinformation.'
In other words, Bach could have started with the last movement of No.6 and worked his way backwards. Maybe that's how we'll hear the cycle some day. Like spinning vinyl in reverse.
Surreal.
Laurence Vittes