Switzerland Pettersson, Schumann, Beethoven: Veronika Eberle (violin). Swedish Radio Symphony Orchestra / Daniel Harding (conductor), Tonhalle Zurich, 19.11.2018. (JR)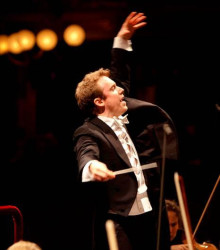 Pettersson – 'Symphonic Movement'
Schumann – Violin Concerto Op.47
Beethoven – Symphony No.3 'Eroica' Op.55
You may not have heard of Swedish composer Allan Pettersson (1911-1980), nor heard any of his compositions. I hadn't. He wrote, it appears, seventeen symphonies, though two (his first and last) consist only of fragments. They are large-scale works in the tradition of Sibelius and Nielsen, but more bitter, more radical. He studied atonality but decided to reject it. In his thirteen-minute long 'Symphonic Movement' he refers openly to the twelve-tone row in the opening bars but then moves on to tonality. The work was commissioned by Swedish Television in 1973 to accompany a nature film – I can only imagine the scenes depicted were violent, as the piece at times is quite a cacophony. Nielsen came to mind whenever the side-drum was employed; textures were often too thick. I read his work described as 'strenuous'; it is indeed hard and yet interesting listening.
Last time the Swedes visited Zurich, Sol Gabetta fell ill at the last moment and in stepped Christian Tetzlaff. This time it was Janine Jansen's turn to fall ill (having played with the orchestra only last night in Vienna); her replacement was young German violinist Veronika Eberle, who chose to play the Schumann concerto in place of the advertised Sibelius. The orchestra have the Schumann concerto in their current repertoire, it is one of the pieces they have brought on their extensive European tour, albeit with a different soloist.
The Swedish orchestra was formed in 1936 and came to wider attention when Sergiu Celibidache became its music director in 1965. Celibidache's successors were Blomstedt and Salonen. They are now on an extensive central European tour, taking in Amsterdam, Cologne, Vienna, Munich, Nuremberg, Baden-Baden and Dortmund.
The Schumann concerto has a rather strange history. Schumann wrote it in 1853 shortly before being admitted to a mental asylum in the Rhineland. His wife put the work away before it was performed. Clara Schumann did not even include the work in his collection of works (Gesamtverzeichnis) when he died, and it only resurfaced an astounding 84 years later, in 1937, when Karl Böhm premièred it with the Berlin Philharmonic in Berlin. The Nazis had refused performances of the Mendelssohn and Bruch concertos to be played, and concert managers unearthed this concerto. It is audibly Schumann, yet it does not quite have the invention or skill of his symphonies – but it is well worth hearing, especially now that the final movement is taken at a more leisurely tempo, making the solo part less unplayable. Eberle performed the work using a score and cannot have had much rehearsal, but the performance impressed. Harding gave the outer movements considerable sweep with almost heroic vigour. The slow movement was played most tenderly by Eberle, bringing Elgar to mind. Conductor and soloist (playing a 1700 'Dragonetti' Strad) made a strong argument for this work to be heard more often.
Swedish Radio were on hand to record the Beethoven symphony, which was given a splendid reading. Copious rehearsal time was evident, right from the opening explosive chords. Harding's interpretation was virile, his left arm constantly jabbing towards the orchestra. The orchestra excelled in all sections. This is now very much Harding's orchestra; he has been in charge for over ten years and recently renewed his contract as principal conductor – and was also named its artistic leader – until the end of the 2022/2023 season. The woodwind blended beautifully, the trio of horns in the third movement were faultless, the valve-less horns gave the final flourish quite a rasp, bringing the work to its joyous and rumbustious conclusion. The first desk of the double basses were a joy to watch throughout, such warm engagement. The hard-sticked timpanist thwacked with gusto: this was more than a nod towards period performance.
John Rhodes