Spain Puccini, Turandot: Teatro Real Chorus and Orchestra / Nicola Luisotti (conductor), Teatro Real, Madrid, 2 & 3.12.2018. (JMI)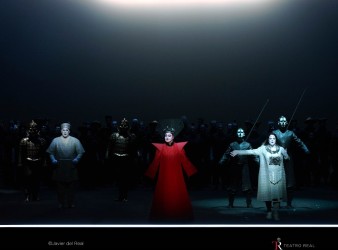 Production:
Director, Sets and Lighting – Robert Wilson
Costumes – Jacques Reynaud
Cast:
Turandot – Iréne Theorin/Oksana Dyka
Calaf – Gregory Kunde/Roberto Aronica
Liù – Yolanda Auyanet/Miren Urbieta Vega
Timur – Andrea Mastroni
Ping – Joan Martín Royo
Pang – Vicenç Esteve
Pong – Juan Antonio Sanabria
Mandarin – Gerardo Bullón
Altoum – Raúl Giménez
Giacomo Puccini's final opera has returned to the Teatro Real after an absence of some twenty years – a long time for an opera as popular as Turandot. The musical direction was in the hands of Nicola Luisotti who gave a bright reading of the score, especially in the second part of the opera. Both the orchestra and the chorus were excellent.
To mark the occasion, there is a new production by Robert Wilson, who always comes up with an 'original' staging. It must be said that this originality grabs your attention if you have not seen Wilson's productions before, but they are all much the same: if you have seen one, you've seen them all. Once again, the sets were practically non-existent, the characters appeared on stage with their faces painted and their movements were almost like those of automatons in slow motion. To a large extent, this staging resembled a concert version where the singers do very little interpretation of their characters.
Robert Wilson also handled the sets and the lighting, which is of great importance in his productions. The costumes were mainly in neutral colors, except for Turandot who is dressed in red.
Nina Stemme had been announced to play Turandot – one of the great attractions of these performances – but unfortunately, she had to cancel. She was replaced by Iréne Theorin, who had already been scheduled for the final performances of the opera. She is one of today's most important Wagnerian sopranos and, therefore, well equipped to sing the role of the Ice Princess. Her performance and her powerful voice were very convincing. The biggest problem comes in her highest notes, as one could see last year when she sang Turandot at the Peralada Festival, but this time her voice was much more controlled and pleasing.
Turandot in the second cast was played by soprano Oksana Dyka, whose voice does not have the amplitude and power of Theorin's, though she did well in the part. Her main problem is that her voice lacks color which results in a certain monotony.
The best interpretation of all came from tenor Gregory Kunde in the part of Calaf: his singing and acting were perfect. He brilliantly solved the challenges of the best-known arias and the most difficult ones, and was superb in the much-awaited 'Nessun dorma'. In short, it was an outstanding performance by one of the most important tenors of the moment.
Tenor Roberto Aronica was Calaf in the second cast, and he demonstrated a voice that is well suited to the demands of the character.
Liù was sung by soprano Yolanda Auyanet, whose career has developed mainly in Italy. Her performance was impressive and she sang her arias with gusto. In the second cast was young soprano Miren Urbieta-Vega, who replaced the initially announced Maite Alberola. She has an attractive voice and was also very good in the part.
Bass Andrea Mastroni as Timur in both casts did nicely, as did the three ministers, particularly Joan Martín Royo as Ping. Baritone Gerardo Bullón was a sonorous Mandarin, and veteran Raúl Giménez was a satisfying Altoum.
Teatro Real was sold out for both performances, which were dedicated to the memory of Montserrat Caballé.
José M. Irurzun