United States Rossini, Cendrillon (Cinderella): Soloists, Chorus and Orchestra of Lyric Opera of Chicago / Sir Andrew Davis (conductor). Civic Opera House, Chicago, 1.12.2018. (JLZ)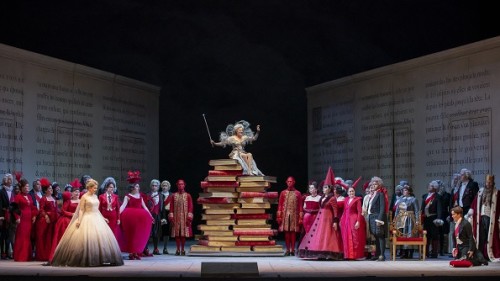 Production:
Director and Costume designer – Laurent Pelly
Set designer – Barbara de Limburg
Lighting designer – Duane Schuler
Chorus master – Michael Black
Original Choreographer – Laura Scozzi
Revival Choreographer – Karine Girard
Wig and Makeup designer – Sarah Hatten
Cast:
Cinderella – Siobhan Stagg
Prince Charming – Alice Coote
Fairy Godmother – Marie-Eve Munger
Madame de la Haltière – Elizabeth Bishop
Pandolfe – Derek Welton
Noémie – Emily Pogorelc
Dorothée – Kayleigh Decker
Dean of the Faculty – Josh Lovell
King – Alan Higgs
Master of Ceremonies – Christopher Kenny
First Minister – David Weigel
The Laurent Pelly production of Massenet's Cendrillon (1899), familiar to Met audiences who saw it last year (review click here), made its debut at Lyric Opera of Chicago. The sets and staging are genial, fitting the music with appropriate accoutrements, and a color scheme that reflects the holiday season. Just as themes recur in Massenet's score, the repetition of some visual elements, like the pages from a printed fairy-tale and stacks of books, charmingly reinforce the context.
Lyric's production has much to offer in its fine selection of principals. Alice Coote, who has sung previously at Lyric, is vocally stunning as Prince Charming. Her elegant line and thoughtful phrasing deftly shape her character. In the encounter with Cendrillon at the end of the second act ('Je te perdrais?'), the sense of love at first sight is apparent, with Coote's intensity creating the effect Massenet scored so carefully. In the third act, Coote's longing for the absent Cendrillon benefits from languid phrasing ('Tu me l'as dit') that resolves at the end of the scene, with no loss of rich, full sound.
Siobhan Stagg is equally strong in the title role, with a clear, even soprano. In the first act scene with the fairy godmother ('Que vois-je?'), her meticulous delivery was used to excellent effect. Stagg's approach — moving fluidly between recitative and longer lines — allowed the monologue's passion to emerge, showed Stagg's depth, and was one of the most touching parts of this production.
As Cendrillon's wife-weary father, Derek Welton was impressive. His resonant bass-baritone supported the well-shaped lines with ease. The confidence Welton gave to the high passages stood out, along with this clarity in his lower register. In Act III, Welton approached the scene with Cendrillon with the intimacy some would associate with Verdi's famous father-daughter exchanges.
Unfortunately, Elizabeth Bishop did not offer a similar strength in her portrayal of the stepmother Madame de la Haltière. While it was possible to hear Bishop start a line, the sound often evaporated as it continued. This was unfortunate, since the sharp-tongued character needs to emerge immediately. Instead, the comments about Madame Haltière had to be taken second-hand, from the chorus of menials or her long-suffering husband.
As the fairy godmother, though, Marie-Eve Munger gave a fine portrayal, with requisite clarity in coloratura passages coupled with ease of delivery. Her improvisatory approach to outfitting Cendrillon was underscored with well-thought phrases and apt pauses. Munger was even more effective in the last two acts, as she precipitated the expected and satisfying ending.
The orchestra was particularly energetic, with Sir Andrew Davis bringing out Massenet's hemiolas and other rhythmic details with style. For the most part, the effervescent scoring had good polish, with only a few places where the upper woodwinds dominated the otherwise balanced textures. In the Act II tableau, the dances had appropriate momentum. And at the end, the finale had panache to spare, as the fairy godmother brought down the curtain with a final wave of her wand.
James L. Zychowicz