United Kingdom Mozart, Le nozze di Figaro: Soloists, Royal College of Music Opera Chorus (chorus master: Leanne Singh-Levett) and Orchestra / Michael Rosewell (conductor). Britten Theatre, Royal College of Music, London, 30.11.2018. (MB)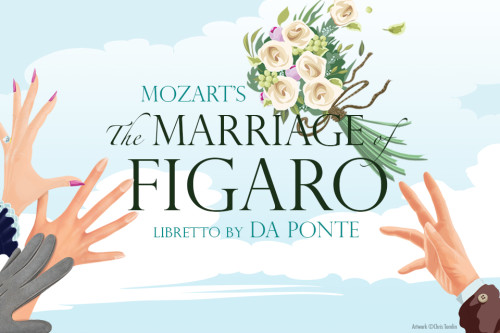 Production:
Director – Sir Thomas Allen
Designs – Lottie Higlett
Lighting – Rory Beaton
Choreography – Kate Flatt 
Cast:
Count Almaviva – Thomas Isherwood
Countess Almaviva – Eleanor Dennis
Susanna – Catriona Hewitson
Figaro – Theodore Platt
Cherubino – Anna Cooper
Marcellina – Holly-Marie Bingham
Dr Bartolo – Timothy Edlin
Don Basilio – Glen Cunningham
Don Curzio – Samuel Jenkins
Barbarina – Milly Forrest
Antonio – Peter Edge
Two Bridesmaids – Camilla Harris, Jessica Cale
A lively, enthusiastic young cast, as skilled at acting as at singing, proved the definite highlight of the Royal College of Music's end-of-term Marriage of Figaro. There was no weak link, each of the singers offering something particular in roles many of us perhaps know all too well. At this stage in their careers, singers will always have a good deal of vocal development to await. Nevertheless, from the stern and angry Count of Thomas Isherwood to the decidedly luxury casting of Milly Forrest's Barbarina, there was much to enjoy here. Eleanor Dennis, an RCM alumna deputising at the last minute, offered a noble Countess: poised, dignified, pained, and compassionate, an object lesson to her younger collaborators. Theodore Platt and Catriona Hewitson sparkled as a likeable, stylish pair of servants, Figaro and Susanna, Holly-Marie Bingham's Marcellina and Timothy Edlin's Bartolo perhaps giving a splendidly knowing hint of where the characters, if hardly the singers, might find themselves in a few years' time.
Michael Rosewell's conducting was sane enough: something to be grateful for in an age of perverse, often downright ugly Mozart 'interpretation'. It lacked charm, though, orchestral writing too often going unshaped, even barely phrased at all. A few too many disjunctures between pit and stage were skilfully retrieved, yet all in all – and this is quite a different thing from minutes on the clock – the pace somewhat dragged, a greater sense of the musical whole proving elusive.
There was not much to glean, either, from Thomas Allen's production. It was less aggressively, even offensively 'traditional' than the Figaro I last saw at the RCM (Jean-Claude Auvray, 2012), yet it would be difficult to claim any great insights. (Not that an extraordinarily disruptive – drunken? – audience, laughing and applauding almost every bar, seemed to seek insight; alas, the Glyndebourne Guffaw Brigade seemed very much to be at large.) Notwithstanding a strange initial preoccupation with babies, soon dropped, as it were, the production was very much school of Jean-Pierre Ponnelle, albeit on a necessarily less grand scale. What worked in the mid-Seventies – in many ways gloriously, as we may still see on film, Karl Böhm's presence certainly not hindering – does not necessarily ring so true four decades later. Why would it? Additional elements of something bordering on silliness did not help. There was not much more to it than that. I have little doubt that the cast would have learned much from working with Allen; I have little doubt, moreover, that that showed in their own character portrayals and their interaction.
For a greater idea, be it of the eighteenth century or any other, I sought in vain: a pity, given that two other London conservatoire performances of the last few years have offered much food for thought. The Guildhall (Martin Lloyd-Evans, 2013) offered, in retrospect, chilling presentiments of #MeToo in an American electoral campaign, whilst the Royal Academy's gentle updating to pre-revolutionary Cuba (Janet Suzman, 2015) brought forth perhaps the single finest, all in all, Figaro I have seen and heard. Claus Guth's Strindbergian Salzburg production of the previous decade doubtless changed the work forever. It need not, indeed should not, be imitated. Some awareness and communication of the work's savage darkness, however, is now for many of us a crucial starting point, as much as it would be for Don Giovanni and Così fan tutte. Mozart never suffers from sharply etched chiaroscuro. Still, there will surely be another opportunity before too long – and better this than the incoherent nonsense I endured from Johannes Erath in Dresden a couple of months ago.
Mark Berry
For more about the RCM click here.