United States Various: Sakura (Stella Cho, Michael Kaufman, Benjamin Lash, Yoshika Masuda and Peter Myers [cellos]), Barrett Hall, Pasadena Conservatory of Music, Pasadena, 16.3.2019. (DD)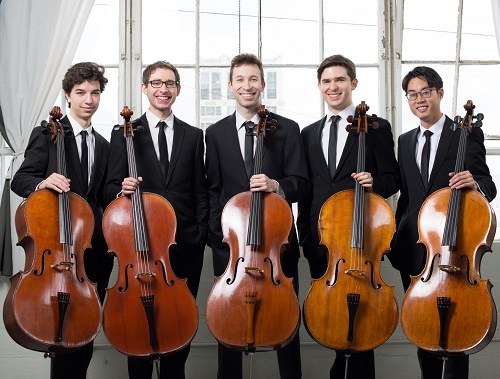 Gibbons – The Silver Swan
Fauré – Cinq Mélodies
de Falla – Ritual Fire Dance
Rachmaninov – Vocalise
Beethoven – Symphony No.5 Allegro con brio
Brahms – Scherzo from F-A-E Sonata
Debussy – Clair de Lune
Corea – Spain
Wilson – Lament in Memory of Matthew Shepard
A trusted companion and serious music enthusiast recently tipped me off to a phenomenal YouTube presence: Sakura, a cello quintet that arranges large orchestral and choral works for live performance in a chamber music setting. I watched their arrangement of Leonard Bernstein's Symphonic Dances from West Side Story, and they are fantastic. This amazing quintet was tight and taut, played seamlessly and provided plenty of spectacular visuals, finger snaps and shouted gang calls. One of the cellists, Yoshika Masuda, was even assigned the famous 'police whistle' that announces the cops' intention to break-up the rumble, and he blows a mean whistle.
Luckily, Sakura was scheduled to give a live performance with a generous sampling of their repertoire only a few days later at the Pasadena Conservatory of Music (arranged by the Salastina Music Society). A quintet of cellists might strike one as a gimmick of sorts, but the power of their sound and near-perfect intonation and balance gave a sublime beauty to the music of Orlando Gibbons, a quasi-macho attitude to that of Manuel de Falla and sheer muscularity to Beethoven. A sense of dramatic pathos in Anne Wilson's 'In Memory of Matthew Shepard' argued forcefully for its musical legitimacy and a place in the repertory. Rachmaninov? Brahms? Chick Corea? This was easily one of the finest concerts by a chamber group I have experienced.
The concert began with The Silver Swan by Gibbons, a leading English composer of the early seventeenth century. His madrigal was rearranged by an undesignated member of Sakura, and that version of the five-part choral masterpiece was beautifully suited for the ensemble: sparing in vibrato, stately and serious, with a blend of string voicings that were impeccable in clarity, declamation and intonation. While there is a defined and easily perceived melodic line, Sakura's blend of voicings produced a rich sonic blend that lent depth and solemnity to the choral writing.
And so, they continued in a series of musical offerings like no other chamber concert I have ever attended. The second piece, Fauré's Cinq Mélodies, marked my first hearing of this delicate and bittersweet song cycle, and it was followed by a powerful rendition of Manuel de Falla's Ritual Fire Dance and Rachmaninov's heartbreaking Vocalise. The entire program shifted solo parts from cellist to cellist, allowing each to have his or her day in the sun, even if there is some irony in the revision of a piece written by Brahms as a tribute to one of music's greatest violinists, Joseph Joachim.
After the intermission, Sakura resumed with an energetic and muscular version of Brahms's contribution – a scherzo – to a collaborative work known as the F-A-E Sonata, which also included movements by Robert Schumann and Albert Dietrich. This was followed by a rendition of Debussy's Clair de Lune and a very jazzy Spain by Chick Corea.
Perhaps the highlight of the concert was the only work written specifically for a five-cello ensemble: Anne Wilson's Lament in Memory of Matthew Shepard. It traverses a wide range of desolate emotions in its ten minutes and leads to a kind of tender resolution, if not consolation. Structurally, the Lament is direct and present: four brief sections, 'Premonition', 'Tavern Scene', 'Reflection' and 'Torment', are followed by a longer passage, 'Requiem'. Written for solo cellist and cello quartet. Wilson's composition is a musical remembrance and a tribute to Matthew Shepard, a young man who was left to die after a horrific physical attack because of his sexuality. Others may disagree, but I found some solace, if not redemption, in the ethereal closing moments of this descriptive meditation: loss and acceptance. Sakura played it with profound solemnity and the dignity due both subject and composition. I have listened to it closely on a few subsequent occasions, and while it is emotionally wrought and painful, it achieves a sense of appropriate closure.
As seen in their photo, the five extraordinarily accomplished cellists who usually make up the group are Michael Kaufman, Benjamin Lash, Gabriel Martins, Yoshika Masuda and Peter Myers. Cellist Martins was not in attendance at this performance, and his replacement, Stella Cho, fitted seamlessly into the ensemble. Her virtuosic presence alone argues for a cello sextet!
In 1938, the great Italian dramatist Luigi Pirandello, whose hundredth birthday we celebrated a week ago, created a theater piece titled 'Six Characters in Search of a Play', a title that has naturally led to myriad variations. Sakura, five musicians in search of fitting repertoire, have discovered some of the most interesting and musically apt possibilities. So many of them, and so much fun! Search the group out: they are an absolute blast. If you need further proof, YouTube will be happy to assist.
Douglas Dutton