United States Carnegie Hall Citywide – Various Composers: Devony Smith (soprano), Nikolay Verevkin (piano), St. Michael's Church, New York, 6.4.2019. (RP)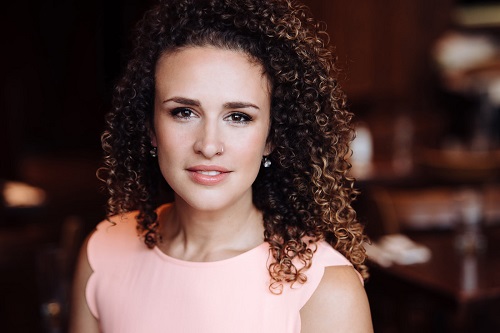 Ravel – Shéhérazade
Korngold – Drei Lieder Op.22
Prokofiev – Five Poems of Anna Akhmatova Op.27
Harbison – Simple Daylight
Carnegie Hall's commitment to the arts goes far beyond the many concerts, recitals and other offerings that it presents in its four theaters at 57th and Broadway. As it has been doing for the past 43 years, it partners with community organizations to give free concerts throughout the city. Whatever the musical genre, there are top-notch artists performing music from around the globe in exciting venues. This concert, part of the Carnegie Hall Citywide series, featured soprano Devony Smith and pianist Nikolay Verevkin at St. Michael's Church on Manhattan's Upper West Side.
St. Michael's, which opened its doors to worshipers in 1891, dazzles as much as the music these rising young artists performed there. The Romanesque-Byzantine building houses a remarkable collection of works by Louis Comfort Tiffany, including seven spectacular, stained-glass windows in the apse that comprise one of his largest installations still in its original setting, and a magnificent mosaic depicting the Crown of Life surrounded by angels. The sun shone through the windows during the entire concert, their colors as fascinating as the musical ones.
A California native, Smith is making her mark on New York's contemporary music scene. In addition to winning some prestigious competitions, she was a participant in The Song Continues, the annual celebration of art song begun by Marilyn Horne that found a home at Carnegie Hall. Her frequent collaborator, Nikolay Verevkin, was born in Moldova, received degrees from the St. Petersburg Conservatory in Russia and has done doctoral and post-doctoral work here in the US.
The three young women sitting in front of me were friends, or at least acquaintances, of the singer, and one was particularly eager to hear Smith sing something other than contemporary music. It brought a smile to my face as every song performed was from the twentieth century: Ravel's Shéhérazade was composed in 1904. and their encore, 'Blue', one of William Bolcolm's Cabaret Songs, dated from 1996. It was another gentle reminder that contemporary means the present, not decades ago.
The church's acoustics are live, and a warm, rounded resonance prevailed, but nonetheless musical details emerged with relative clarity from both singer and pianist. The surges of sound that course through the Ravel accompaniment enveloped the church, while the tinkling of the piano in the third of Korngold's Drei Lieder, 'Welt ist stille weingeschafen', sparkled clear and distinct. It was all such beautiful, lyrical music, including Prokofiev's Five Poems of Anna Akhmatova which, at their premiere in Moscow in February 1917, prompted at least one critic to revise his opinion of the 26-year-old composer and conclude that he could indeed write music full of tenderness, warmth and emotion.
Moore is fortunate to have Verevkin as her pianist: the accompaniments to Simple Daylight, Harbison's 1988 song cycle, are so technically demanding that James Levine, for whom (along with soprano Dawn Upshaw) they were composed, purportedly never found the time to master them. Moore had the advantage of having performed the songs in Los Angeles in a concert celebrating the composer's 80th birthday last year. The musical themes are often shared between singer and pianist, requiring intimacy not only with the music but also between the performers. For Smith and Verevkin, that seemed to come naturally.
Smith is one of those singers who brings a sense of wonder and excitement to everything she sings, so Shéhérazade became a marvelous journey into the sights and sounds of Asia. In the soaring phrases of Korngold's 'Was Du mir bist?', her lush lyric soprano bloomed effortlessly, and she glowed with ecstasy in 'Welt ist stille weingeschafen'. Smith imparted such tenderness to Prokofiev's 'Memory of the Sun', while in 'The King with Grey Eyes' despair was etched in her face and voice. The jagged musical lines, monosyllabic text repetitions and long melismatic passages in the Harbison songs were dispatched with ease. Throughout, her voice had never been less than lovely.
Rick Perdian