Germany Dresden Music Festival 2019 [1] – Mozart, Petitgirard, Bartók: Marie-Pierre Langlamet (harp), Emmanuel Pahud (flute), Dresdner Philharmonie / Cristian Măcelaru (conductor), Kulturpalast, Dresden, Germany 1.6.2019. (MC)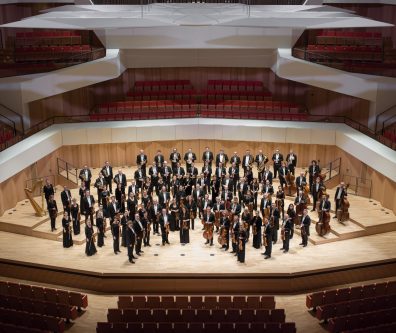 Mozart – Concerto for flute and harp and orchestra in C major, KV 299
Petitgirard – Dilemme for flute, harp and string orchestra – world première
Bartók – Concerto for Orchestra, Sz 116
A 'golden' theme predominated this concert. Striking was Emmanuel Pahud's 14 carat golden flute, there was the conspicuous gold frame of Marie-Pierre Langlamet's harp and with first class playing from the Dresdner Philharmonie, all in such a stunning acoustic, everything combined for a golden concert going experience.
Described as one the most popular in the repertoire I have not encountered Mozart's Concerto for flute and harp in concert for some time, nor played it on record either so it was pleasing to make acquaintance with the beautifully crafted score after such a long break. Written during Mozart's time living in Paris it was a commission for a French aristocrat who was a flautist and his harpist daughter who the twenty-two year old Mozart was teaching. I couldn't fault the playing of Langlamet and Pahud who are artists in their prime. During the dialogue the flautist displayed a visual element of tasteful showmanship to his playing while Langlamet provided a steadying influence. Breathtaking was how well the harp and flute blended together with the sound transmitting tellingly through the hall. In the Andantino there was one particular magical moment during a solo passage for the harp when time seemed to stand still. Under Cristian Măcelaru the Dresdner Philharmonie comprised of around fifty players, a slightly larger number than period-instrument orchestras might use today for this work, but never coming near to overwhelming the soloists, everything in fact felt ideal.
The concert included the world première performance of Laurent Petitgirard's Dilemme (Dilemma) a double concerto for flute, harp and string orchestra that he wrote in 2016. I know of Petitgirard mainly for his film scores and also his Cello Concerto and Dialogue for viola and orchestra. Approaching Dilemme without even seeing a programme note I have to say how much I enjoyed Langlamet and Pahud's performance. Cinematic in character striking was the level of drama in the writing not the blood and guts type but of a tense and heavy, atmospheric quality. Throughout, the score evoked an image of an Alfred Hitchcock thriller from the 1950s or music from a film noir from the same period. Towards the conclusion of the work sticking in the memory was the resonance of the double basses who really dug in to make a terrific sound that had a near-spectral quality. Dilemme is an eminently accessible contemporary work with echoes of Debussy and Ravel that I found entirely engaging and its seventeen-minute duration just flashed by.
The second half of the concert was given to Bartók's masterwork his Concerto for Orchestra. A couple of years prior to composing the work Bartók had emigrated to New York and was suffering health problems both physically and emotionally, in a dire financial situation too, he felt like an exile in an alien land yearning to return to his home country of Hungary. When renowned conductor Serge Koussevitzky, music director of the Boston Symphony Orchestra, told Bartók, who was in hospital, the positive news of a commission with half of the fee upfront the effect on the composer was virtually instant and he soon completed the score. A towering work of twentieth-century music this orchestral showpiece suited the Dresdner Philharmonie down to the ground. Assuredly led by Cristian Măcelaru the orchestra excelled by adding potency and weight to its renowned standing for style and precision and the results were a remarkable range of orchestral colour together with a surfeit of drama. I am not sure it's possible to make a masterpiece better than what it is but the Dresdner Philharmonie came close to managing it.
Michael Cookson
---