United Kingdom BBC Prom 25 – Sibelius, Weinberg, Tchaikovsky: Sol Gabetta (cello), BBC Symphony Orchestra / Dalia Stasevska (conductor). Royal Albert Hall, London, 6.8.2019. (AK)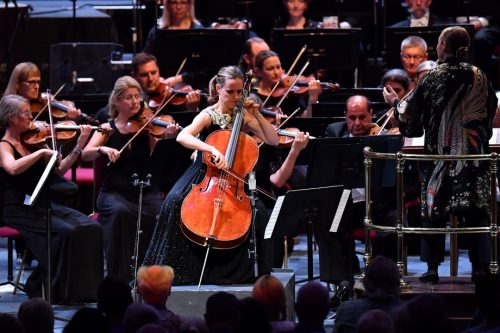 Sibelius – Karelia Suite, Op.11 (1893)
Weinberg – Cello Concerto in C minor, Op.43 (1948, rev.1956)
Tchaikovsky – Symphony No.6 in B minor, 'Pathétique', Op.74 (1893)
The evening was and will remain memorable because of Sol Gabetta's exquisite performance of Mieczyslaw Weinberg's Cello Concerto. But first we heard Sibelius's Karelia Suite.
I am not sure how many tuneful motives make up the three-movement Suite but there are plenty of them and they are repeated several times. It makes for easy listening although it can also be slightly irritating if one would prefer not to hear the same tune again (and again).
The Finnish conductor Dalia Stasevska – making her Proms debut as well as her first concert as Principal Guest Conductor of the BBC SO – is presumably well steeped in Sibelius as well as in Finland's Kalevala folk music tradition. Sibelius is known to have collected Kalevala examples in Karelia and was inspired by them: hence the Karelia Suite.
Stasevska is clearly passionate and dedicated to every note she conducts. Nevertheless, I was surprised by her tempi for the Suite: the first movement (marked as Moderato) seemed driven, the second movement seemed slower than expected until bar 15 when it picked up speed and matched the tempo marking of Tempo di menuetto. The third movement again was faster than what one could expect with Sibelius's Moderato and Alla Marcia markings. On the credit side, Stasevska produced beautifully controlled pianissimos (like at the very beginning of the piece) which were courageous and well managed in spite of the vast space of the Royal Albert Hall.
For me the hero of the Karelia performance was the cymbal player: I do not know how he knew when exactly to play his exposed loud entries but he was rock solid and spot on with all of them.
I am of a certain age and an ex-cellist but this London premiere was my first encounter with Weinberg's Cello Concerto. Without doubt, it could not have received a more committed, more sub-servient and a more beautiful performance. Sol Gabetta is a rarity. She is fully disciplined with breath-taking virtuosity and with full control of her instrument. At no point does Gabetta use undue force to produce the sound – not even at passionate outburst within the music – and at no point does she succumb to self-indulgence as so many famous cello soloists do. Gabetta sings beautifully via her cello in all lyrical sections, regardless which part of the cello's register she is tackling. She also delivers the Shostakovich-type fast driven sections with musical intensity and virtuosity, without lifting an eyelid.
I mentioned that Gabetta sings through her instrument. She also speaks through it; Weinberg's cantilena solo declamations not only filled the hall but they also had clearly defined musical diction. The first and second movements of the concerto are sparse in orchestration, offering several dialogues between solo cello and flute or solo cello and other instruments (including even brass). The intimacy of chamber music was perfectly captured by all players.
I very much enjoyed not only Gabetta's performance, but Weinberg's music too. To me, on first hearing, the music was a mixture of what I would loosely term as Jewish music and Shostakovich. I knew that Weinberg was Jewish and steeped in Yiddish tradition in his youth. I also knew that Weinberg and Shostakovich had close working relationship. But listening to Gabetta's performance I was not thinking about the historical background; I heard melodies which Jewish cantors might sing and heard passages which would be easily at home in Shostakovich's cello concertos and symphonies.
The third and fourth movements (of the four-movement concerto) consist of several sections, including an unexpected solo cello cadenza as the second section of the third movement. I am puzzled by a comment in the programme notes, written by distinguished Weinberg scholar Professor David Fanning. Comparing the Concerto with Shostakovich's First Violin Concerto, he writes: 'The four-movement design, with a substantial cadenza placed before the finale, is another shared feature.' However, elsewhere in the programme notes we get this division for the last two movements of the concerto:
Allegro-Cadenza-Andante-Allegro-Andante
Allegro-Adagio-Meno mosso
As seen above, the place of the unexpected cadenza in the concerto is not entirely clear (without access to the score). However, it was performed magnificently by Gabetta; followed by her equally magnificent encore: she played the Catalan melody Song of Birds, arranged and made famous by Pablo Casals. Casals was well served by Gabetta and by the discreet accompaniment of three BBC SO cellists.
Much what I wrote about the performance of the Sibelius also applies to Tchaikovsky's symphony. Conductor Stasevska lived every note of the piece, perhaps even too much. For me the first movement's Allegro non troppo section was over passionate. The third movement (Allegro molto vivace) was slightly more driven than what I would envisage but the audience loved the drive and burst into applause on conclusion of the movement (although elsewhere during the concert we had no applause between movements).
I do not understand the reason for Stasevska's conducting technique. She choreographs her music, making huge movements with her arms vertically as well as horizontally in loud and passionate places. From what I could see, this approach did not leave room for specific precise directions for various orchestral entries. I may be wrong: the proof is in the pudding and the orchestra played well. However, I found watching Stasevska very difficult. She wore a kimono-type, shiny jacket with wide sleeves. Coupled with her frequent large movements, the visual aspect of Stasevska's conducting was distracting (although, I realise, it might have been an extra bonus for others in the audience). For a conductor Stasevska is still young; let's watch this space.
Agnes Kory