Germany Tchaikovsky, Eugene Onegin: Soloists, Orchestra and Chorus (director: David Cavelius) of the Komische Oper / Ainārs Rubikis (conductor). Komische Oper, Berlin, 20.9.2019. (MB)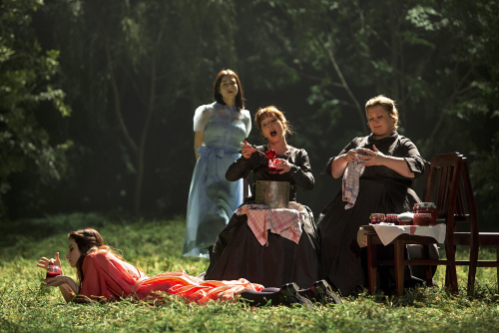 Production:
Director – Barrie Kosky
Set designs – Rebecca Ringst
Costumes – Klaus Bruns
Lighting – Franck Evin
Dramaturgy – Simon Berger
Cast:
Eugene Onegin – Günter Papendell
Tatiana – Natalya Pavlova
Olga – Karolina Gumos
Lensky – Aleš Briscein
Mme Larina – Stefanie Schaefer
Prince Gremin – Tijl Faveyts
Filipievna – Margarita Nekrasova
Zareski – Changdai Park
M. Triquet – Alexander Fedorov
Zaretsky – Changdai Park
Captain – Carsten Lau
Guillot – Yuhei Sato
What's in a name? Should Tchaikovsky's opera – which, as Barrie Kosky states in the programme booklet, should be considered alongside Pushkin, not as its musical translation – really be called Eugene Onegin at all? Or would Tatiana Larina be the more fitting title? Eugene and Tatiana, perhaps? It is a silly question, really; for one thing, no one is going to rename the work, although someone, I suppose, might write another. But names aside, there will probably always be something of a tension between the centrality ascribed by a production to the opera's two principal characters; and also something, moreover, of a tension between Tatiana and Onegin on one hand and Lensky, if more rarely Olga, on the other. It is difficult to imagine a successful or indeed pretty much any unsuccessful production that did not involve such tensions, although Achim Freyer, in his bizarre staging for the Staatsoper Unter den Berlin, a few hundred metres away, may be said to have accomplished that in his very typical way.
Kosky's 2016 staging for Berlin's Komische Oper, in co-production with Zurich, offers an intriguing, convincing blend of the broadly yet never lazily conventional; the slightly symbolic; and the point of detail, even the incidental, made more than that. The latter first: as the opera opens, Mme Larina and the nurse, Filipievna are making jam. I am not sure that I even recalled that point of detail, though I am sure that I will now. The jam jar, however, returns at a crucial point – in Kosky's staging, that is – as container for Tatiana's letter to Onegin. Her nurse, affecting not to understand for whom it is intended, keeps dropping it, casting it aside, until she relents and sets that train of events in motion. 'So what?' you may ask. So nothing, perhaps; but I think not. For the jar and its contents take us back to the opening, an apparently carefree summer afternoon, save of course for beneath the surface. Things have changed – and have stayed the same; such tends to be the way with life. And the chorus of local girls, more than usually an emanation of Tatiana's unconscious – replication and contrast in Klaus Bruns's costume designs lightly make the point – has all along been framing, voicing, goading.
So too will the chorus, male and female, later on, as part of a more general pattern of contrasts and connections between public and private, indoor and outdoor, country and town; and the criss-crossing connections between those pairs of opposites. The fundamental setting, common to all scenes, is that of the meadow on which it all began: designer Rebecca Ringst's simple, adaptable focus for development and memory. Franck Evin's lighting works wonders in its partial transformations, highlighting (false or alienating?) community and Romantic loneliness, whilst never having us lose sight of where we are. So too, of course, do Kosky's blocking and, more broadly, his story-telling. It does no harm for the ball to take place with torches outside for once; its stifling, tragic qualities are not lost. Only in the first St Petersburg scene is there an additional set design, but even then, the facade of Prince Gremin's palace can, like all facades, readily be dismantled, so that we can turn to the inversion of our central pair's fortunes and their resolution.
Like many directors, Kosky ignores the opera's strong, at times overwhelming, homosexual subtexts: the 'Romantic friendship' between Onegin and Lensky and, of course, the figure of Tatiana herself as alter ego for Tchaikovsky, his fantasy of how a woman might feel and act. That, however, is simply not the concern of this particular production. For, in the programme booklet, Kosky expresses a preference for operas with 'very simple stories and incredibly multifaceted themes and emotions – precisely as in Greek theatre,' and also criticises composers who, over the past fifty years, have, allegedly, 'simply set literature to music'. I am not quite so sure that it is as simple as that, nor that the comparison with ancient Greece is objectively meaningful in this case, as it certainly would be to Wagner; however, if it is to him, all the better. There is unquestionably a directness to Kosky's telling of the story here, far from opposed to interpretation, but rather open to it, which works very well: as, say, in his Rusalka and his Pelléas, or indeed, harking back to Attic tragedy, in his Iphigénie en Tauride, all for the Komische Oper, yet sadly lacking in his Bayreuth Meistersinger. Whose opera is this anyway? Here, it conventionally, yet never stereotypically, moves from being Tatiana's to Onegin's; the latter character emerges in the reflection, the memories of the latter's acts and emotions. That trajectory is delineated with a power only rarely achieved, at least in my experience.
Instrumental – or better, vocal – to that was Günter Papendell's Onegin, thus perhaps rebalancing the scales slightly in that direction. To begin with, I felt somewhat nonplussed at the apparent woodenness of his portrayal, until I appreciated that it was a portrayal of woodenness, of coldness, to be humanly defrosted, as it certainly was during the course of the opera. This was a fine, memorable, and sophisticated conception of the role. It would be an exaggeration, indeed a vulgarisation, to say that Natalya Pavlova's Tatiana moved straightforwardly in the opposite direction, but tension was present in that respect: the crossing of lines and lives that ultimately turns, we think, to tragedy. Her opening fragility, her heartfelt and beautifully sung Letter Scene, and her final struggle, seemingly achieved, for self-possession proved similarly memorable and sophisticated. Aleš Briscein's Lensky was surprisingly coarse of tone to begin with, though it was an ardent performance; I could not help but wonder whether he were unwell. A spirited Olga in Karolina Gumos, a stylish and lively M. Triquet in Alexander Fedorov, a splendidly deep-voiced Gremin in Tijl Faveyts, and above all a richly expressive, compassionate Filipievna in Margarita Nekrasova had much to offer, in a typically strong company performance that had no weak links.
The chorus sang and acted well too, its stage direction always a Kosky strength. My sole, relative disappointment lay in aspects of Ainārs Rubikis's conducting of the orchestra. At its best, especially in the middle scenes, there was a telling striving towards symphonism. Elsewhere, however, much was oddly hard-driven. There were striking disjunctures, moreover, between orchestra and chorus in the first scene. This was not, then, an Onegin to think of in the way of Semyon Bychkov's (probably the best conducted I have heard in the theatre) or Daniel Barenboim's (for Freyer, as mentioned above). This was Kosky's Onegin rather than the conductor's, yet it belonged as much to the singers and of course to their characters. That, I think, was a good part of its point: a point served well.
Mark Berry
For more about what is on at Komische Oper Berlin click here.