United Kingdom Hindemith, Bach and Berg: Christian Tetzlaff (violin), Philharmonia Orchestra / Esa-Pekka Salonen (conductor), Royal Festival Hall, London, 26.9.2019. (AS)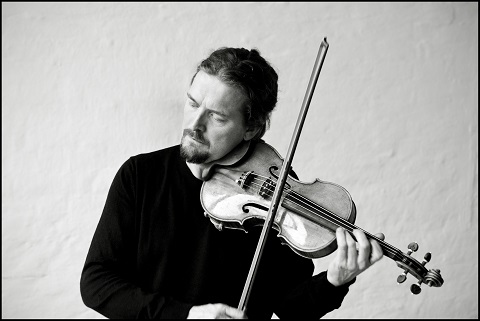 Hindemith – Ragtime
Bach (orch. Schoenberg) – Schmücke dich, o liebe Seele;  Komm, Gott Schöpfer, heiliger Geist
Berg – Violin Concerto
Hindemith – Mathis der Maler, Symphony
This was the penultimate event in the Philharmonia's most interesting and enterprising series 'Bittersweet Metropolis', which has explored the extraordinary music, film and drama created in Berlin during Germany's Weimar Republic period, from the end of the First World War until the Nazi takeover in 1933. The programme contained two works that were among the last fruits of those times, Hindemith's Mathis der Maler Symphony, the music drawn from an opera of the same name that was planned for production in Berlin during the 1934-35 season but which was banned by the Nazis, and Berg's Violin Concerto, written in Vienna in 1935 but clearly linked to the recently snuffed-out Weimar period.
The case of Paul Hindemith is a strange one. Before the Second World War his music was held in the same regard as that of Stravinsky, Schoenberg and Bartók, but since his death in 1963 performances of his music have become far fewer than they used to be. As in the case of Darius Milhaud, another composer whose music has rather faded into the background, Hindemith wrote too much of it, and a lot of it was rather routinely composed to create repertoire for unusual instruments or combinations of instruments, and that has done his reputation no good. He possessed, according to Sir Adrian Boult, a somewhat jolly personality, which belies the dry, academic nature of some of his output, and in this concert it was good to hear him in lighter mood in his rumbustious early Ragtime, scored for large and rather noisy orchestra.
For some reason Esa-Pekka Salonen had decreed that the Bach/Schoenberg arrangements should be played after the Hindemith without a break, which was an odd decision, since although Ragtime is loosely connected to a theme from Bach's Well-Tempered Clavier, Schoenberg has made a direct orchestration of two of Bach's choral preludes. In a rather short programme it was a pity that we didn't hear his somewhat longer treatment of the 'St Anne' Prelude and Fugue, but the briefer pieces performed gave us ample opportunity to relish Schoenberg's masterly use of the orchestra, peculiar for the fact that although Bach's original organ works are clearly respected by the arranger, his lavish scoring makes them sound as if they are his own compositions.
Gone are the days when a soloist in Berg's Violin Concerto would peer at a copy of his part while playing, and the conductor would have to work hard to secure orchestral accuracy. The work is now no stranger to the Philharmonia, and Christian Tetzlaff played the solo with the utmost confidence, from memory and consequently with a certain freedom of expression that was totally suited to Berg's anguished music. The orchestral playing under Salonen was notably clear, precise, but also emotionally committed, and though the soloist's vigorous playing was sometimes only to be observed rather than heard under the assault of heavy orchestral tuttis, the performance in general was very satisfying.
Finally, it was back to Hindemith for what is still probably his best-known orchestral work. Of this Salonen delivered a most remarkable performance. He was entirely faithful to the score: there were no undue interpretative points made; the playing was immaculate and superbly balanced, and yet the conductor found a depth of expression and emotion in the work that is usually only half-stated or implied. He found a quality of sheer beauty and grave poignancy in the opening 'Angel Concert'. There was an exalted purity of spirit and intensity in the lament of the second movement, entitled 'Entombment', and the drama and mental conflict of St Anthony's temptation, depicted in the finale, was conveyed with urgency, passion and electrically exciting playing. Seldom can the work have been played with such conviction and fire.
On Sunday Salonen and the Philharmonia will present the last concert in the Weimar series. More Hindemith in lighter mood will be heard, alongside works by Busoni, Weill and Berg's Lulu Suite.  It is to be hoped that the Philharmonia's enterprise will be rewarded by a bigger audience than on this occasion.
Alan Sanders
For more about the Philharmonia Orchestra click here.