Germany Verdi, La traviata: Deutsche Oper Chorus and Orchestra / Stephan Zilias (conductor), Deutsche Oper Berlin, 27.9.2019. (JMI)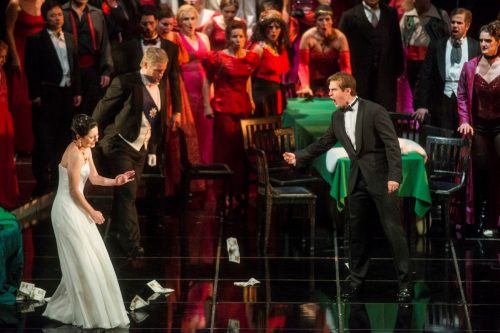 Production:
Director – Götz Friedrich
Sets – Frank Philipp Schlössmann
Costumes – Klaus Bruns
Lighting – Ulrich Niepel
Cast:
Violetta – Mariangela Sicilia
Alfredo – Francesco Demuro
Germont père – Noel Bouley
Flora – Karis Tucker
Annina – Alexandra Hutton
Doctor Grenvil – Andrew Harris
Gaston – Andrew Dickinson
Baron Douphol – Stephen Bronk
Marquis d'Obigny – Philipp Jekal
Giuseppe – Ya-Chung Huang
The advance information on the Deutsche Oper's La traviata indicated that the lead roles would be played by Piotr Beczala and Albina Shagimuratova. Unfortunately, both of them canceled, and the resulting performance was somewhat disappointing.
The staging by Götz Friedrich premiered here in 1999; I had the opportunity to see it four years later. (At that time, Violetta was sung by soprano Stefania Bonfadelli, who today is focused on stage direction). It is a quite traditional, elegant production with basically one set for the entire opera. At the beginning, Violetta is lying on a bed, which is where she will return to die in the last act. When the lights come up, the bed gets covered, and we are in a large room with marble walls where Violetta's party takes place. This set is also used for the first scene of Act II, which does not take place, therefore, in a country house near Paris. Flora's party too takes place on the same stage, divided in two by a large curtain, with gaming tables in front and the supposed dining room behind. Act III returns to the initial set.
The music director, Stephan Zilias, is frequently at the Deutsche Oper, although this was the first time I had seen him conducting. He made a good impression, especially in the final act.
Violetta was sung by soprano Mariangela Sicilia, whose performance was correct if not exceptionally bright. Her voice is that of a light-lyric soprano, which is adequate for Act I although she had trouble with the highest notes: she made no attempt to hit the high E at the end of 'Sempre libera'. She did well in Act II, although one missed more vocal weight in 'Amami, Alfredo', but she fell somewhat short in the last act.
Piotr Beczala was replaced by tenor Francesco Demuro who, in general, offered the most rewarding performance of the trio of main protagonists. His voice is attractive and he sang with gusto, including the cabaletta in Act II.
Baritone Noel Bouley as Germont père was less convincing. His voice lacks brilliance and what is called italianita, and he had some projection problems: the volume is there but his voice tends to be left behind.
In the secondary characters, bass Andrew Harris did well as Doctor Grenvil, as did Alexandra Hutton as Annina, but Karis Tucker was a rather modest Flora. Andrew Dickinson was a satisfying Gaston, as was Philipp Jekal as the Marquis d'Obigny.
José M. Irurzun