United Kingdom Gerald Barry, The Intelligence Park: Soloists, London Sinfonietta / Jessica Cottis (conductor). The Linbury Theatre, Royal Opera House, London, 28.9.2019. (CC)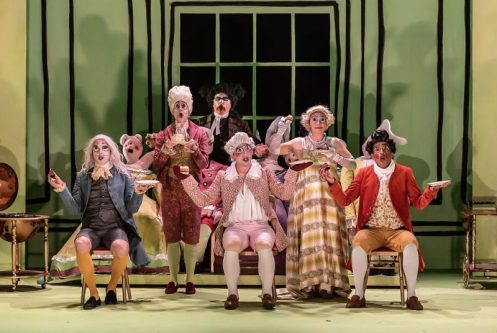 Production:
Director/Designer/Lighting designer – Nigel Lowery
Co-Lighting designer – Friothjofr Thorsteinsson
Sound designer – Nick Manning
Cast:
Robert Paradies – Michel de Souza
D'Esperaudieu – Adrian Dwyer
Sir Joshua Cramer – Stephen Richardson
Jerusha Cramer – Rhian Lois
Faranesi – Stephanie Marshall
Serafino – Patrick Terry
Recorded solo treble – Rafael Flutter
First produced in 1990, Gerald Barry's first opera The Intelligence Park is, to put it mildly, something of a challenge. And not just to the singers (who have to negotiate ridiculously difficult lines) or the orchestra (similarly challenged), but for the audience. A plot within a plot (like, in this staging, a theatre within a theatre) is hardly unique; but Barry ensures this is no easy ride, accenting syllables one might not expect, generally confounding any sort of expectations. The composer delights as much in rhythmic complexity as he does in dissonant chorales.
Barry also has his own vocabulary, consistent within itself yet refusing to bend to common comparison. His penchant for angular dissonance is underlined (underscored?) by a penchant for having the orchestra and voice in rhythmic unison – a cruel test especially for the singers and it is testament to the performers here that everything was delivered crisply throughout the long evening; there were two parts, lasting respectively 60 and 50 minutes. Add into the pot a libretto by Vincent Deane that might seek to invoke Joyce in its penchant for ellipsis. The plot itself, set in eighteenth-century Dublin, starts from a common enough premise, a three-way love split. A composer by the name of Paradies is experiencing problems with the composition of his opera. He has also committed himself to marrying Jerusha (daughter of Sir John Cramer) but is pulled astray by the singing teacher, the castrato Serafino (who also loves Jerusha: there are graphic illustrations of their connection, as they move in and out of various sex positions). The characters Wattle (a warrior) and Daub (an enchantress) come from Paradies's opera and interact with/interrupt the ongoing story at various points. Cramer holds a party, at which non-singing guests are represented by dummies whose open mouths seem deliberately evocative of certain blow-up sex toys. Death stalks the stage, escorting off figures at their demise, all in black and complete with obligatory scythe. Finally, Paradies leaves Dublin after the death of Cramer from an apoplectic fit.
This co-production with Music Theatre Wales, in association with London Sinfonietta, is directed by Nigel Lowery who is also designer and lighting designer. It is only the second ever and is bright, often gaudy, yet holds a real fascination. One does get the impression it is supposed to be LOL-funny, but it rarely is. Everything is clever, beyond doubt: and the performance is pretty much faultless. A shame there is something of a feeling of emptiness at the close. A recorded treble voice, Rafael Flutter begins proceedings, and a cherub, part of the decoration, mimes in what is surely a reference to Monty Python's Flying Circus. Jerusha often has the demeanour of Judy from Punch and Judy (not the Birtwistle).
As Paradies, baritone Michel de Souza (once a member of the Royal Opera's Jette Parker Programme, 2012-14) was expected to use all extremes of his voice in a virtuoso exposition of what a singer can do. As so often, one wonders at the sheer time put into the learning of these parts by the singers and when, and if, they will ever sing the role again; one has to salute such dedication. Almost upstaging the Paradies was the rich bass of Stephen Richardson as the Falstaffian Sir Joshua Cramer, who owns the stage in his presence and whose voice is simply beautiful – as well as, of necessity here, agile.
Appearing as Paradies's companion D'Esperaudieu, tenor Adrian Dwyer is the perfect foil, his voice light and agile. Rhian Lois is as impressive in her movements as she is vocally as Jerusha Cramer, the girl at the centre of it all, while the so-called castrato Faranesi and companion Seraphino, Stephanie Marshall and Patrick Terry, both seemed to revel in the comedy of manners feel of it all.
This staging is intended as a companion to the Barry opera destined for the main stage this season, his latest, Alice's Adventures Under Ground. For all of its cleverness, The Intelligence Park leaves one unsatisfied. So many notes, but more to the point, so much promise undelivered.
Colin Clarke
For more about what is on at the Royal Opera House click here.