HarrisonParrott's 50th anniversary celebrations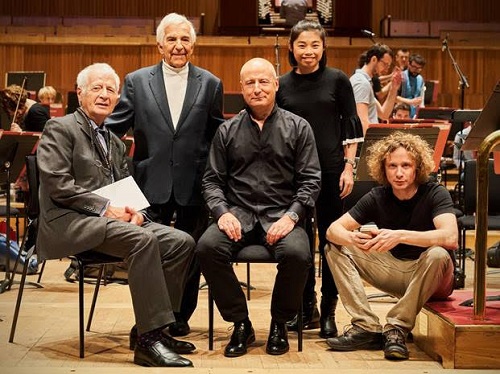 Over 25 leading artists came together yesterday for three big concerts at London's Southbank Centre to celebrate the fiftieth anniversary of HarrisonParrott, including Pierre-Laurent Aimard, Jess Gillam, Barbara Hannigan, Patricia Kopatchinskaja, Víkingur Ólafsson, Alice Sara Ott, Andreas Scholl and Jörg Widmann.
Established in 1969 by Jasper Parrott and Terry Harrison, on Sunday 6th October HarrisonParrott celebrated its fiftieth anniversary by taking over London's Southbank Centre for '50 Years in a Day' on 6 October 2019.
A day of sold-out concerts, pop-up performances and talks reflected HarrisonParrott's role in nurturing and building careers for its artists, as well as leading the industry in issues concerning championing female conductors, access to music education and careers in the industry for people currently underrepresented.
Long recognised as the world's leading classical music management company, with four generations of artists and three generations of staff, HarrisonParrott has always been an innovator in its field. From its founding, the company was consistently international in its outlook and reach and was the first European artist management company to invest intensively in developing tours and concert appearances in China, Japan and more widely in Asia.
From representing many of the world's leading musicians it has expanded into offering a range of services beyond traditional artist management. With a client roster that ranges far beyond classical musicians, the company curates and presents a wide range of concerts and artistic events and this year became the only artist management company to form its own charitable foundation.
Jasper Parrott, Chairman of HarrisonParrott, said:
"Our day of performances and talks is not just a way of looking back over the past 50 years, but more importantly it's a day of celebrating what HarrisonParrott is today and our future. The day encapsulates much of what HarrisonParrott represents, with artists who have been with us from the beginning to our very latest signings; from established great repertoire to new commissions and a wide variety of musical styles. The arts are crucial to a civilised society and while we continue to live in uncertain times, HarrisonParrott's commitment to nurturing and presenting excellence is stronger than ever."
Three concerts anchored the day of activities across Southbank Centre. The first concert, 'Brahms, Chopin, Debussy' in the Queen Elizabeth Hall featured a programme from six HarrisonParrott artists including Jess Gillam (saxophone), István Várdai (cello), Alice Sara Ott (piano) and Andreas Scholl (countertenor).
It was followed by Gillian Moore, Southbank Centre's Director of Music, in conversation with Jess Gillan, Pekka Kuusisto and Zwakele Tshabala in the QEH foyer, accompanied by a performance from tenor Zwakele Tshabalala.
In the next concert, HarrisonParrott presented the wide range of repertoire, both established and new, that it represents. 'From Bach to Birtwistle' featured works by Duke Ellington, Manuel De Falla, Astor Piazzolla, the world premiere of 'For Lydia', a new composition by Peter Eötvös for violin duo, and the London premiere of Birtwistle's 'Keyboard Engine for 2 pianos'. Performers include Lucienne Renaudin Vary (trumpet), Ksenija Sidorova (accordion), Alban Gerhardt (cello), Barbara Hannigan (soprano), Tamara Stefanovich (piano) and Patricia Kopatchinskaja (violin).
The day culminated in a gala concert in Royal Festival Hall, 'One Orchestra, Four Great Conductors' featuring Vladimir Ashkenazy, who has been with the company since its founding, and one of its most recent signings Elim Chan as well as Paavo Järvi and Santtu-Matias Rouvali. They conducted Philharmonia Orchestra in a programme ranging over four centuries with works by Schubert, Richard Strauss, Tchaikovsky and Elgar.
The day also celebrated the launch of HarrisonParrott Foundation and its work with partners Tri-Borough Music Hub and Creative Access. Dedicated to supporting and championing access to music education and training in the arts industry it aims to challenge preconceived assumptions of what the arts are and who they are for. From October, a series of performances, masterclasses, talks and educational workshops will take place, many with HarrisonParrott musicians such as Susan Bullock and Jess Gillam.
Further information about HarrisonParrott's 50th anniversary celebrations at: https://www.harrisonparrott.com/hp50