United Kingdom Ravel, Fauré: Savitri Grier (violin), Yundu Wang (piano), Dora Stoutzker Hall, Royal Welsh College of Music and Drama. 11.10.2019. (GPu)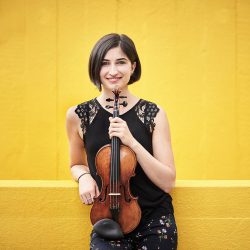 I always look forward to a new season of lunchtime recitals at the Royal Welsh College of Music and Drama in Cardiff. Alongside enterprising concerts by accomplished student ensembles, there are recitals by well-established major names (such as Trevor Pinnock, Ailish Tynan and Katarina Karnéus) and by artists, now well-known but less familiar when they appeared in this series (e.g. Mahan Esfahani and Katy Woolley).
Unfortunately, I am not able to attend as many of this season's lunchtime concerts as I have done in previous seasons and need to be more selective – missing performances by, for example, Ensemblebash, Benjamin Goldscheider and London Sinfonietta) – I am delighted to be able to report that my first (chronologically speaking) 'choice' turned out to be a thoroughly enjoyable double bill of French violin sonatas played by the British-Indian violinist Savitri Grier and the Chinese-American pianist Yundu Wang.
The two sonatas they chose to play – Ravel's Sonata No.2, in G (1923-27) and Fauré's First Sonata, in A (1876) – were presented in reverse chronological order. This might, on the face of it, seem an odd way of doing things but given the stylistic contrasts between the two works and, most importantly, the considerable perceptiveness and technical certainty with which the two sonatas were performed, the running order actually felt unimportant.
These two young instrumentalists brought to both Ravel and Fauré such high technical competence and musical intelligence that they did something like full justice to both works. From the brief piano introduction of the first movement of the Ravel (followed by the authoritative first entry of the violin), one knew that, musically speaking, we were in safe hands. I think my only moments of slight disappointment in the whole recital came in a few passages in the second movement of the Ravel sonata, when Grier and Wang didn't seem entirely comfortable in Ravel's idiom in this movement, his decidedly Gallic take on the blues. Elsewhere, however, as in the third and final movement, where Ravel's complicated reconciliation of lyricism and momentum was superbly articulated, there was a great deal to enjoy and admire. That third movement, indeed, got as good a reading as I can ever remember hearing live.
The Fauré, throughout, received a top-quality interpretation, being fully characterized by what Fauré called 'the eminently French qualities of taste, clarity and sense of proportion'. The whole was impressively lucid, but clear thought was nowhere achieved by the exclusion of passion. Nor did some occasionally (and properly) aggressive playing do anything to endanger the listener's sense of Fauré's structural control. Everything, in short, was held in perfect balance without feeling constrained or confined. This was absolutely true in the account of the first movement (Allegro molto), in which piano and violin were beautifully integrated, or in the following Andante, in which the reflectively lyrical main theme was quietly charming and moving. The third movement, in effect a scherzo though not labelled as such, was delivered with all the rapid lightness of foot that it needs, the cross-rhythms relished but not over-emphasised. The last movement (Allegro quasi presto), with its remarkable reconciliation of virtuosity and restraint – a kind of musical coincidentia oppositorum – brought out the very best in these outstanding young musicians.
Being famously susceptible to female beauty, Fauré would, I suspect, have admired both the insightful playing of Grier and Wang, and the elegance and charm of their stage presences. For me this was the perfect exemplum of an RWCMD lunchtime recital.
Glyn Pursglove