United States Telemann, R. Strauss, Handel: Joshua Ranz (clarinet), Kenneth Munday (bassoon), Los Angeles Chamber Orchestra / Jaime Martin (conductor). First Presbyterian Church, Santa Monica. 21.11.2019. (LV)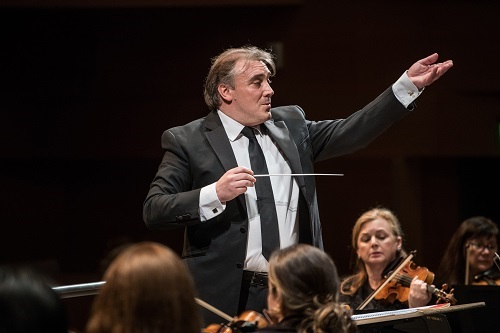 Telemann – Overture in F major TWV 55: F3 (selections)
R. Strauss – Duo-Concertino, TRV 293
Handel – Water Music Suite No.1 in F major HWV 348
Under normal circumstances in Los Angeles, if you wanted to hear Georg Philipp Telemann's magnificent Overture in F major, TWV 55: F3, you'd have to take your choice from cutting-edge original instrument recordings, like those by Les Ambassadeurs, Les Hautboistes de Prusse, Concerto Stella Matutina, the German Natural Horn Soloists, and Neue Düsseldorfer Hofmusik.
It was therefore a rare privilege to hear the Los Angeles Chamber Orchestra,  with their new music director Jaime Martin, play the Telemann with heroic breadth and stunning virtuosity, in the intimate surroundings of First Presbyterian Church in Santa Monica. They may not have had original instruments, but they responded to Telemann's broad gestures and catchy tunes with a relaxed warmth I had not heard from the orchestra in recent years.
Much of TWV 55: F3 is difficult even on modern instruments, particularly the pairs of French horns and oboes. The two horn players, Julie Landsman and Adedeji Ogunfolu, breezed through most of the thrilling fanfares and fast passage work with bounce, unwavering intonation and a rounder, less-focused sound than their crack original instrument counterparts. Principal oboist Claire Brazeau was quite sublime, embellishing her part in a most deliciously ornate way, and joined in rollicking, sensuous thirds by Adrienne Malley with wonderful virtuosity and grace.
On the podium, Martin opted for fluent, occasionally breathless speeds; the results were always highly entertaining. The one complaint: the omission of three delightful movements – a Rondeau, a Menuet-Trio and a Gigue – but the additional 10 minutes of French horn work might have been asking too much.
Telemann was followed by a composer who would have enjoyed the juxtaposition — and who was in fact a keen connoisseur of the formal etiquette of Baroque style — Richard Strauss. His autumnal Duet-Concertino, which has its own formal etiquette, is the ultimate consolation for clarinetists and bassoonists who otherwise have almost nothing to do together outside of Mozart's piano concertos and woodwind quintets. Strauss wrote the score for an old friend, Hugo Burghauser, former principal bassoonist of the Vienna Philharmonic who had immigrated to NYC in 1941. He played in the NBC Symphony under Toscanini at its founding and then in the Metropolitan Opera Orchestra until 1965.
Accordingly the bassoonist Thursday night was another old friend, Kenneth Munday — appointed in 1976 by Sir Neville Marriner — while the clarinetist was one of LACO's newest arrivals, principal Joshua Ranz. Both Munday and Ranz seemed to have fallen completely under the influence of Martin's charming retelling of the princess and bear story. Their casually virtuosic, open-hearted narrative for once held at bay Weingartner's theorem of probability: that different listeners will run through programatic courses of events at different rates.
After intermission, Handel's Water Music No.1 exuded a feeling of shared enjoyment; at any moment, if the musicians had stopped, the audience might have continued on their own (if they had instruments) without losing a beat. There were some wonderful riffs by concertmaster Margaret Batjer, and the orchestra as a whole played with consummate ease. Even the harpsichord was audible for a few bars. The encore was the familiar Bach Air, from his third orchestral suite.
Laurence Vittes