United States Various Composers: Magdalena Kožená (mezzo-soprano), Giovanni Guzzo (violin), Rahel Maria Rilling (violin), Amihai Grosz (viola), Dávid Adorján (cello), Kaspar Zehnder (flute), Andrew Marriner (clarinet), Sir Simon Rattle (piano), Alice Tully Hall, New York, 26.11.2019. (RP)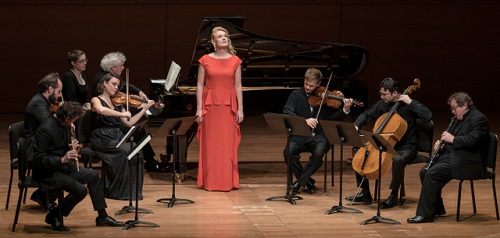 Chausson – 'Chanson perpétuelle'
Stravinsky – Three Songs from William Shakespeare
Ravel – Chansons madécasses
R. Strauss – Drei Lieder der Ophelia Op.67
Brahms – Ophelia-Lieder (arr. Aribert Reimann), Zwei Gesänge Op.91
Janáček – Říkadla
Dvořák – Six Songs (arr. Duncan Ward)
Undoubtedly, mezzo-soprano Magdalena Kožená and Sir Simon Rattle in recital would have been one of the major events of the New York season for song enthusiasts. For opera fans, Strauss's Der Rosenkavalier at the Metropolitan Opera in December with Rattle conducting and Kožená as Octavian is another. In this concert, however, Kožená and Rattle went down a far less-traveled musical path, performing works for solo voice and instrumental ensembles, which resulted in an especially fine and rewarding evening for music lovers of all sorts.
Their recent recording for Pentatone, 'Soirée – Magdalena Kožená & Friends', marked Rattle's first appearance as a pianist on one of his wife's recordings and was the springboard for this concert. Most musicians who appear in recital nowadays are hawking something, but rarely are their wares as fresh and exciting as these, and few have companions like violinists Giovanni Guzzo and Rahel Maria Rilling, violist Amihai Grosz, cellist Dávid Adorján, flautist Kaspar Zehnder and clarinetist Andrew Marriner. The six are not only exceptional musicians, they're entertainers, even at their most serious.
Kožená's voice is an intriguing instrument, far leaner than that of many mezzo-sopranos but uniquely alluring. She eschews excess, so the cries of 'Aoua! Aoua!' in the second of Ravel's Chansons madécasses stood out both for their power and the vehemence with which she sang. Kožená may lack the vocal depth and richness in her low range that is generally associated with Brahms's two songs for alto, viola and piano, but that was an asset in her interplay with violist Amihai Grosz. Not only did her voice and his tone have a similar sinewy quality, but they phrased as if they were completing one another's thoughts.
Sitting behind the ensemble and largely obscured from view, Rattle nonetheless made his presence felt. There were surprising shifts in dynamics and unanticipated articulations, and his playing was sometimes unexpectedly loud and boisterous. The opposite was equally true. As Kožená sang the final word of the phrase 'Fahr wohl, meine Taube' in 'Sie trugen ihn auf der Bahre bloss' from Strauss's three Ophelia songs, the note Rattle played matched both the slight vibrato in her voice and her mournful mood. It was if the dove of which she sang had been pierced by an arrow released by his fingers.
Stravinsky's Three Songs from William Shakespeare for mezzo-soprano, flute, clarinet and viola and Janáček's Říkadla in the original version for voice, clarinet and piano were the equivalent of musical astringents in the concert and repertoire, for which Kožená's voice and temperament are particularly well suited. The Shakespeare settings, composed in 1953, were Stravinsky's first songs to English texts and are one of his early experiments with serial techniques, although to twenty-first-century ears they are fairly tonal. The exuberant musical painting of a cuckolded cuckoo in 'When Daisies pied' in the flute and clarinet was vividly dispatched by Kaspar Zehnder and Andrew Marriner.
Janáček's eight nursery rhymes from 1925 were the edgiest music on the program. Kožená's wry delivery of the text, complemented by the bold playing of Rattle and Marriner, turned each into vivid depictions of bizarre fantasy. A humorous, almost rustic touch was added by the other five instruments appearing on stage to inject commentary, each member of the ad hoc chorus having a distinct, slightly zany personality that underscored the surreal aura of Janáček's flights of fancy.
The program concluded with Duncan Ward's arrangements of six songs by Dvořák. In 2012, the young British conductor-composer, upon Rattle's recommendation, became the first Conducting Scholar at the Orchestra Academy of the Berlin Philharmonic. Ward's arrangements captured the fire and passion in Dvořák gypsy songs. The most dramatic was 'Mé srdce casto v bolesti', in which the singer imagines dying of a broken heart, while for poignancy, 'Když mne stará matka zpívat učívala', its familiar memories of a mother's song expressed by voice, violin, cello and flute, was unsurpassable.
Kožená, Guzzo and Rattle returned to perform Strauss's 'Morgen!' as an encore. There are few things more beautiful than its introduction, which Guzzo played with that elusive combination of simplicity and understated, yet overwhelming, emotion. Kožená captured the same mood as she began to sing with utmost ease and naturalness of the pending reunion of two parted lovers. The other three string players, who were also seated on stage, entered as Kožená sang of the lovers staring speechlessly into each other's eyes, underscoring one of the song's most sublime phrases.
The eight musicians returned for the final encore, Dvořák's 'Dobrú noc', in another of Ward's arrangements and, with this tender lullaby, bid the audience goodnight.
Rick Perdian