United Kingdom Verdi, Les vȇpres siciliennes: Soloists, Orchestra and Chorus of Welsh National Opera / Carlo Rizzi (conductor). Wales Millennium Centre, Cardiff, 8.2.2020. (GPu)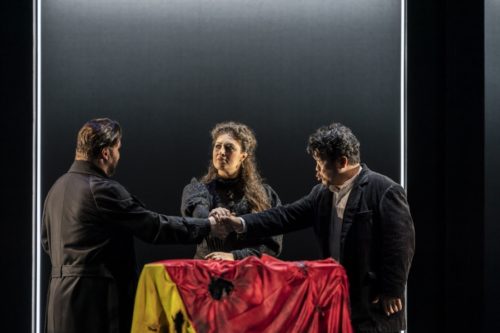 Production:
Director – David Pountney
Set designer – Raimund Bauer
Costume designer – Marie-Jeanne Lecca
Lighting designer – Fabrice Kebour
Choreographer – Caroline Flinn 
Cast:
La Duchesse Hélène — Anush Hovhannisyan
Henri — Jung Soo Yun
Guy de Montfort — Giorgio Caoduro
Jean Procida — Wojtek Gierlach
Le Sire de Béthune — Wyn Pencarrig
Ninette — Christine Byrne
Daniéli /Mainfroid — Robyn Lyn Eva
Thibault — Alexander Sprague
Robert — Gareth Brynmor John
Le Comte de Vaudemont — Alastair Moore
Dancers – Hellen Boyko, Luke Divall, Javier Ojeda Hernândez, Queenie Maidment-Otlet, Marine Tournet, Philip King, Hanna Lyn Hughes
Some years ago, one of my jobs in the English Department of a British university was to meet, greet and help visiting European students at the beginning of each academic year. On one occasion a student described as Italian on the list, arrived at my office. I greeted him by name and when he had taken a seat I said, 'You are from Italy, I believe?'. 'No' he said firmly, but not aggressively, 'I am Sicilian'. He began, quite calmly, a long narrative: 'We Sicilians have had many foreign rulers across the centuries; the ancient Greeks, the Phoenicians, the Romans, the Arabs, the Byzantines, the Normans, the Angevins, the British …; and now we've got the Italians and they are the worst of the lot.' The student had summed up a key thread in Sicilian history, repeated subjugation by foreign powers, with frequent struggles against such powers. One of the most memorable of such resistance movements came in 1282 when the Sicilians revolted against the rule of Charles I and eventually massacred some 3,000 (or more) French men and women. The signal for the violence to start was the ringing of the bells for vespers on Easter Tuesday, at the church of the Holy Spirit in Palermo. It is, as a result, known as the Sicilian Vespers.
The classic book on the rebellion (in English at least) is the late Sir Steven Runciman's The Sicilian Vespers: A History of the Mediterranean World in the later Thirteenth Century (1959). This is essential reading for anyone wishing to understand the wide significance of the events (reading it will reveal just how little the opera really has to do with those events). Runciman alludes to Verdi's opera in the very first paragraph of his Preface: 'The Sicilian Vespers are seldom remembered nowadays. To the average educated man the words only suggest the title of one of Verdi's lesser-known operas. A century and more ago the story was thought suitable to inspire the pens of poets and dramatists … It is to be hoped that no none will try to learn history from the libretto that Scribe provided for Verdi'. Later in the book Runciman talks of 'the absurd libretto written by Scribe for Verdi's opera'.
Amongst those who have explored the operatic repertoire of the nineteenth century, there can surely be very few who have found their spirits rising at the prospect of yet another opera with a libretto by the prolific Scribe (except, possibly, if it is a comic opera). Scribe was indefatigably productive, but in his libretti as in his plays (of which there were more than 300!), Scribe's characterisation is uninspired and uninspiring; very few of his characters can be said to have any kind of convincing inner life. His language is generally trite and predictable and the nearest he ever gets to poetry is in the rehashing of other people's phrases. Scribe was, as the composer soon discovered, as inappropriate a librettist as could very well be imagined for Verdi. The fundamental problem with Les vȇpres siciliennes it seems to me is the huge gulf between the insufficiencies and banality of Scribe's libretto and the burgeoning genius of Verdi.
Scribe didn't actually write a libretto for Verdi, though commissioned to do so. What he 'provided', to use Runciman's word, was an adaptation / recycling / transposition of a libretto he had written some twenty years earlier, Le Duc d'albe – which was originally written for Jacques Halévy (who chose not to set it) and was then passed on to Donizetti (who began to set it but then gave up on it). Le Duc was set in Flanders, under Spanish occupation – the occupiers now became French, the subjugated people Sicilian. The Spanish governor of Flanders became the French Governor of Sicily. A few additions were made – Jean Procida – an important figure in the story of the Sicilian Vespers had no analogue in Le Duc d'albe, so Scribe had to insert a new character into his old libretto, which may explain why so important a figure as Procida feels largely peripheral in Verdi's opera. What Scribe and his collaborator Charles Duvreyrier wouldn't (couldn't?) do was to rid the libretto of Scribe's characteristic weaknesses, as outlined above. Even Vincent Godefroy (The Dramatic Genius of Verdi, Volume II, 1958), who is generally willing to defend Scribe's contribution to Les vȇpres siciliennes has to concede that, in general, "[Scribe's] halls and cloisters, gardens and piazzas, were peopled by … dummies". Some writers have praised Scribe for his handling of plot, but most of his libretti and the few of his plays that I have read (my worst enemy wouldn't condemn me to read all 80 volumes of Scribe's works) seem to deserve the epithet 'loose baggy monster' that  Henry James so unjustly applied to War and Peace. Scribe does produce dramatic effects, but they rarely have genuinely plausible causes and often damage any chance of sustained narrative coherence. To watch and listen to Les vȇpres siciliennes, is to hear Verdi repeatedly trying to find musical ways of 'redeeming' Scribe's libretto. There are places in the opera where Verdi's music makes sense of characters' emotions and choices, creating a 'sense' absent in Scribe's words, but not everywhere.
Verdi's superb overture, full, by turns, of a sense of the ominous and the hopeful, heroic idealism and naked power, love and death, holds out a promise which the rest of the opera cannot really sustain or fulfil. (Incidentally it is surely time that some enterprising record company made a disc – or more – of Carlo Rizzi conducting a collection of overtures from Italian opera. His understanding of the form and its idioms consistently strikes me as remarkable).
Another problem with Les vȇpres siciliennes, so far as a modern production is concerned is its very considerable length (as is typical of French grand opera of its period). It poses problems of stamina for its performers, especially the soloists, and for many modern audiences. While respecting the basic structure of the five acts of the original (though with only one interval), David Pountney made some cuts and adaptations – so, for example, the original 35 minute long ballet in Act III (which has little thematic relevance to the larger narrative) was replaced by a shorter (10 minutes?) re-enactment in dance of de Montfort's rape of a young Sicilian woman and the birth of his newly identified son Henri, powerfully choreographed by Caroline Flinn, so that the dance was far more comprehensively integrated within the theme and narrative of the opera. Here and elsewhere the dancers of the National Dance Company Wales made a very impressive contribution.
By eschewing any attempt to 'represent' scenically the various locations specified in Scribe's libretto (such as a piazza in Palermo, a valley glade outside the city, a ballroom in de Montfort's palace etc.), Pountney avoided the interruptions of time-consuming scene changes. Instead huge black frames were used, often with the addition of neon lighting. These frames could be spun round and moved across the stage, so that the action had a good deal of rapidity and continuity.
All the four principals of the opera are given demanding roles – in terms of the sheer amount of singing required of them and of the stylistic variety of Verdi's vocal writing as well as the problems caused by the inadequacy of Scribe's characterization in his libretto, making it very difficult for singers to genuinely inhabit their roles.
For the most part I enjoyed and admired the performance of Anush Hovhannisyan, although there were moments when her voice seemed to be on the small side (perhaps she was saving herself a little given the sheer quantity of singing required of her. She sang beautifully in the song demanded of her in Act I, which had the power and spirit to rouse the emotions of the Sicilian people. She was impressively affecting in her duets with Henri, and her bolero ('Merci, jeunes amis') in Act V was utterly charming. As Henri, Jung Soo Yun was not, I think, ideally cast. His voice lacked the range of colours necessary to bring Scribe's words to life and his prevailing tone was too hard. His was, though, a valiant attempt at a very difficult role. His sheer vocal stamina was impressive; his singing was always passionate but often insufficiently subtle.
Giorgio Caoduro's de Montfort didn't really have the authority, either vocally or in terms of stage presence, to convince one that this was the ruthless leader of an occupying power. Caoduro was at his best in the scenes with his newly found son, occupying, as they do, a world of personal and familial relationships and emotions, rather than of political power and policy.
I have become something of an admirer of Wojtek Gierlach in his frequent appearances with WNO in recent years. However, I was slightly disappointed on this occasion. I suspect that once again much of the blame lies with Scribe who doesn't produce a clear sense of Procida's nature and motives. I suspect that Gierlach's inevitable difficulty with the character inhibited him vocally in some respects.
The four French soldiers Le Sire de Béthune, Le Comte de Vaudemont, Thibault and Robert are largely used by Verdi as a kind of mini-chorus and Wyn Pencarrig, Alastair Moore, Alexander Sprague and Gareth Brynmor John all acquitted themselves creditably in these less vocally demanding roles. So too did Christine Byrne as Nanette.
The men and women of the WNO Chorus were thoroughly impressive (they are rarely anything else) and much credit should be given to their chorus master David Doidge.
If there was a single 'star' of the evening it was, I think, Carlo Rizzi. It was unsurprising that at the curtain call he should have received the loudest applause of all.
This was the third in David Pountney's Verdi trilogy, after La forza del destino and Un ballo in maschera; linked by themes of power, of the clashes between familial feelings and political 'necessity' and much else, it was perhaps inevitable that it should prove to be Les vȇpres siciliennes for which it was most difficult establish a completely persuasive case. It is an interesting work which contains a good deal of fine music, but one was left feeling that even the music of Verdi, as conducted by Carlo Rizzi, and the imaginative and intelligent theatricality of David Pountney's direction, could not finally overcome an unsuitable and limited libretto.
Yet I was certainly very glad to have had the opportunity to see and hear Les vȇpres siciliennes as this was an admirable and valiant attempt at a problematic opera. Caruso famously declared that all that was needed for a good performance of Il trovatore was the four greatest singers in the world. Les vȇpres siciliennes needs them even more, though I rather doubt whether even their presence could make Les vȇpres siciliennes a fully satisfying experience.
Glyn Pursglove
For more about WNO click here.