United Kingdom Brahms, Schumann, Sibelius, Grieg and Richard Strauss – Lise Davidsen (soprano) and James Baillieu (piano): Barbican Hall, London, 10.2.2020. (JPr)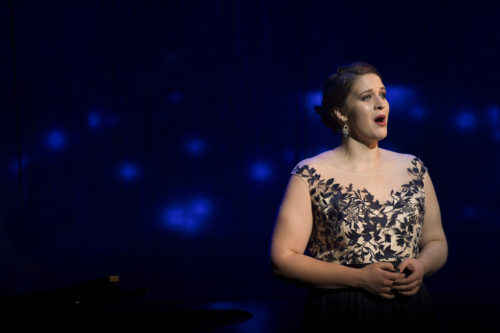 Brahms – 'Auf dem Kirchhofe'; 'Da unten im Tale'; 'Mädchenlied'; 'Liebestreu'; 'Von ewiger Liebe'
Schumann – Gedichte der Königin Maria Stuart Op.135
Sibelius – Luonnotar Op.70; Five Songs, Op.37
Grieg – 'Dereinst Gedanke Mein'; 'Zür Rosenzeit'; 'Ein Traum'
R.Strauss –'Zueignung'; 'Allerseelen'; 'Die Georgine'; 'Wiegenlied'; 'Malven'; 'Befreit'; ' Cäcilie'
Having won Operalia and the Queen Sonja competitions in 2015, Norwegian soprano Lise Davidsen has had the most meteoric rise possible to her career with several prominent operatic debuts including most recently as Elisabeth (Tannhäuser) at Bayreuth (review click here) and Lisa (The Queen of Spades) at the Metropolitan Opera (review click here). Still only in her early thirties she is the latest in the lineage of legendary Scandinavian – and notably Wagner – singers and the names often mentioned when discussing Davidsen's potential are Astrid Varnay and Birgit Nilsson (both from Sweden), as well as, her Norwegian compatriot Kirsten Flagstad. Those great artists of a past generation had time to build their careers but Davidsen has been very much in the opera spotlight since those competition wins. After some small roles in recent Covent Garden Ring cycles there can be no higher profile than singing Leonore opposite Jonas Kaufmann in Fidelio soon at Covent Garden and this summer she will sing Sieglinde in the new Bayreuth Ring.
At the moment there is little evidence to suggest she is not 'here to stay' and the Met's general manager, Peter Gelb, has already acclaimed Davidsen as 'the next great Brünnhilde'. Hopefully he will be proved right – and only time will tell – but it must be appreciated she is still a young singer regardless of how majestic her singing can be. She betrays her origins as a mezzo-soprano with her lower register sounding natural, unforced, rich, full, velvety and with an enviably broad palette of colours. Higher up, well, let's on this occasion give Davidsen the benefit of the doubt and blame the Barbican Hall acoustics for any thoughts about her tone spreading.
This was a well-presented Lieder recital though not for purists. There has always seemed to be a train of thought that the singer should stand motionless and intone the composers' words by trusting the musical line (vocal and piano) whilst having only a passing interest in the texts and thereby totally eschewing any sense of dramatic interpretation, acting if you will. Davidsen delivered her songs 'operatically' and we were rarely in doubt as to what they were about. This was the first major recital I have been at with surtitles displaying the translations, there were also some enhanced background lighting effects (some blue, green or lurid red), as well as, occasionally interesting projections on Davidsen's dress, notably billowing seas during Sibelius's Luonnotar and I believe it was a moon we saw for his 'Var det en dröm?' ('Was it a dream?').
Davidsen also engagingly spoke to the audience between some of the groups of songs, another no-no for recital traditionalists. Amongst other things, we heard her thoughts on Mary Stuart as 'a strong women, mother, and queen'; later about trolls, as well as, the duck central to the mythical origins of the land and sky in Luonnotar; also how the texts set to music by Sibelius and Grieg reflect different thoughts on love between Finns and Norwegians. Davidsen also paid an endearingly warm tribute to her 'partner in crime', pianist James Baillieu, who, amongst other things, apparently helps calm her when she gets 'super-stressed'.
The centrepiece of the programme was indeed Sibelius's dramatic tone poem Luonnotar which tells the story of an incident in the Finnish saga, Kalevala. With a darkened auditorium and only Davidsen's head and shoulders spotlit there was a heightened sense of drama. Hers was a gripping account with evocative top notes and remarkably visceral storytelling.
Davidsen's opening Brahms songs were somewhat dark, melancholic, introspective, and redolent of love whether forlorn or lost. As ever with this composer, it fell to the pianist to set the mood for each one and Baillieu did just that whilst proving himself the most sympathetic of accompanists. Even more downbeat was Schumann's Gedichte der Königin Maria Stuart. There is nothing romantic in these but across a span of 26 years they follow the Scottish queen's biography and we hear about her devotion to her adopted land of France, a mother's concern for her son, the wish to see her rival Elizabeth I, then some years later accepting all hope has been lost, before a final prayer as her execution draws near. These are five short masterpieces allowing Davidsen full 'reign' for impassioned outpourings with Baillieu reaching equally expressive heights.
After Luonnotar there was more Sibelius as Davidsen sang his Five Songs Op.37. These are slightly unconventional love songs and – the charming lullaby 'Lasse liten' ('Little Lasse') notwithstanding – 'Flickan kom ifrån sin älsklings möte' ('The girl returned from meeting her lover') was the first time when her tone was more good-humoured, at least initially, as the girl details her passion for her lover before we discover he ultimately betrays her. What optimism – however fleeting – we heard in Sibelius's Five Songs was quickly extinguished by more gloom and despondency about the fickle nature of love in Davidsen's three Grieg songs. A point for discussion – at another time perhaps? – is how much 'Dereinst, Gedanke Mein' ('One day, my thoughts') owes to Wagner's Wesendonk Lieder something that was particularly evident from Baillieu's measured and richly detailed accompaniment.
Finally her seven chosen Strauss songs showed the range of colour and dynamics of Davidsen's fluent vocalism to best effect: in more reflective sections the German texts had an almost conversational feel thanks to her exquisite breath control, yet when Strauss frequently called for her voice to soar it surged and rang out vibrantly. There was great poignancy brought to 'Malvern' ('Hollyhocks') Strauss's final composition with echoes of the Four Last Songs that preceded it by a mere eight weeks. It was the radiant crescendo of the final line ('Du lebtest mit mir!') of 'Cäcilie' ('Cecily') that acted as an exclamation mark to this impressive recital.
With many in the audience having stood to applaud Davidsen and Baillieu there was time for two encores. I longed for some Wagner, but it was not to be and there was yet more Sibelius – 'Svarta Rosor' ('Black Roses') – and more Strauss when she sang 'Morgen!' ('Tomorrow!') which was rapt, ruminative, and transfigurative.
Jim Pritchard