France Puccini, La bohème: Soloists, Choruses, and Orchestra of the Opéra national de Paris / Gustavo Dudamel (conductor). 12.12.2017 performance at the Opéra Bastille, Paris, replayed and reviewed on 10.6.2020. (JPr)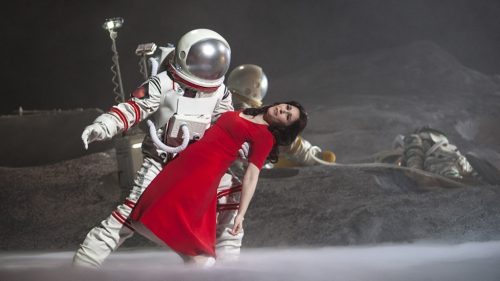 Production:
Director – Claus Guth
Set design – Étienne Pluss
Costume design – Eva Dessecker
Lighting design – Fabrice Kebour
Video – Arian Andiel
Choreography – Teresa Rotemberg
Dramaturgy – Yvonne Gebauer
Chorus master – José Luis Basso
TV Director – François Roussillon
Cast:
Mimì – Nicole Car
Musetta – Aida Garifullina
Rodolfo – Atalla Ayan
Marcello – Artur Ruciński
Schaunard – Alessio Arduini
Colline – Roberto Tagliavini
Alcindoro – Marc Labonnette
Parpignol – Antonel Boldan
The Master of Ceremony – Guerassim Dichliev
I have – still in Covid-19 lockdown – spent several fascinating hours in Paris , first thanks to All 4's Philharmonia (click here) which had a unique premise for a murder mystery/psychological thriller. Over six engrossing episodes we are introduced to the fictious (hopefully?) machinations of a leading Parisian orchestra whose conductor has just dropped dead at the podium. A replacement must be sought who will secure the orchestra's future in the increasingly uncertain times for classical music in one the world's cultural capitals (less fictitious and more so now post-Covid!).
The plot then focussed on the return home from New York – after 20 years – of (gun-toting!) star French conductor Hélène Barizet (Marie-Sophie Ferdane). She is statuesque, stylish, and since Ferdane appears to be as accomplished a violinist and pianist in real-life as she is an actress, this helps her create a believable, rounded, character. Barizet is constantly fighting her demons, the possibility she might have Huntington's disease like her mother, and – initially at least – the resentment of her Philharmonia musicians and the general manager Léopold Saint-Just (Laurent Bateau) who voted against her. Barizet gets a trial period of six concerts to prove her worth. Initial attempts to undermine her include the ensemble playing the theme from Mission: Impossible at the start of the first rehearsal (Barizet is a Lalo Schifrin fan and makes them dissect their performance!) and then for the first concert the pages of her Beethoven's 'Pastoral' Symphony score have been stuck together (the conductor knows it by heart!).
Barizet stokes the orchestra's ire by sidelining the veteran concertmaster – and her former violin teacher – Vladimir Gregoriu and replacing him from the ranks with 20-year-old prodigy Selena Rivière (Lina El Arabi), obviously, another fine violinist in her own right. Barizet sees her younger self in Rivière and she in turn idolises the conductor.
Against the backdrop of some splendid music from the Orchestre national d'Île-de-France a battle of wits and survival ensues backstage at the mightly impressive Philharmonie de Paris. There are illicit romances (notably between Barizet's composer husband and a horn player he makes pregnant) and myriad disasters befall the conductor and her orchestra including the suspicious death of a drug-dealing oboist. Into the mix comes Tomer Sisley as the manipulative Rafaël Crozes, who has 'history' with Barizet and agrees to underwrite repairs to the concert hall after the sprinklers come on accidentally. There is some initial suggestion Crozes and Barizet might be Rivière parents whilst she becomes increasingly more volatile (though that is putting it mildly).
If this seems your thing, I will leave you to find our how this all resolves itself, which it does. Don't take it too seriously as it provides some much-needed escapism from all we are otherwise enduring at the moment.
Now the need to escape further from reality takes me across Paris to the Opéra Bastille for Claus Guth's 2017 La  bohème that was scheduled to be revived there this month and is streaming until 14 June on operadeparis.fr (click here) and france.tvculturebox (click here). When I wrote about Tosca recently (click here) I suggested there were only three things we need to see in a successful staging. For La bohème you would expect another trio; the bohemians' garret (Paris c.1830), the Latin Quarter detouring Café Momus, and the toll gate at the Barrière d'Enfer. You certainly don't expect to be on a space mission 'To seek out new life and new civilizations. To boldly go where no one has gone before!'.
Those reading my reviews will know I frequently apologise for my lack of knowledge of some great literature, so I was not to know, until I did some research, how the epilogue of Henri Murger's Scènes de la vie de bohème, (that Luigi Illica and Giuseppe Giacosa based their libretto on) had the students in old age remembering their bohemian antics of their youth. I have also never read Stanisław Lem's 1961 novel Solaris that is also important to Guth's Konzept and – extending my apologia to some films – I have never seen its famous 1972 movie adaptation, nor Stanley Kubrick's 2001: A Space Odyssey, which also might have been influential.
We begin on Day 126 of what is a doomed voyage; there is mechanical failure and the food and oxygen supplies have been compromised. Mission commander Rodolfo is writing a log entry which (displayed in French) suggests 'Reactors at risk … Time is running out … Days are getting more and more difficult … let's bring back the time long gone'. Through an observation deck's large window we see the hint of a red planet. (François Roussillon's TV direction often shows Étienne Pluss's wonderful sets in captivating widescreen.) Employing doppelgangers, swift costume changes in and out of spacesuits, and a parade of eccentric characters we enter the hallucinatory world of Rodolfo's fevered imagination. Mimì soon appears – her red dress a stark contrast to starship's whiteness – but before she does Rodolfo is shown looking at some treasured mementos; photos and letters from Mimì, as well as, the necklace we later see Rodolfo buy for her. There is no Benoît, the landlord of the original libretto, and he becomes a dead crew member for all the others to make fun of. 'O soave fanciulla' is sung with Mimì seemingly having entered suspended animation before at the end of the act disappearing to leave Rodolfo alone with his thoughts.
It is straight on to Act II with (don't ask!) a plethora of kaleidoscopic imagery including juggling waiters, tumbling acrobats, processions of adults and children dressed in black hats (mourners?), stilt walker, Chinese dragon, a large gingerbread figure, a child with his large red balloon, and an astronaut floating outside the window having died on a spacewalk. We see the character described as The Master of Ceremony (Guerassim Dichliev) for the first time and this Marcel Marceau-like mime will virtually be ever-present until the end of the opera. Musetta is played quite straightforwardly although there is a hint of striptease and a pole dance when she sings 'Quando me'n vo'. At the end of the act a corpse is carried across the stage that I assume was Mimì though it reminded me of the procession for Liù in Turandot.
At the start of the third act it is day 132 and the spaceship has crash-landed possibly on a moon of the planet they might have been orbiting which (oddly) has snow falling on the lunar landscape. We see Rodolfo, probably vainly, attempting to relay a message home (reminiscent of David Bowie's famous 'Space Oddity'). When Mimì and Rodolfo sing their duet, they are separated by the width of the stage (separation is one of Guth's leitmotifs) whilst to the rear we see those on the surface in distress. Act III will end with the closing quartet 'Addio dolce svegliare alla mattina!' sung by disembodied offstage voices.
It's now Day 159 and the end for all is nigh, all hope is lost. Eyes can barely leave Guerassim Dichliev who evolves into the Emcee from Cabaret and draws a glittering curtain across half of the stage for a version of French TV's La France a un incroyable talent (France's Got Incredible Talent). We see all the surviving space travellers either popping through the curtain to sing their party pieces – including Colline's coat(less) aria straight out into the audience – or watch as the doubles gasp for their last breath on the planet's surface. Spectres of Musetta and the dying Mimì reappear but Rodolfo has little time left and he expires still thinking about his lost love. As La bohème ends The Master of Ceremony blows out a candle and I am left wondering whether he is more grim reaper than MC.
I perhaps was rash in my recent Tosca review to question the talent of this generation of singers because if anything lets this La bohème down it is not the music-making from the strong cast. 'Che gelida manina' and 'Mi chiamano Mimi' from Atalla Ayan and Nicole Car are the highlights they must be, however Guth gives them little chance to reveal any genuine onstage chemistry. I am not that familiar with either singer (or many in the cast for that matter) but Ayan and Car's warm and resplendently lyrical singing makes me want to seek them out if opportunities arise in the future. Aida Garifullina was almost the ideal Musetta showing her to be self-possessed, flirty, or fiery by turns, yet ultimately loyal and caring. The trio of bohemians were equally fine: Alessio Arduini's Schaunard was refined, Roberto Tagliavini's Colline showed a playful side in Act I but brought immense gravitas to 'Vecchia zimarra', best of all was Artur Ruciński's Marcello sung with grace and glorious rounded tones. Like most of his colleagues he often sounded especially solemn – no doubt because the mise-en-scène warranted it – though this Marcello could not entirely conceal the wit and humour in his portrayal.
Gustavo Dudamel, making his house debut, conducted – as heard through good laptop headphones – with ease, lightness, and expressivity. Throughout Dudamel was sensitive to balance and characterful interpretation and the virtuosic musicians he led responded beautifully. Maestra Hélène Barizet could not have done better herself!
Jim Pritchard