United States Hunt, Mozart, Brahms: Emanuel Ax (piano), Philadelphia Orchestra / Yannick Nézet-Séguin (conductor). Recorded live at the Mann Music Center in Philadelphia on 15.10.2020 and reviewed from an 18.10.2020 stream on the Philadelphia Orchestra's Digital Stage. (BJ)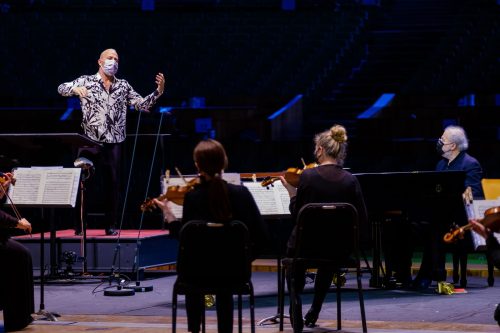 Jessica Hunt – Climb (world premiere – Philadelphia Orchestra commission)
Mozart – Piano Concerto No.14 in E flat major K.449
Brahms – Serenade No.2 in A major Op.16
Among the 21 'official' Mozart piano concertos, Emanuel Ax describes No.14 in E flat major as 'one of my 21 favorites', and his playing of the solo part in this digital Philadelphia Orchestra broadcast offered unmistakable proof of that affection. Conducted by Yannick Nézet-Séguin in the version for strings without winds, this was an altogether magical performance.
If I had heard their polished collaboration in the usual venue and circumstances, that would already have been a sufficiently compelling experience. But I was dipping my toe for the first time into the orchestra's digital pandemic reality, and it was fascinating to observe how the physical setting of the open-air Mann Music Center, and the visual concentration on the pianist and the small ensemble of socially distanced string players, seemed to add an extra level of intensity to the solo part in particular. For in addition to the lyrical delicacy that Ax unfailingly commands, the concomitant strength that underlies his playing was here combined with that delicacy in a blend I found musically illuminating and emotionally satisfying in a concerto that is sometimes thrown off altogether too casually.
The concert opened with the world premiere of a short piece that the orchestra had originally commissioned to figure in last season's Beethoven commemoration. It was to be premiered on the same program as the composer's Second and Third symphonies, but now finds a different kind of relevance in a program featuring three works written by composers who had not yet reached the age of thirty.
Jessica Hunt reports that the first time she read the 'Heiligenstadt Testament', in which Beethoven revealed the torments he was suffering with the onset of deafness, the 'isolation, fear and diminishing hope leapt off the page', as she put it in the program note, 'and pierced my heart. I recognized those fears – that anguish – they resonate deeply within my own chronically ill body'. Hunt, who was born in rural California on Beethoven's 217th birthday, suffers from a serious nervous disorder, dysautonomia, that makes exertions such as walking up a flight of stairs torturous, and explains her choice of Climb for the work's title. The result of this combination of circumstances is a roughly five-minute piece – a 'letter-through-time' to Beethoven – that makes its point by way of a skillful blend of conflicting rhythms. I found it trenchantly serious, though by no means torturous, and highly enjoyable in the clearly dedicated performance that Nézet-Séguin drew from his players.
After an intermission, the richly burnished sonorities of the young Brahms's Second Serenade, which is scored for an ensemble of chamber-orchestra proportions without violins, provided this intelligently planned concert with a modestly scaled but richly eloquent conclusion.
Bernard Jacobson