United Kingdom Huw Watkins, Wagner, Brahms – Episode 1: A Fanfare for the Hallé: Hallé / Sir Mark Elder (conductor). Performance filmed in The Bridgewater Hall, Manchester, and streamed on 3.12.2020. (JPr)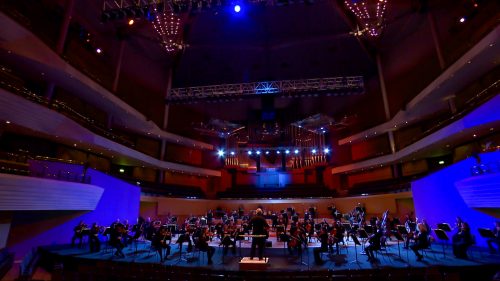 Huw Watkins – Fanfare for the Hallé (world premiere)
Wagner – Die Meistersinger von Nürnberg, Suite
Brahms – Symphony No.1 in C minor, Op.68
The 'new normal' has reached Manchester and the Hallé's Winter Season features nine filmed concerts available from The Bridgewater Hall or Hallé St Peter's (the orchestra's smaller venue and rehearsal space) that are available online for a small fee (details click here). The first one (directed by the ubiquitous Jonathan Haswell) was well-presented, though a little short on music. I wonder if the thought is that the attention span/endurance of those – mostly – looking in at their laptops and listening with headphones isn't that great? After some interesting scene-setting shots of Manchester, we saw a number of pre-recorded introductions from Robin Phillips, Manchester site director of Siemens (who are supporting the series); David Butcher, the Hallé's chief executive; several of the musicians; and most importantly – as ever – the orchestra's music director, Sir Mark Elder. He is always admirably keen to explain what the audience will be listening to; whether speaking, as here, on film or in the concert hall in those halcyon past times when we could actually go an hear an orchestra 'in the flesh'.
Elder began by saying, 'The excitement we all feel to be back in our hall in Manchester after such a long time is really enormous. We hope you at home will get something from the concert which we've all been missing and which we want to give you once more; with all the colour, all the passion and excitement that this great music demands.' Huw Watkins's new Fanfare for the Hallé for eleven brass players opened the concert and Elder considered it 'stirring' and that 'an explosion of energy would be a way of signalling we mean business.' We never heard from Watkins how long it took him to create his piece which lasted only a little over 90 seconds. As a result, this new fanfare didn't get the chance to make much of an impression apart from making my mind wander to Wagner and his operatic ones.
This opening concert now featured some original Wagner and Elder revealed how the Die Meistersinger Suite 'has a long association with the Hallé orchestra' and how its 'optimism, radiance, and positive energy was just what this event needed.' Rarely do we hear Wagner spoken of in such glowing terms! We get the reflective Prelude to Act III, the spirited Dance of the Apprentices, the triumphalist theme of the Entry of the Mastersingers that morphs into the stirring Prelude to Act I which encapsulates many of the opera's melodies, some of which we had already heard. Thanks to Elder's wonderful orchestra this was near-perfect in miniature and with my eyes shut I was transported – in my reverie – to my summer visits in happier times to Bayreuth. There were many virtuosic solo contributions – both in this Wagner and later in Brahms – from the flutes of Amy Yule and Sarah Bennett, Stéphane Rancourt's oboe, Sergio Castelló López's clarinet, and, not forgetting, the Hallé's leader on this occasion, Eva Thorarinsdottir.
Elder considered playing Brahms's First Symphony with reduced, socially distanced forces a distinct advantage because the composer 'himself said he would rather have a smaller group of strings – rather than a multitude of strings – so all the other parts […] can come through easily and delight the ear […] So we're trying that [..] to give it space.' For Elder, 'There is a monumentality about the ideas […] that makes it one of the greatest symphonies' and about the last movement he said 'It's always so hard to write a good finale when you have written three other movements of power and charm, but Brahms managed it.'
The First Symphony is an undoubtedly powerful – if slightly schizophrenic – experience. It was published in 1877 after causing Brahms much angst for fourteen years because Beethoven – allusions to whose Ninth Symphony we hear in the finale – was such a hard act to follow. There is a multitude of moods in the music and Elder and the Hallé treated them with exquisite care and consummate artistry. He led the work in a Romantic manner with tempos firmly controlled during a warm and sympathetic reading. The darkness to light – or night to day – drama inherent in Brahms's symphony was brought out rather like a musical rollercoaster ride. Elder and his orchestra were seemingly at one in a performance that had intellectual and emotional coherence from the sombre, austere opening of the Un poco sostenuto-Allegro first movement – with some gossamer-like textures that were almost Mendelsohnian – to that grandly affirmative and hard-won finale to the symphony's dramatic 'journey'.
In between, firstly there is the elegiac opening to the Andante sostenuto second movement which ends meditatively with Eva Thorarinsdottir's prominent violin after some orchestral colours not a million notes away from Wagner's Die Meistersinger we heard earlier. There follows a jauntier, more spirited, Un poco allegretto e grazioso which oozes Gemütlichkeit with its dance-like rhythms. Elder kept a tight rein on the Allegro con spirito final movement which was the musical highlight of an absorbing concert and could be more helter-skelter under some other batons. There is excellent playing throughout the finale – and especially during the more hymn-like music – from clarinet, flute, oboe, and Emily Hultmark's bassoon. Everything goes quiet before it gently builds again as Elder urges on his willing Hallé musicians to usher in the palpably joyous and triumphant conclusion which proves a fitting end to an evening of music which was as 'great' as Elder said it would be.
Jim Pritchard