United States Jake Heggie, Three Decembers: Veronika Agranov-Dafoe and Sunny Yoon (pianos) / Christopher James Ray (conductor), fully staged production by Opera San Jose, video made at Fred Heiman Digital Media Studio, San Jose, California, and streaming from 3.12.2020 to 31.12.2020. (HS)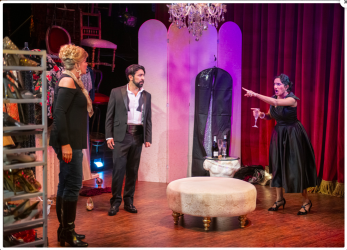 Production:
Stage director – Tara Branham
Sets – Steven C. Kemp
Costumes – Alyssa Oania
Lighting – David Lee Cuthbert
Hair & makeup – Christina Martin
Video – Flying Moose Pictures
Cast:
Madeline – Susan Graham
Beatrice – Maya Kherani
Charles – Efraín Solís
Back in the day, before we had easy access via television and video to live opera beamed from theaters around the world, often the closest we could get to that dramatic experience from home were live broadcasts from television studios. There were even some operas made especially for television. Gian Carlo Menotti's Amahl and the Night Visitors debuted in 1951 on NBC (and became a Christmas staple for years).
Seven decades later, thanks to the pandemic closing opera houses, Opera San Jose's remarkably vivid and heart-tugging studio version of Three Decembers might be just the thing to serve as an example for a creative outlet. Jake Heggie's chamber opera (which debuted in 2009 at Houston Grand Opera) reveals one promising way to use television effectively for fresh opera productions today.
The 95-minute video made its debut on Thursday and features a bona fide star in mezzo-soprano Susan Graham, two vibrant younger singers, conductor Christopher James Ray and two pianists. They formed their own coronavirus bubble with production staff to rehearse and produce a real gem.
Heggie's accessible musical language keeps the gears turning smoothly. The score has arias, duets and trios that brim with the composer's easy-on-the ear-melodies and contrast with the 'orchestral' accompaniment's pungent remarks and interludes. The original 11-piece instrumentation has been reduced to two pianos, and Ray draws responsive, sensitive work from the singers and the pianists – Veronika Agranov-Dafoe (head of the company's music staff) and Sunny Yoon.
The story is based on an unpublished play, Three Christmas Letters, by the late Terrence McNally, and it spans three decades. Gene Sheer's libretto centers on two grown children grappling with the emotional fallout from an often-absent and self-centered theater star mother, widowed when the children were young by the untimely death of their father.
Graham, in a role written for Frederica von Stade, plays Madeline as a Rosalind Russell-type grande dame and contributes a glorious sound shaded with long experience. Baritone Efraín Solís, recently an Adler Fellow at San Francisco Opera, invests the son, Charles, with barely concealed resentment at his mother's reluctance to accept his homosexuality (though she eventually does). As Beatrice, his older sister, soprano Maya Kherani, a resident artist at Opera San Jose, simmers with irritation over her unhappy marriage as she commiserates with Charles.
Opera tropes take a creative turn. Matters open with a letter scene, set in 1986. AIDS has been taking a toll on the gay community, including Charles' partner, Burt. The siblings, he on a bench that signifies his San Francisco apartment, she at her kitchen table in New York, read and comment on their mother's Christmas letter which has triggered resentments. Maddy, stationed before a red theater curtain, seems to be getting on well with Charles. She describes a visit to San Francisco and a walk across the Golden Gate Bridge with his father before Charles was born. But when she calls his partner Curt, it sends ripples of resentment through the next several scenes.
Maddy's introduction aria, new for this production, is a theatrical ballad redolent of Stephen Sondheim's music ('Children and Art' from Sunday in the Park with George comes to mind, which would be appropriate), and it's terrific. Part one ends with a sibling duet, appropriately on the Golden Gate Bridge (made of scenery scaffolding), in which they try to come to terms with their negative feelings about Maddy.
In part two, Solís delivers a touching aria as he packs up his partner's clothing two months after Burt's death in December 1996. Expert video editing uses quick cuts during instrumental interludes to convey his jumpiness, something that couldn't be done on the live stage. When the scene shifts to New York, where Maddy is up for a Tony Award and has brought her offspring with her, the siblings' resentments over Maddy's neglect of them boil over as they raid her extensive wardrobe. At the climax of the scene, Maddy angrily reveals a secret about their father's death.
In the final scene, Maddy's ghost haunts her own funeral as Charles and Beatrice deliver a beautifully voiced tribute, honest and somewhat acid, ending with a touching moment of forgiveness. If none of this approaches the grand sweep of opera, the joy is in the many details of personal tugs and ties which make the story all the more relatable and create compelling chamber opera.
Heggie's music, whether in his many songs or in his often-staged operas, lets contemporary operatic voices in a contemporary opera be human, builds on their ability to let their voices touch soft spots in our brains and breathes life into the characters and their stories. Tara Branham, the company's resident director, uses the studio inventively and judiciously to enhance the piece. With the cast and production crew actually living together in a social pod for the duration of rehearsals and performance, there's a palpable feeling of connection in all the artistic elements.
Access is available on demand at operasj.org until 31 December.
Harvey Steiman