United States Various: Musicians of San Francisco Symphony / Esa-Pekka Salonen (curator & music director). Recorded at Davies Symphony Hall and first streamed on 15.4.2021. (HS)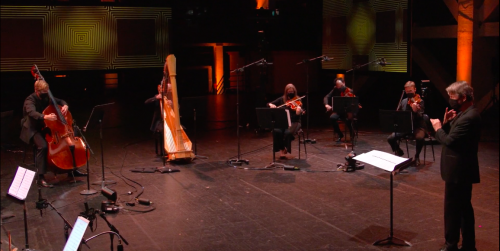 Reich – 'Clapping Music'
Salonen – 'Saltat sobrius': Fantasy upon 'Sederunt principes' (world premiere)
Pärt – 'Spiegel im Spiegel'
Riley – 'In C'
For Esa-Pekka Salonen the roots of Minimalist music date from 1200, when a composer named Pérotin wrote 'Sederunt principes', a polyphonic vocal piece built on a repetitive chant fragment. We know little of Pérotin, but twentieth-century Minimalist composers (including Steve Reich, who is part of this program) think of his music as a sort of prototype for theirs.
As the centerpiece of a 49-minute virtual concert exploring Minimalism, the newly minted music director of San Francisco Symphony composed his own 11-minute treatment of Pérotin's peppy little piece. In its world premiere, Salonen's 'Saltat sobrius': Fantasy upon 'Sederunt principes' weaves the signature repetitions of Minimalist music into something that also draws from his own style of pungent harmonies working shoulder-to-shoulder with rhythmic vitality.
Salonen's brief introduction points to the way composers use building blocks to form their music as the core of this edition of the orchestra's Soundbox series. Salonen himself develops colors and textures from these melodic and rhythmic fragments to construct something distinctly personal.
Scored for three violas, three cellos, three string basses and a harp, the piece begins with a jaunty rhythm, almost a sea shanty, harmonies in open fifths against a simple tune. Although the beat remains steady, it shifts from a pattern in 3 to various patterns in 4. Increasingly tart dissonances liven thing up. Eventually the rhythms fade away, and principal bass Scott Pingel intones the plainchant-like melody alone, high on the instrument's fingerboard, a striking moment. A series of variations on the original material then venture into various shades of dance, reaching several broader climaxes.
The music finds its contrasts in juxtaposing sections played at the high end of the low-lying string instrumentation with those played at the bottom of the basses' range. At times it gets into polyrhythms, and uses various flavors of drones. Eventually, tempos change for further contrast and, and after it all comes together in a big climax, Pingel reprises the plainchant, played high on the A string, and the piece fades deftly into silence.
The rest of the program touches on three milestones of the early Minimalist era by three very different practitioners – Reich, his fellow American composer Terry Riley and the Estonian Arvo Pärt in his post-serial 'tintinnabuli' style.
Pärt's 'Spiegel im Spiegel' (1978) creates a hypnotic spell with spare, slow-moving triad arpeggios from the piano (Elizabeth Dorman) against even slower-moving dotted whole notes from the violin (Chen Zhao). The violin floats serenely, moving diatonically, eventually ascending and descending scale-like for nine notes at a time, starting on a different note each time. It certainly fits Salonen's description of Minimalist music as hypnotic.
Two dancers from Alonzo King LINES Ballet, Adji Cissoko and Shuaib Elhassan, paint a parallel world of movement and intertwined bodies to enrich the long lines of the music and lift the moment even higher.
Reich's 'Clapping Music' (1972), inspired by the clapping of Flamenco, opens the proceedings with Salonen and musicians Steven Dibner, Bryce Leafman, Stan Muncy, Catherine Payne, Nick Platoff and Jessica Valeri executing the tricky syncopations and overlapping rhythms crisply. From time to time, we can see the notated music, a series of 12-beat bars, projected on screens for the musicians. Each bar repeats 12 times, with half the clappers adding an extra beat on each repeat. This sends the music out of phase, eventually returning to synchronicity before moving on to the next measure.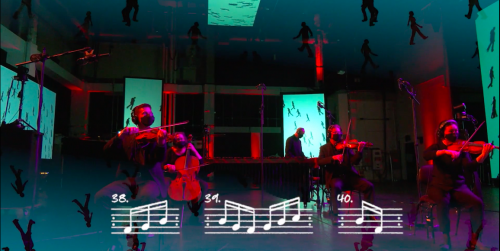 The result, of course, is much more complex than how it looks on the page (or, in this case, on the screen). The same can be said of Riley's 'In C', which concludes the program. The debut of this piece in 1964 essentially set off the Minimalist era. On the page it's a series of 53 bars, each a phrase of two to more than a dozen notes. Each individual musician repeats each measure for a while before deciding to move on to the next one.
Since pitches and phrase lengths vary, the music quickly develops a rich complexity. It avoids cacophony by keeping most of the pitches to the diatonic C major scale (except for the occasional F sharp or B flat). Performances can last more than an hour, but Salonen keeps it to 20 minutes largely by limiting the COVID-era orchestra to 27 musicians, moving the vanguard on to the next bar about three times a minute, and limiting those lagging behind to no more than three measures.
The video helpfully shows the two or three measures currently being played as a sort of closed-caption on our home screens. It makes the music easier to follow and, perhaps more importantly, underlines just how ingeniously this composer's way of using musical building blocks creates much more elaborate patterns than the notes alone suggest.
Minimalism divided the music world when its composers rebelled against the incessant dissonance and academic structure of much contemporary music with their music built on diatonic harmonies and repetitive phrases. Salonen's new piece is just one example of how composers have put together the building blocks to expand the possibilities and grow the seeds of what Reich, Pärt and Riley planted half a century ago.
Harvey Steiman
To watch the concert click here.