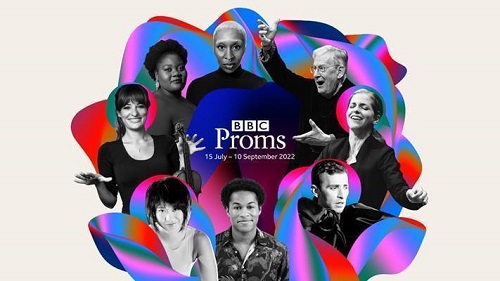 United Kingdom BBC Proms 2022 [1], Prom 1 – Verdi, Requiem: Masabane Cecilia Rangwanasha (soprano), Jennifer Johnston (mezzo-soprano), David Junghoon Kim (tenor), Kihwan Sim (bass-baritone), Crouch End Festival Chorus; BBC Symphony Chorus and Orchestra / Sakari Oramo (conductor). Royal Albert Hall, London, 15.7.2022. (CC)
The BBC Proms are back, full strength. No doubting the confidence here: a packed arena (with at least one carried-out casualty – it is hot, after all!), two huge choruses, full stage of instrumentalists (including three bass drums) and soloists. Is there any shadow of Covid? There was one immediately now that the BBC is non-super-spreader confident in the face of rising numbers: Freddie De Tommaso, darling of the Royal Opera and Decca, tested positive for Covid just the day before the performance, leaving David Junghoon Kim to deputise at the last minute.
At the helm of his vast forces, Sakari Oramo shaped a reading that was at once brisk, but certainly not bright and breezy. At its heart was a deep sense of religiosity (this is a work that includes religion's great threats of violence and damnation as well as the peace profound of spirituality). It began from silence – silence is difficult to sustain in the Royal Albert Hall, with the whispered strings of the opening peppered with thunks and tinkles. The supremely drilled choruses were capable of the most magical pianissimi; and how loving the space around the dot in 'Et lux perpetua'. Yet the sheer scale of the great choral outbursts ('Rex tremendæ' and of course the 'Dies irae' for instance) were awe-inspiring, a wall of beautifully-balanced sound. This was an incredibly well-drilled set of choral singers.
Oramo unleashed a 'Dies irae' of terrific force, allowing just enough space for detail to register. Surely this is, in the right hands, music made for this hall, especially with the spatially-separated trumpets echoing around its vast spaces. Oramo also picks up tempi with no sense of dragging (notably in 'Quam olim Abrahæ'). And the BBC and Crouch End Festival choruses – and his players – were capable of gossamer lightness and crystalline clarity, as the Sanctus proved, with its virtuoso rush towards the 'Hosanna'.
The orchestra was clearly out not only to overwhelm us with the intensity and size of its sound, but also to illuminate. Wind passages in particular were highlighted with revelatory results, not least around the 'Et lux perpetua luceat eis' of the 'Lux aeterna', plus a highlighting of some remarkable bassoon writing in the 'Libera Me' (despite hearing a multitude of performances – including pretty much all of Toscanini's – the true genius of Verdi's writing here had eluded me).
The Kyrie had allowed the soloists to introduce themselves: the beautiful bass-baritone of Kihwan Sim, David Junghoon Kim's confidence, Jennifer Johnston's slightly underpowered, initially at least, mezzo-soprano (which surprised me, given her Philharmonia Mahler 2 (review click here) and the stellar soprano Masabane Cecilia Rangwanasha. Yet Johnston gave a phenomenally powerful 'Quid sum miser tunc dicturus'.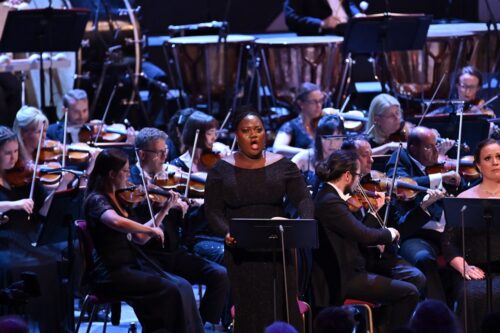 Rangwanasha, winner of the Song Prize in the BBC Singer of the World last year, already made a huge impression in Handel's Susanna at the Linbury Theatre at Covent Garden (review click here). She also joins the BBC New Generation Artists Scheme. Musically she towered over the other soloists; her voice occasionally brings back memories of the great Jessye Norman's London concerts in the 1980s in its combination of warmth and strength. Is there any higher compliment, I wonder? Her grasp of scale is impeccable; she can power above huge textures; her declamation is absolutely gripping. Rangwanasha's breath control is another Norman parallel, as she proved in the Offertory. Her declamatory way with the opening of the final movement, the 'Libera Me', was almost peerless; here, Oramo's attacca after the 'Lux Aeterna' had maximal effect, while Rangwanasha's breathless way with 'Tremens, factus' was yet another example of – what can only be termed – her art.
While many must have relished the idea of Freddie De Tommaso in the line-up, David Junghoon Kim is a fine singer in his own right. He recently came into the spotlight with his interpretation of Rodolfo (in ENO's La bohème); this will no doubt continue to further his cause (interestingly he shares just that role with De Tommaso, plus Juan Diego Flörez and Stefan Pop at Covent Garden in the autumn). He is capable of huge lyricism and beauty, as the 'Inter oves' (part of the 'Ingemisco' section) proved. He was again at his honeyed best for 'Hostias et preces tibi, Domine' in the Offertory.
Eloquent rather than coal-black, Kihwan Sim was brilliantly mysterious in his 'Mors stupebit'; even more so, arguably, at the 'Requiem aeternam dona eis, Domine; et lux perpetua luceat eis', the sixth and penultimate movement.
Put together, this performance was so much more than a sum of its parts. It is difficult to imagine a better launch for a Proms season, one that holds a multitude of treats. The BBC Symphony Orchestra is lucky to have Oramo at its helm as Chief Conductor.
Colin Clarke