Finland Helsinki Festival 2022 [2] – Vivaldi, Francesconi, Movio, Sciarrino, Stroppa, Cattaneo, Sollima: Patricia Kopatchinskaja (violin), Il Giardino Armonico / Giovanni Antonini (conductor). Music Centre, Helsinki, Finland 1.9.2022. (GF)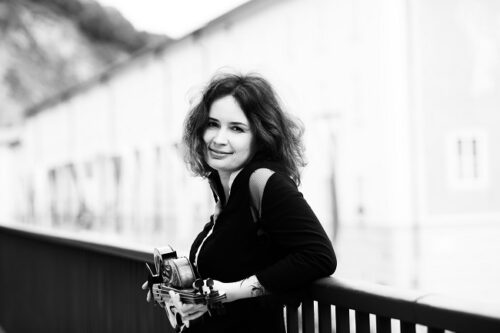 Vivaldi – Concerto G minor, RV 157; Violin Concerto in C major, RV 191; La tempesta di Mare: Violin Concerto in E-flat major, RV 253; Concerto in E minor for four violins, strings and basso continuo, RV 550; Il Grosso Mogul: Concerto in D major for violin, string orchestra and basso continuo, RV 208
Francesconi – Spiccato il volo
Movio – Incanto XXIII
Sciarrino – No.2 from Seven Capricci
Stroppa – Dilanio avvinto
Cattaneo – Estroso
Sollima – Moghul
The Italian ensemble Il Giardino Armonico has been one of the leading exponents of historically informed performances on period instruments for quite some time. It was founded in Milan in 1985 by Luca Pianca and Giovanni Antonini, who is still their conductor. I have long admired their musicianship but never experienced them live until now. As is quite common today, they play standing. There is an uncommon freshness and intensity to their playing and their dynamism is striking, with marked contrasts between p and f. This was particularly distinct in Vivaldi's Concerto for strings and basso continuo which opened the concert. And it was Vivaldi that dominated the programme, but in between the five works by the eighteenth-century Italian master, pieces by a half dozen present-day compatriots were sprinkled in, the result being a thrilling mix of old and new, several times following each other attacca. The phenomenal soloist Patricia Kopatchinskaja made a discreet entrance and joined the orchestra for the last movement of the opening Vivaldi concerto, and during the last few bars some 'wrong' notes were heard. But it was only Kopatchinskaja who had started playing Luca Francesconi's (b.1956) Spiccato il volo, so the two works intertwined. The title is ambiguous. Spiccato means 'playing with a bouncing bow' but the phrase can also be interpreted as 'the way a bird hovers in the air', and that is exactly what we hear. The fairly short piece was actually written as a bridge between the G minor concerto and the one in C major that followed. Here Kopatchinskaja excelled in violin wizardry of the highest order in the outer movements, while the Largo was restrained and inward.
For the next piece the lighting was toned down and the main stage was lit in violet, while Kopatchinskaja and Antonini moved to the right side of the stage and were spot-lit while playing Simone Movio's (b.1978) Incanto XXIII for recorder and violin – a study in soft nuances, etheric, mild. Then they slowly moved back to the ordinary formation of the orchestra while the violinist played the interesting and evocative solo Capricco by Salvatore Sciarrino (b.1947), which in its turn seamlessly led over to Vivaldi's well-known La tempesta di mare, complete with sound effects from a wind machine and thunder beats on a metal plate, executed by the violinist and the conductor. Highly effective and visually spectacular. Whether it was authentic is a moot point, but such machinery was frequently in use in the opera houses in Vivaldi's time – and Vivaldi was also an opera composer – so why not?
The second part opened with pugilism! Yes, Marco Stroppa's (b.1959) Dilanio avvinto for recorder and two violins (second violin played by Angelo Calvo) depicts explicitly a boxing match between a bird and a bumblebee. It is a playful piece, but it is unclear who is the winner – although the title, which is an anagram of the name Antonio Vivaldi, can be translated 'enmeshed, shred to pieces' which may indicate that the bumblebee ends up worse off – unless the bird is a colibri.
According to Stravinsky, Vivaldi wrote the same concerto four hundred times, maybe hinting at the fact that the standard formulae 'Allegro – Adagio – Allegro' was common during the baroque period. But there are many exceptions. The concerto RV 550, for instance, is in four movements, opening with an Andante, followed by Allegro assai, Adagio and Allegro. It can be regarded as a concerto grosso, and the four soloists – the concertino – were Kopatchinskaja, Marco Bianchi, Stefano Barneschi and Liana Mosca.
Aurelio Cattaneo's (b.1974) Estroso for violin, recorder and baroque strings is a fascinating picture of the ocean, and thus related to Vivaldi's La tempesta di mare. The title means 'unpredictable' and it is divided in two parts, the first fast and dramatic, the second slow and more meditative, separated by an energetic cadenza, spectacularly played.
In Giovanni Sollima's (b.1962) Moghul for the same complement of instruments we travelled back in time to a baroque siciliano. (Sollima comes from Palermo in Sicily). The music is solemn and soft – very atmospheric.  Vivaldi's Il Grosso Mogul followed attacca, bubbling with life and joy. And here Kopatchinskaja was in her element. There seemed to be no limits to her technique and in the extremely long cadenza in the last movement she played with such intensity and feeling that she crouched down, almost to the floor, whirling round in a stirring choreography. The ovations were deafening, and the audience was rewarded with an encore: a duet for recorder and violin by Béla Bartók.
I bet there were many listeners present who suddenly realised how much fun and joy there is to be had with baroque music – at least when performed by full-blooded professionals.
Göran Forsling