United States Donizetti, Lucia di Lammermoor: Chorus and Orchestra of LA Opera / Lina González-Granados (conductor). Dorothy Chandler Pavilion, Los Angeles, 17.9.2022. (JRo)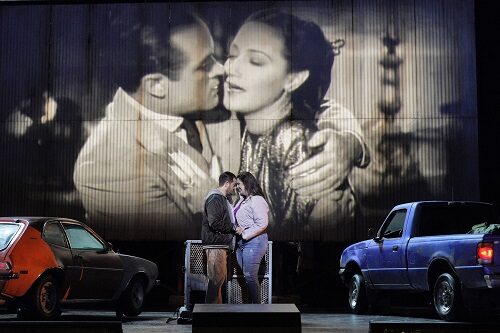 Production:   
Director – Simon Stone
Sets – Lizzie Clachan
Costumes – Blanca Añón
Lighting – James Farncombe
Projection – Luke Halls
Choreography – Kitty McNamee
Chorus director – Jeremy Frank
Cast:   
Lucia – Amanda Woodbury
Edgardo – Arturo Chacón-Cruz
Enrico – Alexander Birch Elliott
Raimondo – Eric Owens
Normanno – Anthony León
Alisa – Madeleine Lyon
Arturo – Anthony Ciaramitaro
In this LA Opera co-production with the Metropolitan Opera, the seventeenth-century Scottish setting of Lucia di Lammermoor, which is based on Sir Walter Scott's novel, has been replaced by a kaleidoscopic vision of a present-day, depressed town in America's rust belt.
Crammed on constantly rotating platforms, Lucia's house, a food mart, a pharmacy, a motel, an ATM machine, a water-treatment plant, a drive-in movie, neon signs and battered cars compete for space. And if that's not enough, Lucia and Edgardo, her lover, are followed around by a videographer and her assistant who record their affair with the unceasing eye of reality television. Whether it's Lucia disrobing in her bathroom or the couple's lovemaking in the motel, intimate moments are projected on an overhead screen along with the surtitles. The director, Simon Stone, seems intent on making us voyeurs – perhaps a comment on the function a passive audience serves or a nod to our social media obsessed culture? Whatever his intentions, we are a long, long way from the Scottish moors.
Amidst all this distraction, Amanda Woodbury prevailed, and her sweet-voiced Lucia rose above the visual and choreographic clutter. Though she was burdened by directorial demands – climbing on a truck for her mad scene, taking an opioid at the pharmacy's walk-up window, sneaking out her bedroom window to rendezvous with Edgardo – her voice exuded both youthful lightness and rich dramatic coloring.
One of the mesmerizing qualities of Lucia lies in Donizetti's use of opposing musical and dramatic material. At the moment Lucia is forced to sign a marriage contract that binds her to Arturo (her brother Enrico's choice), Edgardo, her lover, enters. The prelude to the great Act II sextet begins – a lighthearted sound that contrasts with the gravity of the event and the singing to follow. Heard in the context of a more traditional staging, the contrasting musical moods are poignant and the sextet builds upon the pain felt by everyone, even the headstrong Enrico. But in Stone's world of gangs clashing in a post-industrial town, the prelude elicited gales of laughter from the audience, so extreme was the contrast between the music and the setting.
Unfortunately, laughter erupted in the audience at inappropriate moments throughout the three acts, a sure sign that the staging was off-kilter. In the Act III confrontation between Edgardo and Enrico, they sang about killing each other at dawn. Since they were in a deserted street at night, bottle of booze in Enrico's hand and rage in Edgardo's heart, why wait till dawn? This is no genteel castle setting where dueling is a ritual and requires scheduling and, as a result, they appeared as boasting, impotent teenagers rather than men of stature. Once again, laughter exploded.
To my mind the setting sabotaged the essential underpinnings of the whole enterprise. If we are in an anarchic depressed town in the twenty-first century with no social protocols, why couldn't Lucia climb out that bedroom window and run away with Edgardo? Even if there's justification for her staying to face her brother's demands, it set the plot off track since the basic structure of conventional society was absent.
Arturo Chacón-Cruz was a worthy Edgardo, impassioned by his love for Lucia. His voice was robust from the start and grew more shaded as the evening progressed, culminating in his final aria upon learning of Lucia's death: a beautifully sung 'Tu che a Dio spiegasti l'ali'.
As Enrico, Lucia's treacherous brother, Alexander Birch Elliott met the demands of the production: he swaggered and threatened like a petty gangland kingpin, and his singing was sure and expressive. He is a charismatic performer, and I kept wondering how he would appear minus the face tattoos and distracting props in a classic Lucia – moustache, pumps, tights, lace collar and all.
Stone is a film director, and that set me wondering about his film references. On constant view at the drive-in was a black-and-white movie from 1947, My Favorite Brunette, a parody of film noir with Bob Hope and Dorothy Lamour. Was there a hidden meaning in his choice? Visually the film was distracting – the full-screen faces of the actors competing with the singers on stage – but it was also mentally distracting as I began to ponder other, more appropriate, choices.
This leads me to other film references in the production: slasher movies, zombie flicks and supernatural horror. In a bizarre twist, the night of Lucia's wedding to Arturo found her in the same motel bedroom she previously shared with Edgardo. Arturo lay on the bed swimming in blood, a case of death by fire extinguisher: in her anguish, Lucia apparently pummeled the bridegroom to death. She emerged from the room in a wedding gown so drenched in blood that it looked like she must have jumped on top of him and bathed in the stuff. Following her were six shadow bridegrooms covered in blood, all dressed in hot pink suits like the one worn by Arturo.
Fortunately, Woodbury, is up to the challenge of competing with zombies in the famous mad scene. Her voice was radiant, her trills thrilling, and her vocal dexterity hypnotic. For this production, a glass harmonica (as originally scored by Donizetti but abandoned for the flute at the premiere) was played to eerie effect by Friedrich Heinrich Kern.
The new resident conductor, Lina González-Granados, formerly assistant conductor to Riccardo Muti at the Chicago Symphony, was in the pit and the LAO Orchestra was in good hands. The music sparkled, the singers were perfectly supported, and the tragic underpinnings of the famous score bristled. The chorus was excellent under the guidance of Jeremy Frank, the new director, and principals Eric Owens as Raimondo and Anthony Ciaramitaro as Arturo were notable.
If the goings-on in this Lucia di Lammermoor are your cup of tea (or bottle of Jack), you will love this production (it can also be seen on The Met: Live in HD and reviewed here). If you prefer your singing less encumbered, then wait for a different Lucia. This is an opera for the ages and I, for one, can wait for LA or NY to mount another version.
Jane Rosenberg