United States 2022 Richard Tucker Gala, Various: Soloists, New York Choral Society, Members of the Metropolitan Opera Orchestra / Speranza Scapucci (conductor). Wu Tsai Theater, David Geffen Hall, New York, 13.11.2022. (RP)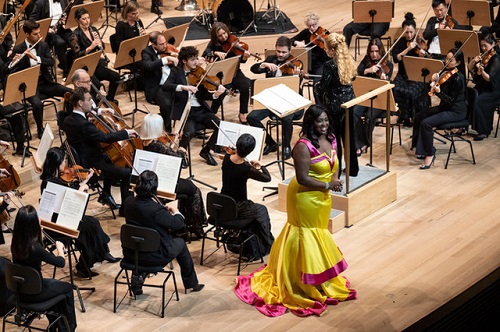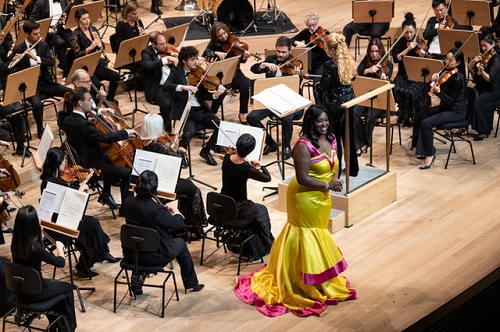 There was much to celebrate at the 2022 Richard Tucker Gala. The prime reason was to honor soprano Angel Blue as this year's recipient of the prestigious award, and another was that this Tucker Gala, the first since 2019, was taking place in the newly renovated David Geffen Hall. This wasn't the occasion to judge the acoustics of the space, but the singers sounded fantastic on its stage.
In his opening remarks, Barry Tucker, the longtime president of the Richard Music Tucker Foundation, noted that every singer, with the exception of Italian soprano Eleonora Buratto, who was a last-minute replacement for Nadine Sierra, and Welsh bass-baritone Bryn Terfel, were American. All had received either the top prize or a career grant from the Foundation.
The purpose of the Foundation is to perpetuate the artistic legacy of the great American tenor through the support and advancement of promising singers early in their careers. Unable to present the gala during the pandemic, the Richard Tucker Relief Fund sent grants to some recent winners of Tucker Study and Career Grants, thus helping to ensure the future of opera in America.
Angel Blue has appeared in almost every major opera house in the world. Across the Lincoln Center Plaza from David Geffen Hall, she opened the Metropolitan Opera's 2019/20 season as Bess in Porgy and Bess and, two years later, starred in Fire Shut Up in My Bones. Blue was also the first African-American singer to receive the Met's Beverly Sills Award.
Blue, in a yellow and pink gown, opened the concert with 'Vissi d'arte' from Tosca. Sumptuous sound poured forth as she gave voice to Tosca's reflection on her fate and that of her lover, Cavaradossi. Blue is an artist who makes singing looks easy, and her relaxed presence and sound reflect that. The high B-flat at the climax of the aria was full-voiced, free and stunning.
Sparks flew when Blue's Bess confronted Ryan Speedo Green's Crown in an extended scene from Porgy and Bess. Earlier, Green sang an impressive Toreador Song from Carmen. The rising bass-baritone has a magnetic stage presence and imposing voice, but it was a night for powerful bass-baritones, as well as tenors.
Christian van Horn tore up the stage as Mephistopheles with Michael Fabiano as Faust in the duet from Act I of Gounod's Faust. Fabiano returned to sing 'O paradiso' from Meyerbeer's L'Africana, combining the intensity and volume which the tenor has made his calling card with sensitive singing.
Tenor Russell Thomas displayed his compelling mix of lyricism and power in a moving 'Oh tu che in seno agli angeli' from La forza del destino. In a more lyric vein, but no less dramatically compelling, was Stephen Costello's impassioned account of 'Quando le sere al placido' from Luisa Miller.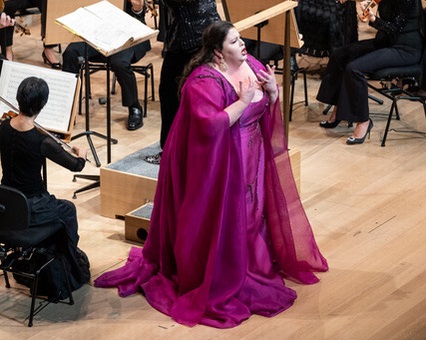 Buratto sang excerpts from one of her signature roles, Cio-Cio-San in Madama Butterfly. Vocally radiant in the Act I Love Duet with Costello, Buratto also infused 'Un bel dì, vedremo' with hope and determination. For sheer vocal opulence, however, Angela Meade was without peer in 'Vivi, ingrato, a lei d'accanto' from Donizetti's Roberto Devereux.
Three of opera's greatest stars lent their talents to the Tucker Gala. Renée Fleming appeared as the Countess to Blue's Susanna in 'Sull'aria… che soave zeffiretto' from Mozart's Le nozze di Figaro. It was the role in which Fleming made her Met debut in 1991, after having been awarded the Tucker Award the previous year. The freshness of Fleming's voice and the smile on her face belied the passage of time.
Bryn Terfel sang 'Son lo spirito' from Boito's Mefistofele with the dramatic urgency to make it truly terrifying. His expert whistling in the aria prompted someone to whistle back at him during the applause. He then delighted the audience with 'If I were a rich man' from Fiddler on the Roof. Terfel was everything a Tevye should be – an irresistible combination of pride and humility, coupled with the wisdom of a philosopher.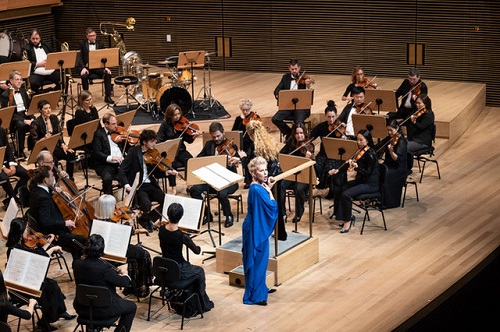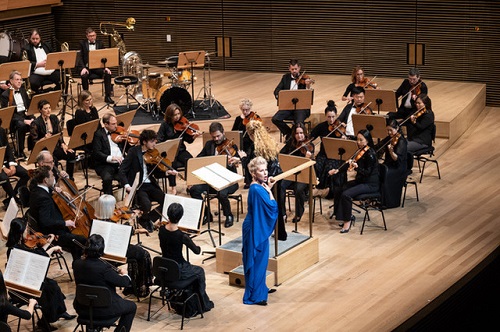 The final artist to appear was Joyce DiDonato singing 'Misera, dove son…Ah! non son io' from Gluck's Ezio. Utilizing the vast array of vocal colors that she commands, DiDonato made Fulvia's lament over her fate and that of her lover, Ezio, heartbreaking and real.
When Speranza Scapucci stepped on stage, she became the first woman to conduct the Tucker Gala. Scapucci, who had made her Met debut a few days earlier conducting Rigoletto, and the Met Orchestra were in perfect sync from the start. A concert like this requires efficiency as well as versatility from a conductor, and Scapucci managed it all with aplomb, at ease and fluent in everything from Gluck to Gershwin.
The Triumphal March from Aida brought the gala concert to a rousing conclusion. With trumpets blaring and the New York Choral Society giving full voice to the grandest of choruses, the most impressive sound to be heard was Christine Goerke as Amneris. The 2001 Tucker winner is one of the greatest dramatic sopranos around and she was, as always, electrifying.
Rick Perdian
Puccini – 'Vissi d'arte' (Tosca) / Angel Blue (soprano)
Gounod – 'Mais ce Dieu, que peut-il pour moi?' (Faust) / Michael Fabiano (tenor), Christian van Horn (bass-baritone)
Mozart – 'Sull'aria… che soave zeffiretto' (Le nozze di Figaro) / Renée Fleming (soprano), Angel Blue (soprano)
Bizet – 'Votre toast, je peux vous le rendre' (Carmen) / Ryan Speedo Green (bass-baritone)
Verdi – 'Quando le sere al placido' (Luisa Miller) / Stephen Costello (tenor)
Puccini – 'Un bel dì, vedremo' (Madama Butterfly) / Eleonora Buratto (soprano)
Verdi – 'Infelice!' (Ernani) / Christian van Horn (bass-baritone)
Gershwin – 'Crown!' (Porgy and Bess) / Angel Blue (soprano), Ryan Speedo Green (bass-baritone)
Donizetti – 'Vivi, ingrato, a lei d'accanto' (Roberto Devereux) / Angela Meade (soprano)
Verdi – 'Oh tu che in seno agli angeli' (La forza del destino) / Russell Thomas (soprano)
Puccini – Love Duet (Madama Butterfly) / Eleonora Buratto (soprano), Stephen Costello (tenor)
Meyerbeer – 'O paradiso' (L'Africana) / Michael Fabiano
Boito – 'Son lo spirito' (Mefistofele) / Bryn Terfel (bass-baritone)
Bock – 'If I were a rich man' (Fiddler on the Roof) / Bryn Terfel (bass-baritone)
Gluck – 'Misera, dove son…Ah! non son io' (Ezio) / Joyce DiDonato (mezzo-soprano)
Verdi – Triumphal March (Aida) / Angel Blue (soprano), Christine Goerke (soprano), Russell Thomas (tenor), Reggie Smith (baritone), Christian Van Horn (bass-baritone), Ryan Speedo Green (bass-baritone)